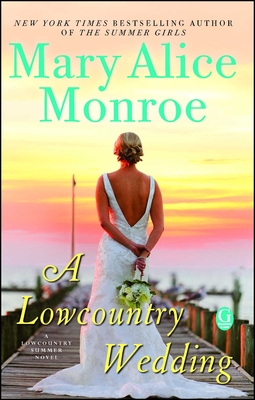 A Lowcountry Wedding (Lowcountry Summer #4)
Paperback

* Individual store prices may vary.
Other Editions of This Title:
Digital Audiobook (5/2/2016)
Mass Market (4/18/2017)
CD-Audio (5/3/2016)
Description
Wedding season has arrived in New York Times bestselling author Mary Alice Monroe's next novel in the "distinct, complex, and endearing" (Charleston Magazine) Lowcountry Summer series, set against the romantic, charming Charleston Lowcountry.

Nothing could be more enchanting than a summer wedding—or two!—in Charleston's fabled lowcountry. A centuries-old plantation, an avenue of ancient oaks dripping moss, a storied ballroom, a sand dune at sunset…

Yet when a stranger arrives, a long held family secret could silence the bells ringing for the Muir sisters. Scandals surface, family bonds are questioned, and promises are broken and renewed. In A Lowcountry Wedding Monroe delves into the heart of marriage, commitment, and family ties. Huffington Post calls the Lowcountry Summer series "the perfect beach read and a whole lot more."
Praise For A Lowcountry Wedding (Lowcountry Summer #4)…
"There is no way to describe Monroe's writing style other than to say it is uniquely wonderful. She has a heart for the lowcountry and the talent to bring it to life."
— Huffington Post

"I feel like I've struck the jackpot this spring. Mary Alice Monroe has decided to add one more book to her Lowcountry Summer series. And, folks, I'm here to tell you it is the BEST of the four!!"
— Maurice on Books

"The story flows as smooth as silk."
— Charleston City Paper

"Monroe creates four beautifully drawn, strong, vulnerable heroines each grappling with her own personal questions, choices, doubts and thoughts about family, commitment, relationships and the future. Wonderfully written with a poignancy and nostalgia that will warm readers' hearts, this story and its well-crafted, engaging plot will keep readers captivated until the last page."
— RT Book Reviews

"Readers who enjoy Monroe's blend of fiction that weaves family drama by the seaside and environmental issues will want to pick up a copy."
— The Chicago Tribune on The Summer's End

"It is hard to describe the beauty of Monroe's work.The words on the pages flow from the author's eyes to create a world of rareenchantment. Next, Monroe's brain assembles a plot that moves the charactersfrom one amazing event to another. Then from Monroe's heart comes the passionfor the story, one that is rich with love and depth."
— Jackie K. Cooper, The Huffington Post, on The Summer's End

"To describe Monroe's books is like trying to describe the Lowcountry itself. There is warmth and beauty found on every page, and it is simple yet complex in its nature. Storms may rage in the night, but morning always follows."
— Myrtle Beach Online on The Summer's End

"If you are searching for a great beach read—friendship, family, a touch of ecology and romance—well, then, this is the book for you... keep tissues by your side as you read this book."
— Joan Leotta on The Summer's End

"Mary Alice Monroe is an exquisite author who blends the magnificent Lowcountry setting with human emotions...This is a must read for fans of Southern literature."
— Ariesgrl Reviews on The Summer's End

"This is the perfect summertime beach read."
— Maurice on Books, on The Summer Wind

"Pulls at your heartstrings."
— Posting for Now on The Summer Wind, 5-star review

"Written with convincing Southern charm and thoughtfulness, The Summer Wind explores the bonds of sisterhood and the challenges of modern womanhood with warmth and genuine affection."
— Amy Garvey, Bookpage.com, on The Summer Wind

"Monroe's writing is as lean and elegant as the lovely young women who grace the beach... a cool, refreshing breeze of a read."
— Joan Leotta, Recipes for Success, on The Summer Wind

"Mary Alice Monroe has a way with words when it comes to her characters and her locations. No other author has ever made me want to be sitting on the beach more."
— Charming Chelsey's on The Summer Wind

"Once you get to know the sisters and Mamaw, you'll want to follow their lives beyond the summer, and the beach."
— Dawn Baumgartner Vaughan, The Herald Sun, on The Summer Wind

"The Summer Wind makes for an excellent beach read this summer."
— The Literary Housewife, on The Summer Wind

"Mary Alice Monroe has taken the rich waters of the Atlantic Coast as her own field of dreams. In The Summer Girls,she sings a song of praise to the bottle-nosed dolphins that bring so much joy to the men and women who gaze at the creeks and rivers of the low country each evening. Like all her books, The Summer Girls is a call to arms."
— New York Times bestselling author Pat Conroy

"The Summer Girls is more than just a beautifully written, moving portrayal of three sisters finding themselves and each other after years of separation. It's also an important book that deals head-on with significant issues so skillfully woven into the narrative that I often stopped to consider the import of what I'd just read. If you're a dedicated environmentalist, this book is a must-read. If you're just someone who enjoys a good story, you'll get that, too, and much more."
— New York Times bestselling author Cassandra King

"The Summer Girls conveys sound environmental messages through a captivating story of how the ocean and a charismatic dolphin reunite sisters in the alluring ecological setting of the Lowcountry of South Carolina. The story resonates on a personal level and, moreover, delivers a powerful reminder of the importance of protecting dolphins and the environment in which they live."
— Patricia Fair, Director, Marine Mammal Program, NOAA

"Monroe's resplendent storytelling shines even brighter . . . [with] startling insights into the intimate connection between nature and the human heart."
— New York Times bestselling author Patti Callahan Henry

"In the bestselling tradition of Kathryn Stockett's The Help, Mary Alice Monroe skillfully weaves together issues of class, women's rights, and domestic abuse set in the tumultuous South during the 1970s. . . . Beautifully wrought, and rich with keen insight . . . an unforgettable tale of marriage, resilience, and one woman's private strength."
— Bookreporter

"Magical! Mary Alice Monroe's writing is always sensitive and true, and as inspiring as the natural wonder about which she writes. This luminous tale—set in the South Carolina Lowcountry that we both love so deeply—was hard to put down."
— Dorothea Benton Frank

"Monroe brings authenticity and a sense of wonder to the plight of the endangered sea turtles and their miraculous capacity for survival."
— Publishers Weekly

"Monroe utilizes her signature combination of informative storytelling wrapped in the relatable sagas of her protagonists."
— Charleston City Paper

"An exquisite, many-layered novel of an unsolved mystery, an obsession, a reconciliation, and a little romance.... Treats readers to lush descriptions of nature."
— Booklist

"An author of power and depth."
— RT Reviews

"A consummate storyteller."
— The Best Reviews

"A master storyteller."
— Southeastern Charm magazine

"A strong, warm voice that brings the South to life."
— Powell's Book Review

"Mary Alice Monroe has written another novel that is helping to redefine the beauty and magic of the Carolina Lowcountry. Every book she has written has felt like a homecoming to me and...she has succeeded in making the marshes and rivers of the Lowcountry her literary home.... Haunting."
— New York Times bestselling author Pat Conroy

"Monroe makes her characters so believable, the reader can almost hear them breathing."
— Booklist

"Mary Alice Monroe has become one of the premier voices contemporary women's fiction today. Her lyrical, emotional, and gripping stories make for superb reading experiences."
— RT Book Reviews

"A soaring, passionate story of loneliness and pain and the simple ability of love to heal and transcend both. Mary Alice Monroe's voice is as strong and true as the great birds of prey of whom she writes."
— Anne Rivers Siddons

"Mary Alice Monroe writes from her heart to the hearts of her readers."
— Charleston Post & Courier

"Such a wonderful, exciting new read! Very well written and addicting! Looking forward to the next book in the series. Mary Alice--hurry up!"
— Books Unlimited

"Mary Alice writes the most readable books with important environmental story lines, but "The Summer Girls"might be my favorite. It's about family, finding yourself, getting through bad issues that could weigh you down, and enjoying the ride with the warm embrace of family. And there's a wild dolphin who helps heal the pain but finds his own. This book has everything--sense of place, family, strong characters, romance,a love of dolphins and more. This is BETTER than a beach read; this is a great book club book to discuss! Can't wait for the next in the trilogy. thanks, Mary Alice!"
— First Reads

"How wonderful it is to be able to dig into a summer novel and not only get so much pleasure from the awesome story, but to learn, learn, learn...[S]he brings new awareness to those of us who need enlightening."
— Maurice on Books

"[A] beautifully written and thought provoking work of fiction. Mary Alice Monroe once again delivers on her promise to write books that explore the beauty in nature and the complexity of human relationships as she delves into the human psyche."
— Linda Hitchcock of Booktrib
Gallery Books, 9781501125430, 448pp.
Publication Date: May 3, 2016
About the Author
Mary Alice Monroe is the New York Times bestselling author of twenty-seven books, including the bestselling The Beach House series. Monroe also writes children's picture books, and a new middle grade fiction series called The Islanders. She is a member of the South Carolina Academy of Authors' Hall of Fame, and her books have received numerous awards, including the South Carolina Center for the Book Award for Writing; the South Carolina Award for Literary Excellence; the SW Florida Author of Distinction Award; the RT Lifetime Achievement Award; the International Book Award for Green Fiction; the Henry Bergh Children's Book Award; and her novel, A Lowcountry Christmas, won the prestigious Southern Prize for Fiction. The Beach House is a Hallmark Hall of Fame movie, starring Andie MacDowell. Several of her novels have been optioned for film. She is the cocreator and cohost of the weekly web show and podcast Friends & Fiction. Monroe is also an active conservationist and serves on several boards. She lives on the South Carolina coast, which is a source of inspiration for many of her books.