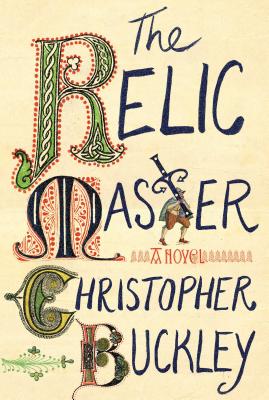 The Relic Master
A Novel
Hardcover

* Individual store prices may vary.
Other Editions of This Title:
Digital Audiobook (12/7/2015)
Paperback (10/25/2016)
Description
From New York Times bestselling author Christopher Buckley, "one of the funniest writers in the English language" (Tom Wolfe), a compelling and hilarious adventure featuring a sixteenth-century relic hunter and his best friend, Albrecht Dürer, who conspire to forge the Shroud of Turin.

The year is 1517. Dismas is a relic hunter: one who procures "authentic" religious relics for wealthy and influential clients. His two most important patrons are Frederick the Wise, Elector of Saxony and soon-to-be Cardinal Albrecht of Mainz. While Frederick is drawn to the recent writing of Martin Luther, Albrecht pursues the financial and political benefits of religion and seeks to buy a cardinalship through the selling of indulgences. When Albrecht's ambitions increase his demands for grander and more marketable relics, Dismas and his artist friend Dürer conspire to manufacture a shroud to sell to the unsuspecting noble. Unfortunately Dürer's reckless pride exposes Albrecht's newly acquired shroud as a fake, so Albrecht puts Dismas and Dürer in the custody of four loutish mercenaries and sends them all to steal Christ's burial cloth (the Shroud of Chambéry), Europe's most celebrated relic.

On their journey to Savoy where the Shroud will be displayed, they battle a lustful count and are joined by a beautiful female apothecary. It is only when they reach their destination that they realize they are not alone in their intentions to acquire a relic of dubious legitimacy. Filled with fascinating details about art, religion, politics and science; Vatican intrigue; and Buckley's signature wit, The Relic Master is a delightfully rich and intelligent comic adventure.
Praise For The Relic Master: A Novel…
"An inspired piece of literary gymnastics [that] tumbles into an exuberant adventure caper. . . so tightly written that it holds the reader till the very last page. . . . a smart, tart, well-researched romp into one of history's most irresistibly grubby and outrageous periods of excess."
— New York Times Book Review

"We may be in 1517, but this is still a political send-up, and it's as rascally and convivial as any that Mr. Buckley has written."
— The Wall Street Journal

"Buckley hasn't abandoned political satire at all — he's just found a different playing field for his favorite sport. The calamitous 16th century proves a supple mistress for this Washington writer…. lively, entertaining and occasionally educational."
— Washington Post

"A classic, epic quest, like Indiana Jones gone medieval…. [A] rollicking plot filled with calamities, duplicity, intrigue and laugh-out-loud humor…even a little romance….. its comic moments recall Monty Python's twisted histories…. The Relic Master is a hilarious, bawdy and irreverent frolic of a tale that lends Buckley's deft waggish talents to a time long ago."
— USA Today

"Christopher Buckley has transported his signature wit and irreverence from the Beltway to sixteenth-century Europe in The Relic Master. Think of it as Monty Python and the Holy Grail meets Pawn Stars, which is to say it's hilarious, absurd, and mildly infuriating (in a good way). You really can't go wrong when one of America's savviest humor writers takes on relic-mongers, artifact forgeries (about that Shroud of Turin . . .), and corrupt religious leaders. In short, The Relic Master is a rollicking good time set in an era just begging for Buckley's biting satire."
— GQ

"A witty, deft and often surprisingly big-hearted pleasure….Buckley is one of America's wiliest satirists."
— Seattle Times

"There's plenty of fighting and fakery, deceit and rationalization, to go around. The political posturing, religious hypocrisy, and some of that old-time self-satirizing humor should entertain everyone."
— Boston Globe

"Christopher Buckley takes his mordant wit from inside the Beltway to the Holy Roman Empire of 1517….Mr. Buckley mines brilliantly for comedic effect."
— New York Times

"Ocean's-style capers and Spamalot slapstick ensue."
— New York Magazine

"Beguiling, funny, and slyly erudite."
— National Review

"Impossible to put down once you're caught in its thrall. But it's not just the book's page-turning pace that makes it so compelling; it's Buckley's stunning gift for unsparing satire. . . . The genius of Buckley's satire is not merely its acuity but its balance."
— Paste Magazine

"Christopher F. Buckley, author of Thank You For Smoking and sixteen other books, has undoubtedly outdone himself with The Relic Master. Buckley imaginatively and cleverly married fact with fiction, creating a tale that will make the reader wonder the authenticity of the holy shroud. Packed with 16th century facts and people, The Relic Master is sure to capture the attention of history enthusiasts."
— Manhattan Book Review

"Might be pitched Hollywood-style as The Princess Bride meets Ocean's XIII."
— Kirkus Reviews, starred review

"A humorous and enchanting adventure."
— Bustle.com

"A madcap heist adventure...that's as comical as any in Buckley's modern era tales. Buckley's many fans will be pleased."
— Booklist

"This historical novel is part Monty Python and part Ocean's 11. The clever narrative is filled with laugh-out-loud one-liners but, amazingly, doesn't stint on the suspense.... Through the cheeky humor, the author gives readers a very real sense of the early 16th century, when science and superstition held equal sway, and a man was always a swordsbreadth away from a horrible death."
— Publishers Weekly

"An exciting novel that proves that, in the world of political intrigue, some things are timeless."
— Book Reporter

"Arch humor, intricate twists and delightful surprises . . . Buckley has a talent for comic timing and the ability to make even morally ambiguous characters endearing."
— Washington Independent Review of Books

"An intelligent, entertaining and informative bit of time travel that will delight readers who appreciate history served up with humor…. one of our most versatile comic novelists."
— Washington Times

"On one level, the novel entertains with a thrilling cast of characters, violence, vulgarity and a great deal of comedy…. On another level, the novel is a wonderful satire of our current politics, economic system, our greed for things once possessed by celebrity and the way in which we value art…. I recommend that you pick up Buckley's novel. Relic Master entertains."
— America Magazine

"Ever wish Monty Python had written a novel? If so, The Relic Master is here. With laugh out loud humor, witty dialogue, and a true sense of historical detail, author Christopher Buckley has created a work of farcical art in this fast-paced adventure….The story leaps off the pages like the brilliantly, beautifully, and naughtily illuminated Bible pages carefully done by the monks of yore."
— New York Journal of Books
Simon & Schuster, 9781501125751, 400pp.
Publication Date: December 8, 2015
About the Author
Christopher Buckley is a novelist, essayist, humorist, critic, magazine editor, and memoirist. His books include Thank You for Smoking, The Judge Hunter, Make Russia Great Again, and The Relic Master. He worked as a merchant seaman and White House speechwriter. He has written for many newspapers and magazines and has lectured in over seventy cities around the world. He was awarded the Thurber Prize for American Humor and the Washington Irving Medal for Literary Excellence.
Coverage from NPR
or
Not Currently Available for Direct Purchase