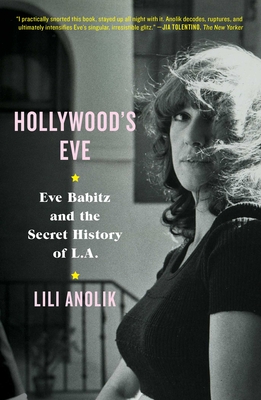 Hollywood's Eve
Eve Babitz and the Secret History of L.A.
Hardcover

* Individual store prices may vary.
Other Editions of This Title:
Digital Audiobook (1/7/2019)
Digital Audiobook (3/18/2020)
Compact Disc (1/8/2019)
Paperback (9/3/2019)
Compact Disc (1/8/2019)
Description
The quintessential biography of Eve Babitz (1943-2021), the brilliant chronicler of 1960s and 70s Hollywood hedonism and one of the most original American voices of her time.

"I practically snorted this book, stayed up all night with it. Anolik decodes, ruptures, and ultimately intensifies Eve's singular irresistible glitz." —Jia Tolentino, The New Yorker

"The Eve Babitz book I've been waiting for. What emerges isn't just a portrait of a writer, but also of Los Angeles: sprawling, melancholic, and glamorous." —Stephanie Danler, author of Sweetbitter

Los Angeles in the 1960s and 70s was the pop culture capital of the world—a movie factory, a music factory, a dream factory. Eve Babitz was the ultimate factory girl, a pure product of LA.

The goddaughter of Igor Stravinsky and a graduate of Hollywood High, Babitz, age twenty, posed for a photograph with French artist Marcel Duchamp in 1963. They were seated at a chess board, deep in a game. She was naked; he was not. The picture, cheesecake with a Dadaist twist, made her an instant icon of art and sex. She spent the rest of the decade on the Sunset Strip, rocking and rolling, and honing her notoriety. There were the album covers she designed: for Buffalo Springfield and the Byrds, to name but a few. There were the men she seduced: Jim Morrison, Ed Ruscha, Harrison Ford, to name but a very few.

Then, at nearly thirty, her It girl days numbered, Babitz was discovered—as a writer—by Joan Didion. She would go on to produce seven books, usually billed as novels or short story collections, always autobiographies and confessionals. Her prose achieved that American ideal: art that stayed loose, maintained its cool; art so sheerly enjoyable as to be mistaken for simple entertainment. Yet somehow the world wasn't paying attention. Babitz languished.

It was almost twenty years after her last book was published, and only a few years before her death in 2021 that Babitz became a literary star, recognized as not just an essential L.A. writer, but the essential. This late-blooming vogue bloomed, in large part, because of a magazine profile by Lili Anolik, who, in 2010, began obsessively pursuing Babitz, a recluse since burning herself up in a fire in the 90s.

Anolik's elegant and provocative book is equal parts biography and detective story. It is also on dangerously intimate terms with its subject: artist, writer, muse, and one-woman zeitgeist, Eve Babitz.

"A dazzling, gossip-filled biography of the wayward genius who knew everyone in Seventies LA." —The Telegraph (UK)
Praise For Hollywood's Eve: Eve Babitz and the Secret History of L.A.…
"This gripping and glamorous biography is the riveting page-turner you've been looking for." —Andrea Ledgerwood, Esquire, The Best Books of 2019

"A swooning, sometimes madcap look at Babitz...compelling." —The Washington Post

"Fills in many of the gaps in our knowledge of Babitz's life and work...What Hollywood's Eve has going for it on every page is its subject's utter refusal to be dull… It sends you racing to read the work of Eve Babitz." —Dwight Garner, The New York Times

"Anolik's book brings a ludicrously glamorous scene back to life, adding a few shadows along the way to give Babitz's sun-bleached biography more nuanced contours." —Vogue

"Anolik's fantasy Eve reflects Babitz's brilliance at self-presentation."—Harper's

"Anolik now presents the full jaw-dropping drama of Babitz's on-the-edge life and complicated personality, paired with an account of Anolik's pursuit of her wily subject. With the recent reissue of Babitz's books, this radical American writer of stunning verve, candor, and insight is truly a phoenix rising." —Booklist

"A biography of a fascinating and unusual subject…at the heart of this book beats the hard, strong pulse of Babitz's life and prose, one funny, erratic and unabashed sentence after another."—Los Angeles Times

"Unputdownable in the way of a great piece of gossip, but it goes much deeper, into the curious relationship between subject and author, genius and acolyte, eccentric and orbiting caregivers." —Goop

"The Eve Babitz story you've been looking for—a true page-turner about an icon of Los Angeles' 1960s art scene that'll satisfy your thirst for glitz, glam, and drama."—Women's Day

"[A] loving and perceptive new book on Babitz… [Babitz's] unique and entertaining body of work is now crowned by Lili Anolik's Hollywood's Eve."—Los Angeles Review of Books

"I finished Hollywood's Eve with my writer's crush on Babitz intact, and with a secondary crush on her biographer" —Shondaland

"Vital and clarifying….wonderful." —NPR.org

"Perfect for fans of Hollywood in its glory years, this is a biography energetically told." —Publishers Weekly

"[A] smart, fast-paced meditation on Babitz … Anolik sees her as ruthless, unencumbered, unapologetic. In other words, an artist." —BookPage

"Hollywood's Eve does not fit the mold of a biography—it's a bona fide love story. Anolik achieves an incredible intimacy with her subject, who talks to almost no one these days." —Kirkus Reviews

"From Joan Didion to Harrison Ford to Steve Martin, the book is chockablock with stories both salacious and soulful, exactly the kind of poetically enticing account (with just the right amount of tawdry) Babitz herself delivered so sharply."—The AV Club

"There's no doubt that Anolik is daffy for Babitz but she is also clear-eyed in her critical assessment and paints a portrait that is beyond smitten, always smart, and an awful lot of fun." —Esquire

"An intimate biography of a glamorous writer and a portrait of the city she called her playground." —Town & Country

"A dishy, splashy biography filled with more celebrity cameos than a table at the Polo Lounge." —Entertainment Weekly

"Fascinating…it's impossible not to be infatuated." —Oprah Magazine

"Anolik has expanded her magazine piece into a book of her own, calling it 'a biography in the non-traditional sense.' But Hollywood's Eve is richer and stranger than that." —The Wall Street Journal

"Lili Anolik delves into the mysterious life of Eve Babitz in this revealing, anecdote-packed biography." —InStyle

"Lili Anolik has hunted and captured her favorite forgotten author and helped to save Babitz's long out-of-print books from the dustbin of cultural history. Now, like Babitz before her, she has created her own genre: fan nonfiction. In fevered, up-all-night-chain-smoking-at-the-Chateau prose perfectly suited to her subject, she excavates the lost world that Babitz so deftly wove into her autofiction." —Karina Longworth, creator and host of You Must Remember This

"Read Lili Anolik's book in the same spirit you'd read a new Eve Babitz, if there was one: for the gossip and for the writing. Both are extraordinary." —Jonathan Lethem, author of Motherless Brooklyn

"The first injectable biography." —James Wolcott, Vanity Fair columnist and author of Lucking Out

"There's no better way to look at Hollywood in that magic decade, the 1970s, than through Eve Babitz's eyes. Eve knew everyone, slept with everyone, used, amused, and abused everyone. And then there's Eve herself: a cult figure turned into a legend in Anolik's electrifying book. This is a portrait as mysterious, maddening-and seductive-as its subject." —Peter Biskind, author of Easy Riders, Raging Bulls

"Lili Anolik's love letter to Eve Babitz is as probing and intelligent as it is outrageously fun, swirling with secrets and gossip, celebrity and art, feminism and literature and tragedy and sex and sex and sex. A glorious trip through the looking glass of a golden-age L.A., Hollywood's Eve makes the case for Babitz as chronicler and muse of an era even as it paints an unsparing picture of its lost illusions." —Joe Hagan, author of Sticky Fingers: The Life and Times of Jann Wenner and Rolling Stone Magazine

"Let other writers worship at the banal altar of L.A. Thanatos; Anolik's Eve is the fearless beating heart of L.A. Eros, and her inimitable voice comes alive in Anolik's own lovingly warm and penetrating celebration of Babitz's magnificent beauty, wildness and art." —Elizabeth Frank, Pulitzer Prize-winning author of Cheat and Charmer
Scribner, 9781501125799, 288pp.
Publication Date: January 8, 2019
About the Author
Lili Anolik is a contributing editor at Vanity Fair. Her work has also appeared in Harper's, Esquire, and The Believer. She is the author of Hollywood's Eve and lives in New York City with her husband and two small sons.