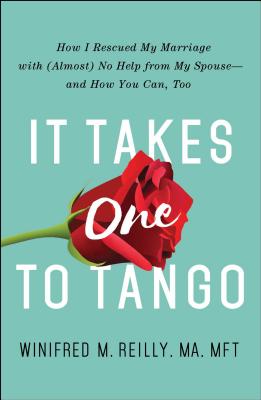 It Takes One to Tango (Hardcover)
How I Rescued My Marriage with (Almost) No Help from My Spouse—and How You Can, Too
Gallery Books, 9781501125829, 288pp.
Publication Date: April 4, 2017
Other Editions of This Title:
MP3 CD (4/4/2017)
Compact Disc (4/4/2017)
Paperback (4/3/2018)
* Individual store prices may vary.
Description
With a focus on self-empowerment and resilience, this refreshing and witty relationship guide has a reassuring counterintuitive message for unhappy spouses: you only need one partner to initiate far-reaching positive change in a marriage.

Conventional wisdom says that "it takes two" to turn a troubled marriage around and that both partners must have a shared commitment to change. So when couples can't agree on how—or whether—to make their marriage better, many give up or settle for a less-than-satisfying marriage (or think the only way out is divorce).

Fortunately, there is an alternative.

It Takes One to Tango is a groundbreaking guide that shows how one determined partner—acting alone—can spark lasting, significant change in a marriage, often accomplishing change that cannot be made any other way. It doesn't matter how short-fused, argumentative, or seemingly impossible your partner can be—or how long you've been stuck.

Marriage and family therapist Winifred Reilly has this message for struggling partners: Take the lead. Doing so is effective—and powerful. Through Reilly's own story of reclaiming her now nearly forty-year marriage, along with anecdotes from many clients she's worked with, you'll learn how to:

-Focus on your own behaviors and change them in ways that make you feel good about yourself and your marriage
-Take a firm stand for what truly matters to you without arguing, cajoling, or resorting to threats
-Identify the "big picture" issues at the basis of your repetitive fights—and learn how to unhook from them
-Be less reactive, especially in the face of your spouse's provocations
-Develop the strength and stamina to be the sole agent of change

Combining psychological theory, practical advice, and personal narrative, It Takes One to Tango is a fresh and engaging guide that will empower those who choose to take a bold, proactive approach to creating a loving and lasting marriage.
About the Author
Winifred M. Reilly is a marriage and family therapist, with a private practice in Berkeley, California. In her thirty-five years of clinical practice she has treated hundreds of couples—many of whom felt certain they were headed for divorce. Winifred has been a guest lecturer on marriage and sexuality, and her writing has appeared on Huffington Post, The Good Men Project, xoJane, and on her relationship advice blog, Speaking of Marriage. She is the author of It Takes One to Tango.
Praise For It Takes One to Tango: How I Rescued My Marriage with (Almost) No Help from My Spouse—and How You Can, Too…
"Marriage is a challenging journey. Far too many couples lose their way. This wise and uplifting book gives you a roadmap to create a vibrant marriage and come out a far better person on the other side."
— Dr. Ellyn Bader, PhD, Director of The Couples Institute

"Feel like you live on the verge of ripping your partner's head off and shoving it down the neck hole? It Takes One to Tango is for you. Author Winifred Reilly not only explains why marriage is so predictably frustrating, but more important she reveals how you can turn the tide without your spouse's help or even consent. Using her own marriage as a litmus test, Reilly offers a pragmatic alternative to subjecting an unwilling participant to years of pricey, unproductive marriage therapy or talking yourself blue in the face." — Jenna McCarthy, author of If It Was Easy They'd Call the Whole Damn Thing a Honeymoon

"Most couples will see their own situations mirrored in her examples and welcome both her encouraging tone and sensible solutions."
or
Not Currently Available for Direct Purchase