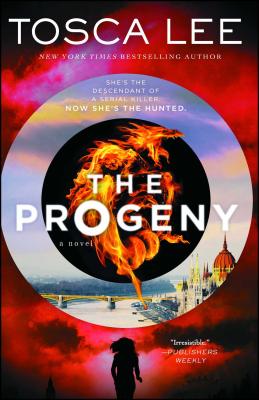 The Progeny
A Novel (Descendants of the House of Bathory #1)
Paperback

* Individual store prices may vary.
Other Editions of This Title:
Digital Audiobook (5/23/2016)
Hardcover (5/24/2016)
Library Binding, Large Print (6/1/2017)
Description
New York Times bestselling author Tosca Lee brings a modern twist to an ancient mystery surrounding Elizabeth Bathory, the most notorious female serial killer of all time.

Emily Jacobs is the descendant of a serial killer. Now, she's become the hunted.

She's on a quest that will take her to the secret underground of Europe and the inner circles of three ancient orders—one determined to kill her, one devoted to keeping her alive, and one she must ultimately save.

Filled with adrenaline, romance, and reversals, The Progeny is the present-day saga of a 400-year-old war between the uncanny descendants of "Blood Countess" Elizabeth Bathory, the most prolific female serial killer of all time, and a secret society dedicated to erasing every one of her descendants. It is a story about the search for self filled with centuries-old intrigues against the backdrop of atrocity and hope.
Praise For The Progeny: A Novel (Descendants of the House of Bathory #1)…
"An intricately woven tale that is intriguing and romantic, I literally couldn't put it down."
— Jennifer L. Armentrout # 1 New York Times bestselling author

"Tosca Lee is a masterful storyteller who has created a rich and engaging tale of adventure, mystery, and loyalty in the face of perpetual betrayal, which kept me on edge from the first page until the last."
— Jobie Hughes, #1 New York Times bestselling author

"Dark, tense, and gripping, The Progeny by Tosca Lee has all the ingredients thriller fans crave."
— Joe Moore, international bestselling co-author of The Blade and The Tomb

"Gifted storyteller Tosca Lee artfully weaves an intriguing centuries-old legend into an absorbing, fast-paced supernatural thriller. The Progeny strikes a perfect balance of mystery, adrenaline, and romance. I devoured it in a day."
— Laura McHugh, award-winning author of The Weight of Blood

"A brilliant read and a thrilling ride—all the more fantastic because it is set in the real world and based on historic facts and secrets. Anyone could be a Progeny. Even you."
— Michael Napoliello, Radar Pictures

"What a fabulous premise—and what a wonderful thriller. Tosca Lee has outdone herself with this twisty, intricate story. I can't wait for the sequel."
— J.T. Ellison, New York Times bestselling author of No One Knows

"Lee is a phenomenal talent known for bringing history to the present, making it exciting and relevant while never forgetting that love is the ultimate motivator. Think Da Vinci Code meets The Blacklist."
— Lissa Price, international bestselling author of Starters and Enders

"Tosca puts the thrill into thriller. Be warned: once you start this book, it's impossible to put down!"

— Maria V. Snyder, New York Times bestselling author of Poison Study

"One killer story… a roller-coaster ride that picked up speed, racing to the gasp-out-loud conclusion."
— Ronie Kendig, bestselling author

"Twisting and chilling… a headlong, haunting thrill. With action and romance in spades, this is one to read."
— Kate Brauning, author of How We Fall

"With each chapter of The Progeny, I became a bigger fan of Tosca's! Wow! What a ride. Tosca has done it again."
— Randy Goodwin, actor/director, The Vampire Diaries and The Job

"Tosca Lee's The Progeny delivers a riveting ride from page one. Historical codes, serial killers, and whirlwind global travel just begin to frame this tale. I galloped through the book and at the end wanted more. Sequel please?!"
— Lis Wiehl, New York Times bestselling author and Fox News legal analyst

"Irresistible..."
— Publishers Weekly

"suspenseful"and "entertaining"
— Booklist

"[A] complex thriller with various turns and twists...A great choice for readers who enjoy theirpsychological thrillers with a historical twist."
— Library Journal

"Exciting...action-packed...intriguing"
— RT Book Reviews

"Filled with intrigue, romance, and reversals fans are sure to love."
— Family Fiction

"Lee effortlessly combines The Da Vinci Code's rolling mystery with the identity puzzle of Memento. Audra's trials leave you wanting more."
— Scott Sigler, New York Times bestselling author

"If you are into books that are well written, fast paced, with changes of direction and not knowing who can be trusted, then make sure you pick up Tosca's newest."
— Baker Book House

"The Progeny has risen to the top of my favorites list…I devoured every word of it. "
— Book Reporter
Howard Books, 9781501125942, 352pp.
Publication Date: March 7, 2017
About the Author
Tosca Lee is the award-winning New York Times bestselling author of The Progeny, Firstborn, Iscariot, The Legend of Sheba, Demon: A Memoir, Havah: The Story of Eve, and the Books of Mortals series with New York Times bestseller Ted Dekker. She received her BA in English and International Relations from Smith College. A lifelong adventure traveler, Tosca makes her home in the Midwest with her husband and children.
or
Not Currently Available for Direct Purchase