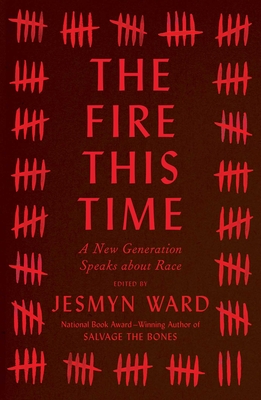 The Fire This Time
A New Generation Speaks about Race
Hardcover

* Individual store prices may vary.
Other Editions of This Title:
Digital Audiobook (8/1/2016)
Paperback (6/20/2017)
Description
The New York Times bestseller, these groundbreaking essays and poems about race—collected by National Book Award winner Jesmyn Ward and written by the most important voices of her generation—are "thoughtful, searing, and at times, hopeful. The Fire This Time is vivid proof that words are important, because of their power to both cleanse and to clarify" (USA TODAY).

In light of recent tragedies and widespread protests across the nation, The Progressive magazine republished one of its most famous pieces: James Baldwin's 1962 "Letter to My Nephew," which was later published in his landmark book, The Fire Next Time. Addressing his fifteen-year-old namesake on the one hundredth anniversary of the Emancipation Proclamation, Baldwin wrote: "You know and I know, that the country is celebrating one hundred years of freedom one hundred years too soon."

Award-winning author Jesmyn Ward knows that Baldwin's words ring as true as ever today. In response, she has gathered short essays, memoir, and a few essential poems to engage the question of race in the United States. And she has turned to some of her generation's most original thinkers and writers to give voice to their concerns.

The Fire This Time is divided into three parts that shine a light on the darkest corners of our history, wrestle with our current predicament, and envision a better future. Of the eighteen pieces, ten were written specifically for this volume.

In the fifty-odd years since Baldwin's essay was published, entire generations have dared everything and made significant progress. But the idea that we are living in the post-Civil Rights era, that we are a "post-racial" society is an inaccurate and harmful reflection of a truth the country must confront. Baldwin's "fire next time" is now upon us, and it needs to be talked about.

Contributors include Carol Anderson, Jericho Brown, Garnette Cadogan, Edwidge Danticat, Rachel Kaadzi Ghansah, Mitchell S. Jackson, Honoree Jeffers, Kima Jones, Kiese Laymon, Daniel Jose Older, Emily Raboteau, Claudia Rankine, Clint Smith, Natasha Trethewey, Wendy S. Walters, Isabel Wilkerson, and Kevin Young.
Praise For The Fire This Time: A New Generation Speaks about Race…
"[A] stirring anthology that takes more cues from Baldwin than just its title ... every poem and essay in Ward's volume remains grounded in a harsh reality that our nation, at large, refuses fully to confront."
—The New York Times Book Review

"[A] powerful book ... alive with purpose, conviction and intellect."
—The New York Times

"With this gorgeous chorus — Ward has done the same [as her ancestors]: she has created a world, a space, the one she, herself, was seeking. A new type of belonging, a new place to belong, is exactly what she has given us."
—L.A. Review of Books

"[W]hat The Fire This Time does best is to affirm the power of literature and its capacity for reflection and imagination, to collectively acknowledge the need for a much larger conversation, to understand these split-second actions in present, past, and future tense, the way that stories impel us to do. This is a book that seeks to place the shock of our own times into historical context and, most importantly, to move these times forward."
—Vogue

"The Fire This Time is a powerful, rewarding read that gets to the heart of what it means to be black in America today."
—The Root

"A half century ago James Baldwin, the prophet in the American wilderness, delivered The Fire Next Time—as complex a reckoning with race, morality and human nature as we have seen. Jesmyn Ward has pulled together in this collection you now hold the incisive, sage, angry and deeply complex voices of a new generation, responding to many of the same questions that confronted us in 1963. To Baldwin's call we now have a choral response—one that should be read by every one of us committed to the cause of equality and freedom."
—Jelani Cobb, historian

"In 1963, we were poised on a precipice, intellectually, spiritually, politically primed for the change we knew had to come. Now, some half-century later, we are again at the precipice. We are dismayed and disheartened to find ourselves here, aghast that the rules and players have changed but the game, somehow, is the same. What do we do, this post-Civil Rights generation, in the face of the same injustice, dressed in different clothes, coded in different laws? In The Fire This Time, a new generation of black writers speak with the 'fierce urgency of now.'"
—Ayana Mathis, novelist

"Fires destroy things…burns them up…makes ashes for us all…But fires also keep us warm…give us a glow to sit by…to tell ancestry stories to the children against the rhythmic crackle of history…to make love to against the glow. The generation of segregations gave us The Fire Next Time…we broke down those walls…The generation after segregation gives us the water to mix with the ashes to build…something…anything all…in the words of Margaret Walker…our own. This is a book to pick up and tuck under our hearts to see what we can build."
—Nikki Giovanni, poet

"Timely contributions to an urgent national conversation."
—Kirkus Reviews

"An absolutely indispensable anthology."
—Booklist (starred review)

"Ward's remarkable achievement is the gift of freshly minted perspectives on a tale that may seem old and twice-told. Readers in search of conversations about race in America should start here."
—Publishers Weekly (starred review)

"Groundbreaking."
—Library Journal

"Through her essays and poems about race, Jesmyn Ward's The Fire This Time acts as a response to James Baldwin's The Fire Next Time. Ward looks at the past, present, and future of America's notion of race, and the progress made from Baldwin's era up until now. Baldwin said that if we don't solve our country's problem of racial inequality, our society will be set ablaze, and Ward proves that that fire has already started."
—Popsugar

"Edited by National Book Award winner Jesmyn Ward, The Fire This Time is a collection of pieces by various authors on race in America, inspired by James Baldwin's 1963 book The Fire Next Time. Where were we then, where are we now, and where are we headed? Through its stunning essays and poems, this collection masterfully explores those questions and more."
—Buzzfeed

"In this searing anthology edited by two-time National Book Award winner Jesymn Ward, who dedicates the collection to Trayvon Martin, literary luminaries wrestle with what Ward calls "the ugly truths that plague us in this country." Envisioned as a contemporary response to James Baldwin's The Fire Next Time, The Fire This Time assembles essays and poems from brilliant writers including Jericho Brown, Edwidge Danticat, and Kevin Young, who dissect the historic legacy of structural racism in America, unpack the violent inequities of our contemporary moment, and envision a brighter future for people of color."
—Esquire
Scribner, 9781501126345, 240pp.
Publication Date: August 2, 2016
About the Author
Jesmyn Ward received her MFA from the University of Michigan and has received the MacArthur Genius Grant, a Stegner Fellowship, a John and Renee Grisham Writers Residency, the Strauss Living Prize, and the 2022 Library of Congress Prize for American Fiction. She is the winner of two National Book Awards for Fiction for Sing, Unburied, Sing (2017) and Salvage the Bones (2011). She is also the author of the novel Where the Line Bleeds and the memoir Men We Reaped, which was a finalist for the National Book Critics Circle Award and won the Chicago Tribune Heartland Prize and the Media for a Just Society Award. She is currently an associate professor of creative writing at Tulane University and lives in Mississippi.
Coverage from NPR