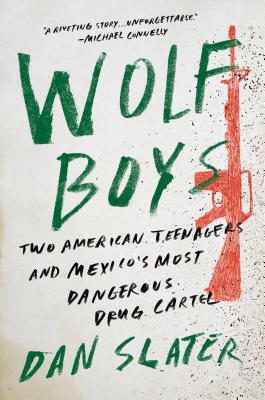 Wolf Boys
Two American Teenagers and Mexico's Most Dangerous Drug Cartel
Hardcover

* Individual store prices may vary.
Other Editions of This Title:
Digital Audiobook (9/12/2016)
Description
Chicago Public Library's Best Books of 2016

The story of two American teens recruited as killers for a Mexican cartel, and their pursuit by a Mexican-American detective who realizes the War on Drugs is unwinnable.

What's it like to be an employee of a global drug-trafficking organization? And how does a fifteen-year-old American boy go from star quarterback to trained assassin, surging up the cartel corporate ladder?

At first glance, Gabriel Cardona is the poster boy American teenager: great athlete, bright, handsome, and charismatic. But the streets of his border town of Laredo, Texas, are poor and dangerous, and it isn't long before Gabriel abandons his promising future for the allure of the Zetas, a drug cartel with roots in the Mexican military. His younger friend Bart, as well as others from Gabriel's childhood, join him in working for the Zetas, boosting cars and smuggling drugs, eventually catching the eye of the cartel's leadership.

Meanwhile, Mexican-born Detective Robert Garcia has worked hard all his life and is now struggling to raise his family in America. As violence spills over the border, Detective Garcia's pursuit of the boys, and their cartel leaders, puts him face to face with the urgent consequences of a war he sees as unwinnable.

In Wolf Boys Dan Slater shares their stories, taking us from the Sierra Madre mountaintops to the dusty, dark alleys of Laredo, Texas, on a harrowing, often brutal journey into the heart of the Mexican drug trade. Gabriel's evolution from good-natured teenager into a feared assassin is as inevitable as Garcia's slow realization of the futile nature of his work. A nonfiction thriller, Wolf Boys depicts more than just Gabriel, Bart, and the officers who took them down. It shows, through vivid detail and rich, often moving, narrative, the way in which the border itself is changing, disappearing, and posing new, terrifying, and yet largely unseen threats to American security. Ultimately though, Wolf Boys is the intimate story of the "lobos" themselves: boys turned into pawns for cartels. Their stories show how poverty, ideas about identity, and government ignorance have warped the definition of the American dream.
Praise For Wolf Boys: Two American Teenagers and Mexico's Most Dangerous Drug Cartel…
"The truth is stranger than fiction and sometimes it's much more harrowing. Wolf Boys is one of those times. Dan Slater has put together a riveting story that takes us on an unforgettable descent into the dark heart of the drug trade."—Michael Connelly

"A hell of a story… undeniably gripping."—The New York Times Book Review

"Wolf Boys is a rare book that reads like a thriller without aiming to be one. What Dan Slater does intend for it to be—and what he powerfully succeeds in creating—is an intimate, horrifying journey through a war we know is close and intractable, a war we willfully ignore with the faith that a river and a wall keeps its brutality at bay. With courageous detail and unforgettable characters, Slater will bring you not only to refute such faith, but to feel for the marginalized Americans on both sides of the conflict."—Jeff Hobbs, author of The Short and Tragic Life of Robert Peace

"Wolf Boys should be required reading, especially for anyone who supports the blood-chilling, appalling trade in illegal drugs."—Chuck Palahniuk, author of Fight Club

"Wolf Boys reads like a fictional thriller reminiscent of Brian De Palma's Scarface, but depicts actual events. If anyone needs proof that we're losing the war against drug cartels, here it is. Shocking. Eye-opening. A portrait of the evil that stalks our streets."—David Morrell, author of Murder as a Fine Art

"An extraordinary true story that reads like a thriller. Dan Slater's incredible research illuminates the terrifying descent of two American boys who could be any of our sons. Wolf Boys is not just a page-turner, but a riveting cautionary tale sure to spark national debate about parenting, the war on drugs, and the tenuous future of the American Dream."—Allison Leotta, author of The Last Good Girl

"This is not a political treatise filled with statistics and rhetoric. It's the story of two boys, born into a world of poverty and survivalism, who choose the wrong path to enrichment—an American story, written with tremendous energy and insight. Read this book."—T.J. English, author of Havana Nocturne

"An extraordinary journey through a criminal underworld, Dan Slater's Wolf Boys shows the reality of the drug war that few law enforcement agents, let alone journalists and politicians, ever glimpse or understand."—Bryan Burrough, co-author of Barbarians at the Gate and author of Days of Rage

"Wolf Boys is a wake-up call. A powerful narrative of crime and punishment based on astoundingly deep reporting about a topic we think we know. Dan Slater brings the realities of cartel violence and our War on Drugs to vivid and unsettling new light. It's a riveting piece of writing that unforgettably puts the reader in its characters' shoes."—Gilbert King, Pulitzer Prize-winning author of Devil in the Grove

"A grisly yet compelling tale of impoverished Mexican-American youth molded into assassins… Slater adeptly develops a sprawling narrative regarding the "spillover" of cartel violence… In a milieu of well-developed characters on both sides of the law, Slater focuses on two strong personalities…Slater covers this difficult social landscape with an empathetic eye and careful prose, vividly rendering a border region of "extreme poverty and garish wealth…elaborate courtesy and low-barbarian violence." Engrossing and readable yet nightmarish vision of a hyperviolent and corporatized narcotics industry, seducing a new generation with minimal alternatives."—Kirkus

"Raw, gut-wrenching, and deflating, journalist Slater's investigation into Mexican drug cartel activity will give readers pause… A must-read for fans of true crime and investigative journalism."—Library Journal

"A solid and popular addition to every library's true-crime shelf...Slater's careful and exhaustive research delivers a thoughtful portrait of the illicit drug trade...a riveting narrative."—Booklist, Starred Review

"Wolf Boys includes enough history to keep the Mexican drug trade in perspective, but it is Slater's storytelling that carries the day. Not a pretty story perhaps, yet it is an engrossing one. It raises more questions about the effects the "war on drugs" has on the United States' youth than on the Mexican cartels it is meant to combat…With tenacity and flair, Dan Slater spins a captivating account of Texas teen assassins in Mexican cartels and the authorities who try to contain them."—Shelf Awareness

"While few maintain clean hands, Slater expounds on the complexities tethered to each pass of currency. Thoroughly researched with stark details, Wolf Boys shines a glaring light on the atrocities of cartel life."—Associated Press

"Dan Slater's account…gives it an intimately human face…It is a tribute to Slater that he can make us see Gabriel more like a child soldier caught in a military conflict than as a monstrous killer…While we know where all of this will end, Slater tells a skillful tale drawing Cardona and Garcia's lives together, while bringing readers deeply into both sides of a borderland shaped by corruption and greed. Neither Gabriel Cardona nor Robert Garcia are pawns, but their choices are constrained by a world not entirely of their own making. Slater's triumph is in making us see that."—Washington Independent Review of Books

"This is 'Beyond Breaking Bad' for real... Slater knows how to tell a thrilling story in long form. This book, excerpted in Texas Monthly and banned in the Texas prison system, also illuminates the inner lives of the Laredo and Nuevo Laredo hoods far from the tourist traps and NAFTA highways."—Michael Barnes, Austin American-Statesman

"[An] insanely riveting narrative."—Joel McHale

"Slater's book has the same kind of feel, the same kind of first-hand psychological insight into the minds of those characters as the classic non-fiction novel In Cold Blood by Truman Capote....should be an eye-opener for parents, especially."—Randy Beamer, News 4 San Anontio

"[A]s difficult to put down as it is to recover from."—Erica Rivera, Crave Online

"One context in which we don't often hear about child soldiers is the drug war on the U.S.-Mexico border. Yet...some thirty thousand minors have been pressed into playing a role in the country's ongoing criminal insurgency, and several thousand of them have been killed. Wolf Boys offers a bracingly intimate glimpse of how this insurgency looks from the point of view of the young killers on the front lines."—Patrick Radden Keefe, The New Yorker

"Wolf Boys gives you a snapshot, in real time, of what is actually happening on the border."—Jesus Torres, Asst. Chief of Police, Laredo Police Dept.

"...a modern-day masterpiece..."—Gangsters Inc.

"...exhaustively reported and frighteningly intimate..."–Chris Vognar, Dallas Morning News

"I was amazed and impressed by the author's research, courage, and style. I recommend it highly...Believe me, it will give you insight into another world and a totally different perspective."—Judith Zaffirini, Texas State Senator (D-Laredo)
Simon & Schuster, 9781501126543, 352pp.
Publication Date: September 13, 2016
About the Author
A former reporter for The Wall Street Journal, Dan Slater has written for The New York Times, The New Yorker, The Washington Post, The Boston Globe, New York magazine, The Atlantic, GQ, and Fast Company. He is the author of Love in the Time of Algorithms. A graduate of Colgate University and Brooklyn Law School, he lives in New England.
Coverage from NPR
or
Not Currently Available for Direct Purchase