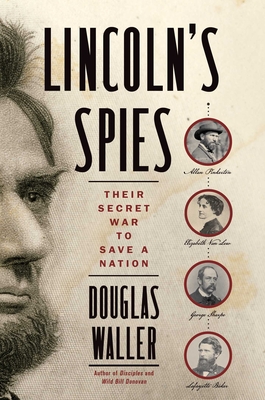 Lincoln's Spies
Their Secret War to Save a Nation
Hardcover

* Individual store prices may vary.
Other Editions of This Title:
Digital Audiobook (8/5/2019)
Paperback (8/18/2020)
Compact Disc (8/6/2019)
Description
A major addition to the history of the Civil War, Lincoln's Spies is a riveting account of the secret battles waged by Union agents to save a nation. Filled with espionage, sabotage, and intrigue, it is also a striking portrait of a shrewd president who valued what his operatives uncovered.

Veteran journalist Douglas Waller, who has written ground-breaking intelligence histories, turns his sights on the shadow war of four secret agents for the North—three men and one woman. From the tense days before Abraham Lincoln's inauguration in 1861 to the surrender at Appomattox four years later, Waller delivers a fast-paced narrative of the heroes—and scoundrels—who informed Lincoln's generals on the enemy positions for crucial battles and busted up clandestine Rebel networks.

Famed detective Allan Pinkerton mounted a successful covert operation to slip Lincoln through Baltimore before his inauguration to foil an assassination attempt. But he failed as General George McClellan's spymaster, delivering faulty intelligence reports that overestimated Confederate strength.

George Sharpe, an erudite New York lawyer, succeeded Pinkerton as spymaster for the Union's Army of the Potomac. Recruiting skilled operatives, some of whom dressed in Rebel uniforms, Sharpe ran highly successful intelligence operations that outpaced anything the enemy could field.

Elizabeth Van Lew, a Virginia heiress who hated slavery and disapproved of secession, was one of Sharpe's most successful agents. She ran a Union spy ring in Richmond out of her mansion, with dozens of agents feeding her military and political secrets she funneled to General Ulysses S. Grant as his army closed in on the Confederate capital. Van Lew became one of the unsung heroes of the war.

Lafayette Baker was a handsome Union officer with a controversial past, whose agents clashed with Pinkerton's operatives. The unscrupulous Baker assembled a retinue of disreputable spies, thieves, and prostitutes to root out traitors in Washington, D.C. But he failed at his most important mission: uncovering the threat to Lincoln from John Wilkes Booth and his gang.

Behind these secret operatives was a president, one of our greatest, who was an avid consumer of intelligence and a ruthless aficionado of clandestine warfare, willing to take chances to win the war. Lincoln's Spies, as Waller vividly depicts in his excellent new book, set the template for the dark arts the CIA would practice in the future.
Praise For Lincoln's Spies: Their Secret War to Save a Nation…
"[A] fast-paced, fact-rich account…Douglas Waller has most skillfully aimed a spotlight on this neglected aspect of the Union effort. Civil War military history can never again be read or told in quite the same way."—The Wall Street Journal

"Douglas Waller's fast-paced and deeply-researched narrative of Union intelligence operations in the Eastern theater of the Civil War cuts through the myths and fabrications that grew up around "Lincoln's spies" and presents a professional, readable appraisal that emphasizes the positive contributions that Colonel George Sharpe and Richmond Unionist Elizabeth Van Lew made to ultimate Northern victory. This book is vital reading for anyone interested in the Civil War or in the origins of modern spycraft."—James M. McPherson, Pulitzer Prize-winning author of Battle Cry of Freedom: The Civil War Era and The War That Forged a Nation

"Waller delivers a highly readable and detailed accounting of spies and spycraft during the Civil War…for those wanting to see spying through both a wide-angle lens in terms of patterns of espionage and a microscopic one in terms of personalities, Waller's book is the one to read."—Library Journal

"[A] cracking good tale…espionage in the Civil War gets a thorough, fascinating examination."—Publishers Weekly

"In Lincoln's Spies, at long last, we have an absolutely compelling and essential account to stand alongside those on Lincoln's generals, Lincoln's admirals, and Lincoln's cabinet secretaries. Here is a pantheon of heroes and a rogues' gallery, the patriotic and the subversive, the idealistic and the crooked. Douglas Waller brings more than a keen intelligence to the early craft of intelligence. He is like a spy into the past who has uncovered some of the most incredible and devious characters of the Civil War and revealed their plots, schemes and secret worlds."—Sidney Blumenthal, author of The Political Life of Abraham Lincoln series

"The story of spies in the Civil War is a complex tale, often told in simplistic and distorted terms. Douglas Waller's Lincoln's Spies is an impressively researched, intimately described story that will set the record straight on many aspects of this underscore to the period. It will be required reading for students of the Civil War."—David J. Eicher, Author of The Longest Night: A Military History of the Civil War

"Waller delivers a highly readable and detailed accounting of spies and spycraft during the Civil War… For those wanting to see spying through both a wide-angle lens in terms of patterns of espionage and a microscopic one in terms of personalities, Waller's book is the one to read." —Library Journal

"A treasure trove of information…Lincoln's Spies filled many nooks and crannies of Civil War knowledge…Waller richly covers the people, times, and events of the Civil War. A deep well of Civil War information." —Johnathan R. Allen, LearnCivilWarHistory.com

"Waller's narrative moves chronologically, alternating between each of the four subjects and recounting their exploits in detail. This is a long but cracking good tale."—Publishers Weekly

"A detailed, chronological look at the work of a handful of spies in President Abraham Lincoln's network and the extent to which they helped defeat the Confederacy… A meticulous chronicle of all facets of Lincoln's war effort." –Kirkus Reviews

"'Lincoln's Spies is a fascinating, well-written and well-researched book that covers the Civil War chronologically while highlighting the actions of the four spies and others."—Washington Times
Simon & Schuster, 9781501126840, 624pp.
Publication Date: August 6, 2019
About the Author
Douglas Waller is a former correspondent for Newsweek and Time, where he covered the CIA, Pentagon, State Department, White House, and Congress. He is the author of the bestsellers Wild Bill Donovan, Big Red, and The Commandos, as well as critically acclaimed works such as Disciples, the story of four CIA directors who fought for Donovan in World War II, and A Question of Loyalty, a biography of General Billy Mitchell. He lives in Raleigh, North Carolina.
or
Not Currently Available for Direct Purchase