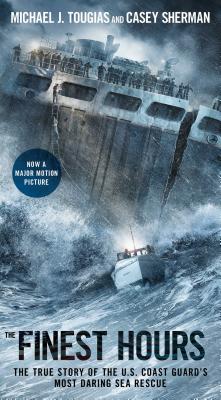 The Finest Hours: The True Story of the U.S. Coast Guard's Most Daring Sea Rescue (Mass Market Paperbound)
The True Story of the U.S. Coast Guard's Most Daring Sea Rescue
Pocket Books, 9781501127175, 352pp.
Publication Date: December 29, 2015
Description
The story behind the major motion picture from Disney--starring Chris Pine, Eric Bana, and Casey Affleck--written by a recognized master of the genre--"a blockbuster account of tragedy at sea" (The Providence Journal). It's the winter of 1952 and a ferocious Nor'easter is pounding New England with howling winds and seventy-foot seas. Two oil tankers get caught in the violent storm off Cape Cod, its fury splitting the massive ships in two. Back on shore, four young Coast Guardsmen are issued a suicide mission: save the lives of the stranded seamen. Sailing a tiny lifeboat into the teeth of the killer storm, the rescue crew soon loses all navigation. With no idea where the stranded seaman are nor how to get back home, the crew stumbles upon the SS Pendleton in the darkness. More than thirty hopeful men appear at the wounded ship's railings. Can the tiny lifeboat save them all? Dripping with suspense and high-stakes human drama, The Finest Hours has incredible and astonishing true-to-life heroism and action-packed rescue scenes. This "marvelous and terrifying yarn" (Los Angeles Times) "deserves a place as a classic of survival at sea" (The Boston Globe).
About the Author
Michael J. Tougias is the author of a number of books, including The Rescue of the Bounty, Overboard!, Fatal Forecast, and Ten Hours Until Dawn: The True Story of Heroism and Tragedy Aboard the Can Do. He is a sought-after lecturer who gives more than seventy presentations each year. He lives in Massachusetts. Casey Sherman is the author of two novels, Black Irish and Black Dragon. He's also the author of the acclaimed true crime thriller A Rose for Mary: The Hunt for the Real Boston Strangler. Sherman has been nominated for an Emmy Award, has appeared on dozens of national television programs, and has been profiled by numerous magazines and newspapers. He lives in Massachusetts.
Advertisement