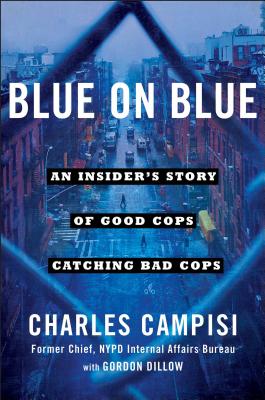 Blue on Blue (Hardcover)
An Insider's Story of Good Cops Catching Bad Cops
Scribner, 9781501127199, 368pp.
Publication Date: February 7, 2017
Other Editions of This Title:
Digital Audiobook (2/6/2017)
Paperback (2/6/2018)
* Individual store prices may vary.
Description
One of the most authentic and consistently illuminating portraits of police work ever, Blue on Blue describes the fascinating inner workings of the world's largest police force and Chief Charles Campisi's unprecedented two decades putting bad cops behind bars.

From 1996 through 2014 Charles Campisi headed NYPD's Internal Affairs Bureau, working under four police commissioners and gaining a reputation as hard-nosed and incorruptible. When he retired, only one man on the 36,000-member force had served longer. During Campisi's IAB tenure, the number of New Yorkers shot, wounded, or killed by cops every year declined by ninety percent, and the number of cops failing integrity tests shrank to an equally startling low.

But to achieve those exemplary results, Campisi had to triple IAB's staff, hire the very best detectives, and put the word out that bad apples wouldn't be tolerated.

While early pages of Campisi's absorbing account bring us into the real world of cops, showing, for example, the agony that every cop suffers when he fires his gun, later pages spotlight a harrowing series of investigations that tested IAB's capacities, forcing detectives to go undercover against cops who were themselves undercover, to hunt down criminals posing as cops, and to break through the "blue wall of silence" to verify rare—but sometimes very real—cases of police brutality.

Told in an edge-of-the-seat way by a born storyteller, Blue on Blue puts us in the scene, allowing us to listen in on wiretaps and feel the adrenaline rush of drawing in the net. It also reveals new threats to the force, such as the possibility of infiltration by terrorists. Ultimately, the book inspires awe for the man who, for almost two decades, was entrusted with the job of making sure the words "New York's Finest" never ring hollow.

A truly revelatory account, Blue on Blue will forever change the way you view police work.
About the Author
Charles Campisi was Chief of the NYPD's Internal Affairs Bureau from 1996 to 2014. In his years on the job he developed model strategies for investigating corruption, which have been adopted by law enforcement agencies across the US and abroad. A graduate of the FBI National Academy and Harvard's John F. Kennedy School of Government, he currently works as a Senior VP at the private investigation firm Cyber Diligence. He grew up in Brooklyn, New York.

Gordon Dillow has been a reporter, columnist, and war correspondent for more than thirty years. He has written for a number of newspapers, including the Orange County Register, the Los Angeles Times, and the Los Angeles Herald Examiner, and is the author of Fire in the Sky and coauthor of Where the Money Is, Uppity, and Blue on Blue. He lives in Scottsdale, Arizona.
Praise For Blue on Blue: An Insider's Story of Good Cops Catching Bad Cops…
"A lively memoir…Mr. Campisi, a Brooklyn kid who had one of the longest careers in the NYPD's history, has seen it all, and he tells his cop stories with verve, intriguing detail and a generous heart."
—Wall Street Journal

"A compelling, educational, memorable account of Campisi's rise through the police department ranks until he was ordered to accept an assignment no cop ever wanted: to become part of the Internal Affairs Bureau…Campisi found ways to alter the reputation of the bureau while also improving techniques to catch and punish cops who cut corners, stole drugs, or employed excessive force…This superb memoir can be read for its sheer entertainment or as a primer on police work—or both."
—Kirkus Reviews (starred review)

"The thing about Chief Charles Campisi is that he's a truth teller. Blue on Blue takes the reader into a shadow world where police officers confront evil and often lose that confrontation. This is a serious look at American police work from a man who has seen it all. You will learn an enormous amount by reading this book."
—Bill O'Reilly, Anchor at FOX News Channel

"A compelling, fascinating, and often harrowing read. In taut prose, Charles Campisi describes the evolution, formation, and institutionalization of a truly professional Internal Affairs Bureau, which he commanded from the mid-1990s until his recent retirement, and which stands as the most important and beneficial development in the modern history of the NYPD—indeed, it is arguably the single greatest achievement in the history of American police work generally. This is a riveting history, wonderful for general readers and essential for all modern police forces to study and absorb."
—Caleb Carr, New York Times bestselling author of The Alienist and Surrender, New York

"The ultimate insider's view on police brutality and corruption…There are myriad books by street cops and detectives, but a voice telling what it was like to work internal investigations is rare indeed…It's cops and robbers both ways here, with the excitement coming both from street stories and from tales of the intricacies of plotting against bad cops, with tools like wiretaps and sting operations. An unflinching exposé and a riveting read."
—Booklist (Starred Review)

"Blue on Blue is a refreshing, behind-the-wall-of-silence look at what goes on—and why—in big city police departments. Campisi stockpiles his story arsenal with riveting history, experience, anecdotal evidence and high emotion, continually reminding us of the beacon he kept in sight throughout his career, which was to stay on the up and up no matter what. It all adds up to the real deal from a solid confidential informant."
—Theresa Schwegel, Edgar Award winning author of Officer Down

"A must-read for those who want to know the real story behind police misconduct, written with unvarnished frankness by the man who knows the most about the problem. Told with the same gripping intensity as the best true crime, Blue on Blue takes the reader inside the most highly publicized investigations as they happened."
—Thomas Reppetto, author of the two-volume American Police: 1845-2012

"Reading Blue on Blue is like losing yourself in a good detective novel, except for two things. It's fact, not fiction. And the bad guys are cops, being chased by good guys who are cops. No one has more insight into the hard work of ensuring integrity in policing than Charles Campisi, the NYPD's longest serving head of internal affairs. This book should inspire others to follow his example."
—Jeremy Travis, President of John Jay College of Criminal Justice and Former Director of the National Institute of Justice

"Blue on Blue is as important as it is timely. This is police work as it happens every day, told by a determined and dedicated cop, Charlie Campisi, who never wavered from his mission: to try to make sure all cops act with 100% integrity. Campisi writes compellingly of his nearly twenty years as the chief of IAB, monitoring his fellow cops in what was often a thankless job. It was a job that often included lonely stakeouts, highly dangerous situations and savvy detective work, worthy of Sherlock Holmes. The NYPD lost the best internal investigator in the country when Campisi left the department."
—Ray Kelly, Longest serving Commissioner of the NYPD

"In the world of policing there is no more secretive activity then Internal Affairs. In Blue on Blue, Chief Charlie Campisi lifts the veil, showing the reader the twisted rationalizations, clever deceptions, and sometimes dangerous calculations of cops who are criminals. As the longest serving chief of the NYPD bureau entrusted with the job of rooting out cops who betray their oath, Campisi proved perfect for the job. Though he always treated the accused as innocent until facts suggested otherwise, when evidence showed wrongdoing, he was both skillful and relentless in bringing the offender to justice. I appointed Chief Campisi for those very reasons, and consider him the best ever Chief of IAB in the best police department in the world."
—Howard Safir, 39th Commissioner of the NYPD

"As a former police chief, I can vouch not only for the impressiveness of the detective work on display in Blue on Blue, but also for the unyieldingly truthful picture the book paints of how real cops do their jobs every day. Anyone who isn't a cop will find this book eye-opening, and everyone will find it riveting."
—Gil Kerlikowske, former Police Chief of Seattle, Washington
or
Not Currently Available for Direct Purchase