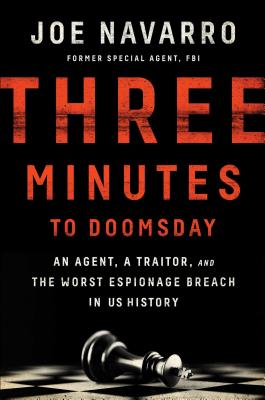 Three Minutes to Doomsday
An Agent, a Traitor, and the Worst Espionage Breach in U.S. History
Hardcover

* Individual store prices may vary.
Other Editions of This Title:
Digital Audiobook (4/17/2017)
Description
An intense cat-and-mouse game played between two brilliant men in the last days of the Cold War, this shocking insider's story shows how a massive giveaway of secret war plans and nuclear secrets threatened America with annihilation.

In 1988 Joe Navarro, one of the youngest agents ever hired by the FBI, was dividing his time between SWAT assignments, flying air reconnaissance, and working counter-intelligence. But his real expertise was "reading" body language. He possessed an uncanny ability to glean the thoughts of those he interrogated.

So it was that, on a routine assignment to interview a "person of interest"—a former American soldier named Rod Ramsay—Navarro noticed his interviewee's hand trembling slightly when he was asked about another soldier who had recently been arrested in Germany on suspicion of espionage. That thin lead was enough for the FBI agent to insist to his bosses that an investigation be opened.

What followed is unique in the annals of espionage detection—a two-year-long battle of wits. The dueling antagonists: an FBI agent who couldn't overtly tip to his target that he suspected him of wrongdoing lest he clam up, and a traitor whose weakness was the enjoyment he derived from sparring with his inquisitor. Navarro's job was made even more difficult by his adversary's brilliance: not only did Ramsay possess an authentic photographic memory as well as the second highest IQ ever recorded by the US Army, he was bored by people who couldn't match his erudition. To ensure that the information flow would continue, Navarro had to pre-choreograph every interview, becoming a chess master plotting twenty moves in advance.

And the backdrop to this mental tug of war was the dissolution of the Soviet Union and the very real possibility that its leaders, in a last bid to alter the course of history, might launch a devastating attack. If they did, they would have Ramsay to thank, because as Navarro would learn over the course of forty-two mind-bending interviews, Ramsay had, by his stunning intelligence giveaways, handed the Soviets the ability to utterly destroy the US.

The story of a determined hero who pushed himself to jaw-dropping levels of exhaustion and who rallied his team to expose undreamed of vulnerabilities in America's defense, Three Minutes to Doomsday will leave the reader with disturbing thoughts of the risks the country takes even today with its most protected national secrets.
Praise For Three Minutes to Doomsday: An Agent, a Traitor, and the Worst Espionage Breach in U.S. History…
"Riveting … A founding member of the FBI's National Security Division Behavioral Analysis Program recounts his dogged efforts to court and prosecute a bedraggled but brilliant young spy … A fascinating account of counterintelligence in the pre-cyber era and a reminder of how an astute interviewer can be an invaluable asset to law enforcement."
—Kirkus Reviews

"One of the most gripping cat-and-mouse espionage stories you'll ever read—and it all really happened. Like the showdown between FBI profiler Will Graham and evil genius Hannibal Lecter portrayed in the book Red Dragon and its film adaptation Manhunter, this real-life account by FBI agent/body-language expert Joe Navarro of outwitting traitor/savant Rod Ramsay will irresistibly push you to the edge of your chair. What makes the read even more intense is that the stakes couldn't be higher: possibly, the lives of every American if our hero doesn't get his adversary to expose the full extent of what he's wrought."
—Barry Eisler, New York Times bestselling author of Fault Line and The Detachment

"This book is, like its brilliant author, very knowing about what drives men—both good and bad—to excess. And as the revelations build to a crescendo, we shake our heads at how thoroughly misinformed we are about our own security. If there's only one book you read about a mole hunt, read this one. Certainly, any new FBI or CIA recruit should be given a copy upon walking through the door."
—Robert Baer, former CIA operative and New York Times bestselling author of See No Evil, Sleeping with the Devil, and The Perfect Kill

"Like fiction but better, Three Minutes to Doomsday tells the almost-too-incredible-to-be-believed story of an enormous espionage case involving three generations of spies spanning thirty years in half a dozen countries. Coincidentally, at the case's height, Joe Navarro and I were both trying to penetrate the spy ring—he the FBI agent trying to make an arrest and protect national security, and me the journalist trying to land an interview that would expose the truth. In the end, we both succeeded in what was the ultimate true-life spy story."
—James Bamford, New York Times bestselling author of The Shadow Factory: The Ultra-Secret NSA from 9/11 to the Eavesdropping on America

"A gripping account of dogged intelligence professionals at work against a treacherous but brilliant cabal of American soldiers who, if never exposed, could have changed the course of the Cold War. Fortunately, traitor Rod Ramsay met his intellectual match in Joe Navarro who superbly won the interrogation chess game and saved the nation. Three Minutes to Doomsday is a breathtaking account of the most important spy case of the century told by the man who relentlessly pursued it to its conclusion."
—Harry E. Soyster, former Commanding General of the U.S. Army Intelligence and Security Command (INSCOM) and former Director of the Defense Intelligence Agency

"A spellbinding first-person account of brilliant psychological manipulation, meticulous research, and admirable personal sacrifice. Navarro matched wits with the canny traitor Ramsay, gained his trust, and exploited his towering ego eventually to wrest a confession that plunged the FBI, the NSA, and the Department of Justice into a panic. At once unique and electrifying, Three Minutes to Doomsday will fascinate students of history and spy junkies alike."
—Jason Matthews, New York Times bestselling author of Red Sparrow and Palace of Treason

"This book by an FBI agent who became one of the most creative and effective counterintelligence officers in the Bureau focuses on the pursuit of US Army traitor Rod Ramsay who, among many nefarious acts, helped spirit the defense plans of Western Europe to the Soviet Union and Warsaw Pact. Three Minutes to Doomsday is a great espionage story told brilliantly—indeed, a must read for anyone who wants to know the secret history of espionage."
—David Major, Founder of the CI Centre, retired FBI Special Agent, and former Director of Intelligence and Counterintelligence Programs for the National Security Council

"As compelling and unputdownable as it is terrifying…For anyone even remotely intrigued by spies, tradecraft, Soviets, Cold War Europe, nuclear war action plans, the daily life of FBI agents, high-end espionage prosecutions, or simply how to tell if someone is lying to you, Three Minutes to Doomsday is a ride you have to take."
—Nils Johnson-Shelton, New York Times bestselling coauthor of No Angel

"Both exhilarating and frightening, this is former FBI agent Joe Navarro's account of discovering and ferreting out one of the largest and most insidious espionage breaches in US history. The tradecraft on display will remind readers of a John Le Carre novel, but, shockingly, it's all true!"
—Robert K. Wittman, founder of the FBI Art Crime Team and New York Times bestselling author of Priceless and The Devil's Diary

"Three Minutes to Doomsday invites you into the muddied waters of counter-espionage—where often the rules are: befriend your enemy, lie to your friends, and watch extra carefully so that your own headquarters doesn't stab you in the back. The price paid by our men in the shadows, whose job is to keep us safe, is rarely seen; nor is it visible how close our nation is to disaster at any moment. Joe Navarro's book will send chills into readers as they consider the grave dangers we confront, and it will make them ache at the losses suffered by those who frequently risk all."
—Glenn L. Carle, former CIA officer and author of The Interrogator

"There is mystery, intrigue, high drama and humor. However, it is the mental ballet between author and superhero FBI agent Joe Navarro and Ramsey that borders on breathtaking. The reader is left hanging on every word, every movement, and wanting more. The book truly is a page turner and one that doesn't come along often … a must read."
—Sandra Grimes, former CIA operative and coauthor of Circle of Treason

"A masterful work of suspense rivaling the work of any popular suspense novelist … For all those who want to know how these investigations get done, this book should be required reading. More than that, we should all feel lucky that at a perilous time in our nation's history we had Joe Navarro covering our backs."
—Gary Noesner, former Chief of the FBI Crisis Negotiation Unit and author of Stalling for Time: My Life as an FBI Hostage Negotiator

"A fascinating behind-the-scenes look at one FBI agent's fight to capture a Cold War spy. Despite endless setbacks and chaos, Navarro never gave up. For our nation's sake, you will come away hoping there are more Joe Navarros in the trenches trying to do their job."
—Fred Burton, VP, Stratfor, former special agent for the Diplomatic Security Service and New York Times best-selling author of Under Fire, Ghost, and Chasing Shadows

"[This] is one of the most unusual espionage stories of the modern era. The pace of Navarro's gripping first-person narrative never slackens."
—Brian Latell, author of After Fidel and Castro's Secrets
Scribner, 9781501128271, 368pp.
Publication Date: April 18, 2017
About the Author
For twenty-five years Joe Navarro was a Special Agent with the FBI in the area of counterintelligence, and he was a founding member of the FBI's elite National Security Division Behavioral Analysis Program, which focused on the behavior of spies, terrorists, and criminal behavior. Since retiring, Navarro has lectured widely on nonverbal communication and has been featured in major media outlets throughout the world. He is the author of Three Minutes to Doomsday and the international bestseller What Every BODY Is Saying. You can find him at JNForensics.com.
or
Not Currently Available for Direct Purchase