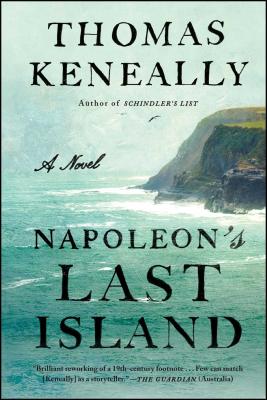 Napoleon's Last Island
A Novel
Paperback

* Individual store prices may vary.
Other Editions of This Title:
Hardcover (10/4/2016)
Hardcover, Large Print (1/4/2017)
MP3 CD (4/15/2016)
Compact Disc (4/15/2016)
Compact Disc (4/15/2016)
Description
The bestselling author of Schindler's List and The Daughters of Mars returns with an "insightful and nimble...consistently fresh and engaging" (The New York Times Book Review) novel about the remarkable friendship between a quick-witted young woman and one of history's most intriguing figures, Napoleon Bonaparte, during the final years of his life in exile on St. Helena.

In October 1815, after his defeat at the Battle of Waterloo, Napoleon Bonaparte was sent to live the remainder of his life in exile on the remote Southern Atlantic island of St. Helena. There, on what he called "the cursed rock," with no chance of escape, he found an unexpected ally: a spirited British teenager named Betsy Balcombe who lived on the island with her family. While Napoleon waited for his own accommodations to be made livable, the Balcombe family played host to the infamous exile, a decision that would have far-reaching consequences for them all.

In Napoleon's Last Island, based on a true story, acclaimed author Thomas Keneally re-creates Betsy's powerful and complex friendship with the man dubbed The Great Ogre, her clashes and alliances with his remaining courtiers, and her uneasy journey to adulthood as she begins to see the imperfections and weaknesses of human nature. As he brings a fascinating period vividly to life, Keneally shines a fresh light on one of history's most enigmatic, charismatic figures. "The book is a complex and mesmerizing success," raves the Christian Science Monitor, hailing it as "a masterpiece in miniature…unfailingly great reading [and] testimony to the fact that Keneally is our greatest living practitioner of historical fiction."
Praise For Napoleon's Last Island: A Novel…
"Insightful and nimble prose. . . [Keneally's] writing is consistently fresh and engaging. . . . As in Henry James's novels about children, the combination of knowledge and ignorance creates a chiaroscuro effect that gives the narrative depth. . . Napoleon's Last Island is old-fashioned in the best sense. . . call[s] to mind the giants of 19th century fiction . . . . Seamlessly unites fiction and the 'truth,' which means in this case that its armature of fact supports its layers of fictional invention as though they were weightless. The delight Keneally took in pulling off this trick shows on every page."
— The New York Times Book Review

"Deft, engaging. . . unfailingly great reading. . . . Keneally is our greatest living practitioner of historical fiction. . . [and he] finds such eager drama and pathos in the least likely of settings. The book is a complex and mesmerizing success."
— Christian Science Monitor

"Keneally is one of the finest living English-language writers…and creates an intricate, intense world driven by power plays, culture clashes, secrets and deceptions."
— The Star Tribune

"Keneally's book gives readers a persuasive account of [a] precocious teenager's view of the world's most infamous man. He makes Betsy an engaging and witty presence, and he charts her destiny into her post–St. Helena existence, where the short general's long shadow continues to affect her life. Like the late E.L. Doctorow, Keneally adapts his style to suit his subject matter, and here the high formality of 19th-century journal-keeping helps bring alive the bittersweet last days of Napoleon."
— Publishers Weekly

Praise for Shame and the Captives :

"Keneally is especially good at rendering the small psychological adjustments made between people embarking on intimacy."
— New York Times Book Review

"If the legendary Schindler's List was not enough to showcase Thomas Keneally's literary mastery, then Shame and the Captives surely will….It is clear from the start how thorough are Keneally's research and cultural understanding; and he showcases them with brilliant, masterful writing....[A]n example of fine writing that has the power to entice modern readers and those interested in the truthful reflection of the human spirit, no matter the place, culture or generation."
— The New York Daily News

"Once again, Keneally reaches back to the WWII era to stunningly dramatic effect...explores multiple and multifaceted themes of courage, loyalty, empathy, and cultural dissonance."
— Booklist

"Keneally shares his deeply believable and flawed characters' conflicting perspectives sensitively and with great empathy,expressing the full range of humanity in a few hundred pages. He does an extraordinary job of making all his characters compelling and sympathetic, with fully formed back stories, even those whose perspectives are likely to be the most "foreign" to the reader…. Keneally blends history, romance and wartime intrigue in a remarkable piece of historical fiction with a strong sense of place and time."
— Kirkus (starred review)
Washington Square Press, 9781501128431, 432pp.
Publication Date: September 5, 2017
About the Author
Thomas Keneally began his writing career in 1964 and has published thirty-three novels since, most recently Crimes of the Father, Napoleon's Last Island, Shame and the Captives, and the New York Times bestselling The Daughters of Mars. He is also the author of Schindler's List, which won the Booker Prize in 1982, The Chant of Jimmie Blacksmith, Gossip from the Forest, and Confederates, all of which were shortlisted for the Booker Prize. He has also written several works of nonfiction, including his boyhood memoir Homebush Boy, The Commonwealth of Thieves, and Searching for Schindler. He is married with two daughters and lives in Sydney, Australia.
or
Not Currently Available for Direct Purchase