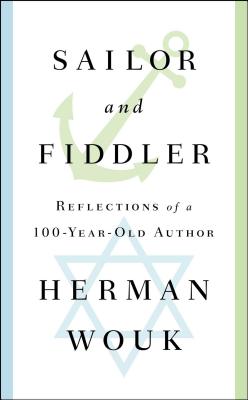 Sailor and Fiddler
Reflections of a 100-Year-Old Author
Hardcover

* Individual store prices may vary.
Other Editions of This Title:
Digital Audiobook (1/4/2016)
Paperback (10/18/2016)
Hardcover, Large Print (4/20/2016)
Description
In an unprecedented literary accomplishment, Herman Wouk, one of America's most beloved and enduring authors, reflects on his life and times from the remarkable vantage point of 100 years old.

Many years ago, the great British philosopher Sir Isaiah Berlin urged Herman Wouk to write his autobiography. Wouk responded, "Why me? I'm nobody." Berlin answered, "No, no. You've traveled. You've known many people. You have interesting ideas. It would do a lot of good."

Now, in the same year he has celebrated his hundredth birthday, Herman Wouk finally reflects on the life experiences that inspired his most beloved novels. Among those experiences are his days writing for comedian Fred Allen's radio show, one of the most popular shows in the history of the medium; enlisting in the US Navy during World War II; falling in love with Betty Sarah Brown, the woman who would become his wife (and literary agent) for sixty-six years; writing his Pulitzer Prize-winning novel, The Caine Mutiny; as well as a big hit Broadway play The Caine Mutiny Court Martial; and the surprising inspirations and people behind such masterpieces as The Winds of War, War and Remembrance, Marjorie Morningstar, and Youngblood Hawke.

Written with the wisdom of a man who has lived through two centuries and the wit of someone who began his career as professional comedy writer, the first part of Wouk's memoir ("Sailor") refers to his Navy experience and writing career, the second ("Fiddler") to what he's learned from living a life of faith. Ultimately, Sailor and Fiddler is an unprecedented reflection from a vantage point few people have lived to experience.
Praise For Sailor and Fiddler: Reflections of a 100-Year-Old Author…
"Deliciously brisk, pithy, and witty.... A self-described "cheerful centenarian," Wouk is jaunty and wise in this sparkling memoir of a well-lived life of literature, fame, and love."

— Booklist

"Even more remarkable than its writer's age is the way [Sailor and Fiddler] pulsates with energy, integrity and other fine qualities which have made his a life exceptionally well-lived. He is too modest ever to suggest what I am about to. But if the magnificent text of his magisterial World War II novels The Winds of War and War and Remembrance, with their amazing combination of inventiveness and veracity, were not enough to convince that they are American literature's counterpart to Tolstoy's War and Peace, the spare but heartfelt description here of the effort and sacerdotal commitment he brought to them should erase any doubt."
— Washington Times

"Sailor and Fiddler attests not only to the interesting life Wouk has led, but also to the remarkable fact that he has reached the age of 100 with his storytelling skills fully intact. At 139 pages, his memoir may be brief, but it is full of adventure, wit, color and detail, and populated with savants, celebrities and historical world figures ranging from Kurt Weill and Charles Laughton to David Ben-Gurion and Menachem Begin."
— Jewish Journal

"Fans of Wouk's prose will appreciate both the thought process that went into building the structure of his novels, especially the World War II epics The Winds of War and War and Remembrance, as well as the depiction of the arduous work he undertook to fulfill his desire to 'bring the tragedy of the Holocaust to life' at a time when it was at the margins of the world's consciousness."
— Tablet Magazine

"It's a fitting final work for an author with a long and remarkable career… a lovely coda to the career of a man who made American literature a kinder, smarter, better place."
— NPR.org

"Isn't it time we acknowledged, however belatedly, that Herman Wouk is not just a best-selling novelist but is in fact a major American author whose body of work will live as long as that of any American novelist of the last century?"
— Chicago Tribune

"Reading the latest, and perhaps last, book by 100-year-old Herman Wouk feels a bit like having a conversation with him."
— New York Post

"Wouk's tone is generous and warm, crediting always his happy marriage to an extraordinary woman, offering sympathy and his 'grandfatherly blessing' to young writers aspiring to literary greatness."
— Boston Globe

"This small volume will delight Wouk's fans along with readers interested in the professional and spiritual growth of a prominent American writer whose insights span two centuries."
— Library Journal

"The little book's prose is strong and clear, and Wouk comes across as still a fairly lively fellow…"
— Washington Post

"Here's a pleasure between covers that you wouldn't expect: a slender, hugely companionable book of tiny autobiographical sketches by one of the inventors of the modern-style middlebrow blockbuster best-seller. Herman Wouk, then, now becomes a trailblazing centenarian charmer along with the author of The Caine Mutiny, The Caine Mutiny Court Martial, Marjorie Morningstar, Youngblood Hawke, The Winds of War and War and Remembrance. And here's this slender and completely unexpectedly beguiling book of barely 142 pages, all separated into tiny thoughts and vignettes that are peppery and often lovable. Herewith the life of a 'professional writer,' who's now 100. Bless him."
— Buffalo News
Simon & Schuster, 9781501128547, 160pp.
Publication Date: January 5, 2016
About the Author
Herman Wouk was the author of such classics as The Caine Mutiny (1951), Marjorie Morningstar (1955), Youngblood Hawke (1961), Don't Stop the Carnival (1965), The Winds of War (1971), War and Remembrance (1978), and Inside, Outside (1985). His later works include The Hope (1993), The Glory (1994), A Hole in Texas (2004) and The Lawgiver (2012). Among Mr. Wouk's laurels are the 1952 Pulitzer Prize for Fiction for The Caine Mutiny; the cover of Time magazine for Marjorie Morningstar, the bestselling novel of that year; and the cultural phenomenon of The Winds of War and War and Remembrance, which he wrote over a fourteen-year period and which went on to become two of the most popular novels and TV miniseries events of the 1970s and 1980s. In 1998, he received the Guardian of Zion Award for support of Israel. In 2008, Mr. Wouk was honored with the first Library of Congress Lifetime Achievement for the Writing of Fiction. He died in 2019 at the age of 103.
Coverage from NPR
or
Not Currently Available for Direct Purchase