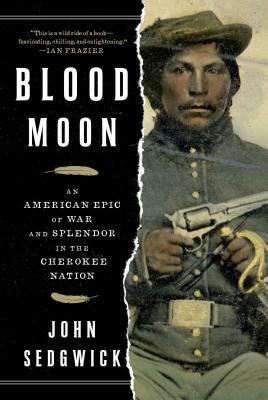 Blood Moon
An American Epic of War and Splendor in the Cherokee Nation
Hardcover

* Individual store prices may vary.
Other Editions of This Title:
Digital Audiobook (4/9/2018)
Paperback (4/16/2019)
Compact Disc (4/10/2018)
Compact Disc (4/10/2018)
Description
"Riveting...Engrossing...Mr. Sedgwick's subtitle calls the Cherokee story an 'American Epic,' and indeed it is." —H. W. Brands, The Wall Street Journal

An astonishing untold story from America's past—a sweeping, powerful, and necessary work of history that reads like Gone with the Wind for the Cherokee.

Blood Moon is the story of the century-long blood feud between two rival Cherokee chiefs from the early years of the United States through the infamous Trail of Tears and into the Civil War. The two men's mutual hatred, while little remembered today, shaped the tragic history of the tribe far more than anyone, even the reviled President Andrew Jackson, ever did. Their enmity would lead to war, forced removal from their homeland, and the devastation of a once-proud nation.

It begins in the years after America wins its independence, when the Cherokee rule expansive lands of the Southeast that encompass eight present-day states. With its own government, language, newspapers, and religious traditions, it is one of the most culturally and socially advanced Native American tribes in history. But over time this harmony is disrupted by white settlers who grow more invasive in both number and attitude.

In the midst of this rising conflict, two rival Cherokee chiefs, different in every conceivable way, emerge to fight for control of their people's destiny. One of the men, known as The Ridge—short for He Who Walks on Mountaintops—is a fearsome warrior who speaks no English but whose exploits on the battlefield are legendary. The other, John Ross, is descended from Scottish traders and looks like one: a pale, unimposing half-pint who wears modern clothes and speaks not a word of Cherokee. At first, the two men are friends and allies. To protect their sacred landholdings from white encroachment, they negotiate with almost every American president from George Washington through Abraham Lincoln. But as the threat to their land and their people grows more dire, they break with each other on the subject of removal, breeding a hatred that will lead to a bloody civil war within the Cherokee Nation, the tragedy and heartbreak of the Trail of Tears, and finally, the two factions battling each other on opposite sides of the US Civil War.

Through the eyes of these two primary characters, John Sedgwick restores the Cherokee to their rightful place in American history in a dramatic saga of land, pride, honor, and loss that informs much of the country's mythic past today. It is a story populated with heroes and scoundrels of all varieties—missionaries, gold prospectors, linguists, journalists, land thieves, schoolteachers, politicians, and more. And at the center of it all are two proud men, Ross and Ridge, locked in a life-or-death struggle for the survival of their people.

This propulsive narrative, fueled by meticulous research in contemporary diaries and journals, newspaper reports, and eyewitness accounts—and Sedgwick's own extensive travels within Cherokee lands from the Southeast to Oklahoma—brings two towering figures back to life with reverence, texture, and humanity. The result is a richly evocative portrait of the Cherokee that is destined to become the defining book on this extraordinary people.
Praise For Blood Moon: An American Epic of War and Splendor in the Cherokee Nation…
"Stunning . . . A must-read."
—Men's Journal

"Engrossing . . . Mr. Sedgwick's account is filled with riveting, often gory details. . . . The harrowing parts of the story add not simply drama but insight . . . Mr. Sedgwick's subtitle calls the Cherokee story an 'American Epic,' and indeed it is."
—H. W. Brands, The Wall Street Journal

"With powerful, graceful prose, John Sedgwick brings to life a haunting, largely forgotten tale about the Cherokee, one of the most storied tribes in American history."
—Candice Millard, author of The River of Doubt and Destiny of the Republic

"This is a wild ride of a book—fascinating, chilling, and enlightening—that explains the removal of the Cherokee as one of the central dramas of our country. The story of the Trail of Tears, and of its aftermath in Arkansas and Oklahoma, has never been told with more passion or finesse. Parts of it read like a nonfiction True Grit. I found Blood Moon to be an unputdownable read."
—Ian Frazier, author of Great Plains and On the Rez

"The most important history to know is the history that has been deliberately hidden from us. John Sedgwick's absorbing and ultimately damning story of the destruction of the Cherokee Nation—so that white settlers could pour in and take over their rich lands—finally unearths the ugly but quintessentially American truth about our young nation's path to expansionism."
—Rinker Buck, author of The Oregon Trail and First Job

"John Sedgwick has captured and brought to life one of the most dramatic untold stories of nineteenth-century America: the forty-year blood feud waged between two proud and powerful Cherokee chiefs that instigated the notorious Trail of Tears and shaped the sorrowful history of the tribe even more than the reviled President Andrew Jackson. Sedgwick has been blessed with the historian's essential gifts—the compelling ability to produce a page-turning saga combined with the insight into a tragedy that is still keenly felt today."
—Bob Drury and Tom Clavin, authors of The Heart of Everything That Is and Lucky 666

"A vigorous, well-written book that distills a complex history to a clash between two men without oversimplifying."
—Kirkus Reviews

PRAISE FOR WAR OF TWO

"John Sedgwick has done a great thing here: He has painted a compelling and original portrait of a defining American rivalry. A story of ambition, conviction, and finally of bloodshed. The Burr Hamilton saga has at last found a chronicler commensurate with its epic scope and lasting impact." —Jon Meacham, Pulitzer Prize-winning author of Thomas Jefferson: The Art of Power

"John Sedgwick rescues the most famous duel in history from musty mythology and gives us a richly textured, spirited, absorbing tale of yearning, rivalry, and pathos. War of Two reads like the Great American Novel—but it's all true." —Evan Thomas, New York Times bestselling author of Being Nixon: A Man Divided

"War of Two pulls the reader into an explosive historical narrative. With Sedgwick's deft, clever writing, this true story of the dangerous and dramatic world of the Founders becomes as gripping as any novel." —Matthew Pearl, New York Times bestselling author of The Last Bookaneer

PRAISE FOR IN MY BLOOD

"Articulate, insightful...and substantial. A clear, incisive view of a complicated family." —New York Times

"A grand, candid, and sensitive family memoir...An enlightening inquiry, unique in its perspective on American history and trenchant in its insights into the many facets of inheritance" —Chicago Tribune

"An extraordinary memoir . . . [that] engages us with the powers and insights of a great novel." —Boston Globe

"A gorgeous memoir, a fascinating, impressively researched account of a family." —USA Today
Simon & Schuster, 9781501128714, 512pp.
Publication Date: April 10, 2018
About the Author
John Sedgwick is the bestselling author of Blood Moon: An American Epic of War and Splendor in the Cherokee Nation, and twelve other books: four works of literary nonfiction, two novels, a family memoir, and five collaborations. He has also written extensively for The Atlantic, GQ, Newsweek, Esquire, and Vanity Fair. He is married to the CNN analyst and Financial Times columnist Rana Foroohar, and lives in Brooklyn, New York.
or
Not Currently Available for Direct Purchase