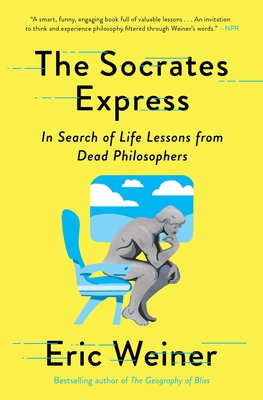 The Socrates Express
In Search of Life Lessons from Dead Philosophers
Paperback

* Individual store prices may vary.
Other Editions of This Title:
Digital Audiobook (8/24/2020)
Hardcover (8/25/2020)
Compact Disc (8/25/2020)
Description
The New York Times bestselling author of The Geography of Bliss embarks on a rollicking intellectual journey, following in the footsteps of history's greatest thinkers and showing us how each—from Epicurus to Gandhi, Thoreau to Beauvoir—offers practical and spiritual lessons for today's unsettled times.

We turn to philosophy for the same reasons we travel: to see the world from a dif­ferent perspective, to unearth hidden beauty, and to find new ways of being. We want to learn how to embrace wonder. Face regrets. Sustain hope.

Eric Weiner combines his twin passions for philosophy and travel in a globe-trotting pil­grimage that uncovers surprising life lessons from great thinkers around the world, from Rousseau to Nietzsche, Confucius to Simone Weil. Traveling by train (the most thoughtful mode of transport), he journeys thousands of miles, making stops in Athens, Delhi, Wyoming, Coney Island, Frankfurt, and points in between to recon­nect with philosophy's original purpose: teaching us how to lead wiser, more meaningful lives. From Socrates and ancient Athens to Beauvoir and 20th-century Paris, Weiner's chosen philosophers and places provide important practical and spiritual lessons as we navigate today's chaotic times.

In a "delightful" odyssey that "will take you places intellectually and humorously" (San Francisco Book Review), Weiner invites us to voyage alongside him on his life-changing pursuit of wisdom and discovery as he attempts to find answers to our most vital questions. The Socrates Express is "full of valuable lessons…a fun, sharp book that draws readers in with its apparent simplicity and bubble-gum philosophy approach and gradually pulls them in deeper and deeper" (NPR).
Praise For The Socrates Express: In Search of Life Lessons from Dead Philosophers…
"Eric Weiner's The Socrates Express rekindled my love for philosophy. A smart, funny, engaging book full of valuable lessons, The Socrates Express is not an explanation—it's an invitation to think and experience philosophy filtered through Weiner's words... The structure of this book is brilliant. . . . An engaging read . . . With plenty of humor and straightforward prose [Weiner] engages with deep thought and encourages us to focus on questions instead of answers. . . . A fun, sharp book that draws readers in with its apparent simplicity and bubble-gum philosophy approach and gradually pulls them in deeper and deeper until they're contemplating desire, loneliness, aging, and death." —NPR

"Delightful . . . There are so many reasons to love this book . . . . If you are planning summer travel or a staycation, this book will take you places intellectually and humorously." —San Francisco Book Review

"[Weiner's] writing is fresh and even revelatory as he pulls together seemingly disparate notions and asks meaningful (and often unanswered) questions. His tone alternates between informative and insightful to cheeky and challenging. . . . Readers will enjoy Weiner's unique approach and ultimately satisfying conclusions." —Booklist (starred review)

"Such a globe-trotting tour of philosophy can only be as good as its guide, and Weiner proves to be a curious, sincere, and generous companion. His good cheer alone serves as a model for how to live, and many readers will appreciate his method of taking what's useful for him and leaving what's not. . . . 'The world needs more philosophical enthusiasts,' Weiner writes. This book is sure to generate its share." —Kirkus Reviews

"A pleasant surprise. Part high-level survey of the central ideas of a diverse group of philosophers, part memoir, part 'how to' book and part travelogue, [The Socrates Express] is an invigorating introduction to some of philosophy's eminently practical uses. . . . A serious man of ideas . . . refreshingly free of prescriptiveness." —The Book Reporter

"Weiner makes a convincing and winningly presented case for the practical applications of philosophy to everyday existence in the 21st century. With humor and thoughtfulness, he distills the wisdom of thinkers from throughout history . . . into ways to slow down, ask questions, and pay attention. . . . His book offers an appealing way to cope with the din of modern life and look at the world with attentive eyes and ears." —Publishers Weekly

"Equal parts vivifying travelogue and Philosophy 101 crash course . . . Weiner's gift is his lively ability to unearth fresh insights about their ideas that relate to the chaos of the present day." —Boca Mag

"Weiner offers bubble gum philosophy that provides a quick, sweet taste. . . . Those looking for lite insights will be drawn in gradually from the shallow (getting out of bed and walking) to the deep end (aging and death)." —Library Journal
Avid Reader Press / Simon & Schuster, 9781501129025, 352pp.
Publication Date: August 10, 2021
About the Author
Eric Weiner is author of the New York Times bestsellers The Geography of Bliss and The Geography of Genius, as well as the critically acclaimed Man Seeks God and, his latest book, The Socrates Express: In Search of Life Lessons from Dead Philosophers. A former foreign correspondent for NPR, he has reported from more than three dozen countries. His work has appeared in the New Republic, The Atlantic, National Geographic, The Wall Street Journal, and the anthology Best American Travel Writing. He lives in Silver Spring, Maryland, with his wife and daughter. For more information, visit: EricWeinerBooks.com.