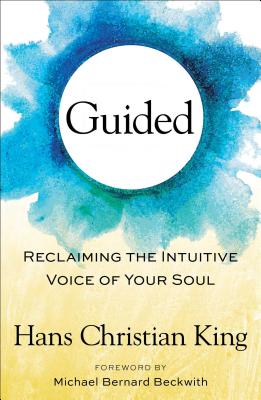 Guided
Reclaiming the Intuitive Voice of Your Soul
Hardcover

* Individual store prices may vary.
Other Editions of This Title:
Paperback (11/21/2017)
Description
Access your intuition and explore your true divine, timeless nature with the science-based teachings of Hans King, "one of the top five psychics in the country" (Miami Herald).

Award-winning psychic Hans King provides a clear and thorough path for connecting to the invisible side of life in Guided. Based on the author's sixty years of direct voice medium work, it includes step-by-step practices for quieting the mind and creating a clear channel for spiritual communication, allowing you to discover, activate, trust, and follow your own eternal voice while uncovering your soul's greatest purpose and passion. Filled with fascinating stories and real-life testimonials from those who have communicated with the spirit world and experienced spiritual awakenings through King's teaching, King clearly explains how to accurately find the answers you are searching for and actualize them in your life.

For those who experience an inner urge to explore life's bewildering, paradoxical mysteries, and deepest sensitivities, and want to step inside themselves and discover that their individual existence is for a purpose—and learn how to intuitively, victoriously fulfill it—Guided is the ultimate guide.
Praise For Guided: Reclaiming the Intuitive Voice of Your Soul…
"The book is written in a clear and easy to follow manner...[with] clarity and a homey style of writing."
— New Spirit Journal

"This book will change your life, opening you up to be able to clearly listen and follow your guidance: loved ones that have passed, your guardian angels, and your own intuition."
— Rikka Zimmerman, global leader in consciousness, the creator of Adventure In Oneness, acclaimed international speaker and author

"A companion and a guide that answers many questions, shares step-by-step exercises and is delivered in Hans's matter-of-fact style that leaves no room for wavering...Hans's book is a blessing for those who read it."
— Lisa Garr, host of The Aware Show and Being Aware, bestselling author of Becoming Aware

"Guided is a book whose time has finally come...a testament to Han's legacy as a trailblazer for humanity's awakening."
— John Burgos, producer/host of Beyond The Ordinary Show

"Hans is not only authentic—he has the capacity to take us to places within ourselves we've never been."
— Michael Bernard Beckwith, founder of the Agape International Spiritual Center

"Hans teaches us how to dig deep within our souls to find ourselves. I love his message."
— George Noory, host of Coast to Coast AM

"On a personal note, in 2004, Hans shared a vision he had that, 'A soul is calling and wants me to be his father.' My wife and I had not even spoken about adoption, but lo and behold, an infant boy was given to us weeks later. Jared is our son and I have no clue what life would be like without his amazing heart and soul being a part of this family. He is divine and pure love. We are grateful to Hans King for eternity."


— Craig Shoemaker, host of The Craig Shoemaker Show, winner of the prestigious Communicator Award "Crystal" prize

"Hans Christian King's heart of gold shines through these pages as a window to the soul. His integrity, maturity, and dedication to service is impeccable. Guided contains countless gems of wisdom based on his five decades of experience as a medium. I was touched, enlightened, and inspired. My respect for Hans' work is immense. This book is a must read for anyone seeking to explore the realm of mediumship and psychic guidance."


— Alan Cohen, author of A Course in Miracles Made Easy

"True wisdom can only come from having distilled spiritual truths from a life lived with awareness, mindfulness, and love. Hans Christian King has lived such a life. Now, in his new book, Guided, he offers us gems of wisdom that inspire us to put forth our best foot forward in our journey of awakening to the light and grace of Spirit. In his inimitable manner, sculpted by five decades of devotion to healing and teaching thousands of souls, Hans compassionately guides us, step-by-step, how to live a truly spirit-centered life."


— Michael J Tamura, spiritual teacher, clairvoyant visionary & author of You Are the Answer

"How can we connect with our intuitive guidance and recognize it? This book is an enormously useful and clear guide to understanding and cooperating with our natural abilities and connecting with our true nature as spiritual beings. Wise and inspiring, full of experiences and suggestions for practice, I recommend it to all those wanting to understand and learn about their true nature."


— Ellen Miller, spiritual teacher and co-author of Silence and the Soul: Awakening Inner Wisdom

"Hans King invites the reader into the remarkable world of mediumship. He shares with us what it is like to walk in two worlds, the everyday life we all share and the unseen life of spirit that informs and guides us on our way…I highly recommend this book to anyone seeking to connect with their own inner wisdom and to begin a most profound relationship, one that will change their life and bring grace to their everyday experience."


— Gary Sherman, author of Perceptual Integration, The Mechanics of Awakening, and Silence of the Soul: Awakening Inner Wisdom.

"Guided is a profound look into the world of mediumship through the eyes of an experienced and deeply compassionate medium. Hans King shares the kinds of personal experiences that can only come from decades of walking with Spirit and providing comfort and guidance to thousands of people. In Guided, Hans shares practical guidance on how you can learn to uncover your own intuitive abilities. I have had the honor or working with many healers, mediums and spiritual teachers and what makes Hans gifts so remarkable and different from the rest, is that he truly comes from a place of authentic service to mankind. I highly recommend not only his books but his work."
— Daniel Gutierrez, bestselling author, global speaker, world transformational leader, master business/life coach, philosopher

"Guided is an incredible book filled with guidance, answers and love. It is one of those rare books that opens the door to questions that many of us internally ask but don't know how to verbalize. Hans Christian King shares the answers and through his masterful writing expands awareness. Read Guided and be prepared to feel love and come to know the majesty of yourself and your journey with greater clarity as you awaken your intuitive voice of your soul."
— Chuck Gallagher, business ethics expert, consultant, keynote speaker and author of Second Chances: Transforming Adversity into Opportunity
Atria/Enliven Books, 9781501129094, 240pp.
Publication Date: November 15, 2016
About the Author
Hans Christian King has been a direct voice medium for sixty years. His time-tested ability to communicate with angels, guides, and loved ones in the spirit realm has been a powerful spiritual, psychological, and emotional support to more than sixty thousand clients through his private readings. Hans's wide range of teachings includes an extensive series of Intuitive Development classes, and his weekly radio show, "Guidance for Your Life, Wisdom for Your Soul." He is a highly respected, sought after keynote conference speaker.

As one of the foremost spiritual leaders and founder of the Agape International Spiritual Center, Michael Bernard Beckwith is a powerful force for change. He is the originator of the Life Visioning Process and author of Inspirations of the Heart, 40 Day Mind Fast Soul Feast, and A Manifesto of Peace.
or
Not Currently Available for Direct Purchase