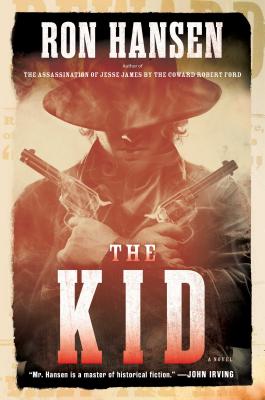 The Kid (Hardcover)
A Novel
Scribner, 9781501129759, 320pp.
Publication Date: October 4, 2016
Other Editions of This Title:
Paperback (11/21/2017)
Hardcover, Large Print (3/22/2017)
MP3 CD (10/4/2016)
Compact Disc (10/4/2016)
Compact Disc (10/4/2016)
* Individual store prices may vary.
Description
"A marvelous journey into both history and imagination…A perfectly compelling and fast-paced story" (San Francisco Chronicle) from Ron Hansen about an iconic American criminal of the old West: legendary outlaw, Billy the Kid.

Born Henry McCarty, Billy the Kid was a diminutive, charming, blond-haired young man who, growing up in New York, Kansas, and later New Mexico, demonstrated a precocious dexterity at firing six-shooters with either hand—a skill that both got him into and out of trouble and that turned him into an American legend of the old West. He was smart, well-spoken, attractive to both white and Mexican women, a good dancer, and a man with a nose for money, horses, and trouble. His spree of crimes and murders has been immortalized in dime westerns, novels, and movies. But the whole story of his short, epically violent life has never been told as it has been here.

"The Kid's story has been told many times. But not like this" (The New York Times Book Review). In his incredible novel, Ron Hansen showcases his masterful research and inimitable style as he breathes life into history, bringing readers back into the late 1800s and into Billy's boyhood as a ranch hand just trying to wrest a fortune from an unforgiving landscape. We are with Billy in every gunfight and horse theft and get to know him in full before his grand death in a hail of bullets in 1881 at the age of twenty-one. Original, powerful, and swiftly told, The Kid is an "entertaining and lively…an excellent, transportive read" (Publishers Weekly, starred review).
About the Author
Ron Hansen is the author of ten novels—including The Kid, Mariette in Ecstasy, Desperadoes, and A Wild Surge of Guilty Passion—and two short story collections, among them She Loves Me Not. His novel The Assassination of Jesse James by the Coward Robert Ford was a finalist for the PEN/Faulkner Award. He graduated from Creighton University in Omaha and went on to the University of Iowa Writer's Workshop where he studied with John Irving. He is now Gerard Manley Hopkins, S.J., Professor in Arts and Humanities at Santa Clara University in northern California.
Praise For The Kid: A Novel…
Praise for The Kid:

"Hansen's fictional treatment of Billy the Kid, the Old West killer, is entertaining and lively, a portrayal of swift and deadly frontier justice in the early 1880s of New Mexico. . . .Hansen's colorful description of the New Mexico Territory as a lawless land of lying politicians and thieving businessmen is historically accurate, resulting in an excellent, transportive read."
—Publishers Weekly, starred review

"The Kid's story has been told many times. But not like this….The real achievement of this novel is its pesky style. Like the Kid, Hansen revels in the lingo of tabloid and tale, of dime novel and detective story."
—The New York Times Book Review

"Ron Hansen has once again saddled up for a journey down the desperado trail, and readers will be delighted to go along on the ride…a marvelous journey into both history and imagination… A perfectly compelling and fast-paced story. … The Kid died, but left behind a towering legend that Hansen brings vividly to life in this fast-paced, elegant novel."
—San Francisco Chronicle

"This is the West, and as the famous line from 'The Man Who Shot Liberty Valance' has it, 'when the legend becomes fact, print the legend.' Which is what Mr. Hansen has done, very enjoyably."
—The Wall Street Journal

"How Hansen wades into the historical record and comes back dressed in his subjects' mannerisms, speech, and sensibilities is a mystery for which we as readers can only be thankful. Hansen's is a truly wondrous talent, and The Kid is a truly wondrous book."
—Tom McNeal, author of To Be Sung Underwater

"Once again Ron Hansen has narrated a powerful historical novel, getting hundreds of small hard facts lined up to tell a story set in the American West in the tradition of The Iliad. A stunning book which—as Hansen has done again and again—creates a time and a place and a young man, half killer, half kid, who even in his lifetime earned the status of a myth. Mesmerizing."
—Paul Mariani, author of The Whole Harmonium: The Life of Wallace Stevens

"Billy has been portrayed as a scapegoat for corrupt politicians, a maniacal killer and varying combinations of those extremes. As Hansen says at the end of his book, the Kid has become 'to a great degree each person's wild invention.' This is Hansen's version — a wisecracking daredevil."
—Seattle Times

"Ron Hansen's new treatment of William Bonney [is] so impressive. The author, seemingly effortlessly, breathes new life into the legend and reality....a joy to read."
—Bookreporter

"Hansen has written a haunting biographical novel about Billy the Kid and the people responsible for creating the myth."
—Shelf Awareness

"A rich tapestry [and] evenhanded literary portrait."
—Library Journal

"Throughout The Kid, the author's depth of research and love of the genre shine through. This eventful novel builds on the extraordinary achievement of his first two westerns and Hansen can rightfully claim this lawless territory as his own....Fans of [his] work won't want to leave."
—Highbrow Magazine

"An engrossing read. [The Kid] comes alive thanks to a blend of history, remembrances and the author's knack for imagined conversations."
—Albuquerque Journal

Praise for Ron Hansen:

"Mr. Hansen writes vigorously, and like an angel."
—The New York Times Book Review

"One of our finest novelists."
—Entertainment Weekly

"Ron Hansen has proven himself a master of the enigmatic, particularly that crack in the world between belief and reality."
—Boston Globe

"Hansen writes with a sure hand about the inner lives of people struggling to find themselves in a confusing world. His prose is at once straightforward and seductive....we are mesmerized as riddles beget further riddles and layers of the story begin to peel away."
—Los Angeles Times Book Review
Coverage from NPR