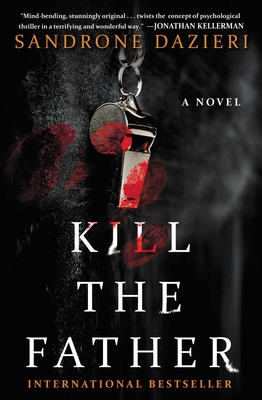 Kill the Father (Paperback)
A Novel (Caselli and Torre Series #1)
Scribner, 9781501130748, 528pp.
Publication Date: January 2, 2018
Other Editions of This Title:
Digital Audiobook (1/9/2017)
Mass Market (6/26/2018)
Hardcover (1/10/2017)
* Individual store prices may vary.
Description
An "electrifying...page-turning thriller" (New York Times bestselling author Jeffery Deaver) about two people, each shattered by their past, who team up to solve a series of killings and abductions that turn out to be just the visible surface of something far more sinister.

When a woman is beheaded in a park outside Rome and her six-year-old son goes missing, the police unit assigned to the case sees an easy solution: they arrest the woman's husband and await his confession. But the chief of Rome's major crimes unit doubts things are so simple. He hires two of Italy's top analytical minds to solve the mystery: Deputy Captain Colomba Caselli, a fierce, warrior-like detective still reeling from having survived a bloody catastrophe, and Dante Torre, a man who spent his childhood trapped inside a concrete silo. Fed by the gloved hand of a masked kidnapper who called himself "the Father," Dante emerged from his ordeal with crippling claustrophobia but, also, with an unquenchable thirst for knowledge and hyper-observant capacities.

All evidence suggests that the Father is back and active after being dormant for decades. Indeed, he has left telltale signs that signal he's looking forward to a reunion with Dante. But when Colomba and Dante begin following the ever-more-bizarre trail of clues, they grasp that what's really going on is darker than they ever imagined.

Kill the Father is "outstanding…an unrelenting, adrenaline-fueled novel, with a final twist serving as a setup for a sequel. Don't be surprised if Kill the Father becomes the next Big Thing in international crime fiction" (Booklist, starred review).
About the Author
Sandrone Dazieri is the bestselling author of numerous novels and screenplays. Kill the Father, the first novel in his series featuring Colomba Caselli and Dante Torre, was an international bestseller and received spectacular praise for its highly unconventional detective duo. Kill the Angel is the much-anticipated follow up.Visit him at www.sandronedazieri.it or follow him on Twitter @SandroneDazieri.
Praise For Kill the Father: A Novel (Caselli and Torre Series #1)…
"If you want to study how a novel is written, look no further than Italian newcomer Sandrone Dazieri. His American debut, Kill the Father, is impeccable, from the buildup of characters and place to the crisp narrative…Do not pass this one up; it's a terrific crime drama."
—Durango Telegraph

"Outstanding…[an] unrelenting, adrenaline-fueled novel, with a final twist serving as a setup for a sequel. Don't be surprised if Kill the Father becomes the next Big Thing in international crime fiction."
—Booklist, starred review

"Dazzling … told in brutal, often wrenching detail."
—Publishers Weekly

"One of the nastier crimes in recent memory…There are twists aplenty as Dante and Colomba track down The Father, even as he spins an ever finer trap for them…A dark treat for mystery buffs."
—Kirkus Reviews

A breakout hit in Europe, this captivating novel keeps readers guessing and on edge until the final page. Fans of international crime novels will eagerly anticipate subsequent stories.
—Library Journal, starred review

"Colomba Caselli and Dante Torre are certainly the most audacious characters to emerge in crime fiction in many moons…. [The book] has more climaxes than a brothel on a Saturday night. It's almost like those 15 chapter serials we saw at the movies when we were kids…with each episode ending with a cliffhanger…Dazieri is an inventive and original writer."
—David Rothenberg on WBAI Radio

"A big psychological suspense novel that captures the reader from the first page…Shocks, surprises, horrors, twists, and revelations abound in this long, compelling thriller."
—Otto Penzler, LitHub

"Absorbing, disturbing, clever, bizarre, original and brutal. The outline of the plot is simple, its execution thrilling."
—The Times of London (Book of the Month)

"This [debut] introduces us to two of the most intriguing detectives to have emerged in recent years… Brutal and frighteningly realistic, it never loses its grip."
—Daily Mail

"Already a bestseller throughout Europe, and receiving fantastic advance praise… [a] fascinatingly complex thriller."
—i newspaper

"An intelligent thriller… very entertaining."
—Jake Kerridge, Sunday Express

"Dark and twisty."
—Peterborough Evening Telegraph

"Kill the Father is a mind-bending, stunningly original page-turner that twists the concept of psychological thriller in a terrifying and wonderful way. In Dante and Colomba, Sandrone Dazieri has created two of the most memorable characters in modern crime fiction, a pair of damaged, noble heroes compelled to confront unimaginable evil. Bravo."
—Jonathan Kellerman, New York Times bestselling author of When the Bough Breaks, A Cold Heart, Dr. Death, and Breakdown

"Sandrone Dazieri's American debut is an epic tale that surprises at every turn—a twisty, mind-boggler that introduces not one but two memorable protagonists and hurls them into circumstances that threaten both their lives and sanity. The rollercoaster ride continues to the very last page, leaving me impatient for the sequel."
—Joseph Finder, New York Times bestselling author of Guilty Minds and Suspicion

"Absolutely electrifying. Kill the Father is one of those rare treasures: a page-turning thriller—in every sense of the phrase—that is also brilliantly nuanced and rich with insight into the complex and compelling minds of those, good and bad, who inhabit its pages. This novel is the new definition of a one-sitting read."
—Jeffery Deaver, New York Times bestselling author of The Bone Collector and The Steel Kiss

"Kill the Father is an intense, gripping, and entirely unforgettable story—part psychological puzzle, part police procedural, and part conspiracy theory. Mr. Dazieri has written a thriller of the highest order. Highly recommended."
—Christopher Reich, New York Times bestselling author of Numbered Account and Rules of Deception

"This ingenious thriller features a pair of protagonists with personal demons as unnerving as the vicious monster they're pursuing. And it's a wonderfully twisty and chilling pursuit, leading not only to the monster's shocking identity but to his equally shocking links to powerful and dark enablers."
—John Verdon, internationally bestseller author of Think of a Number, Shut Your Eyes Tight, Peter Pan Must Die, and Wolf Lake

"Kill the Father starts with the investigation of a murder-kidnapping then shows its two intriguing heroes following surprising twists and turns to an unexpected ending. Truly original thrillers are rare, but Sandrone Dazieri has written one."
—Phillip Margolin, New York Times bestselling author of Violent Crimes

"Sandrone Dazieri has written a beautiful novel. The best of this season's thrillers. It's a sinister and terrifying dream, and lurking within it, in the most hidden corner, barely accessible, is something that emits the cold light of absolute evil."
—Sette/Corriere della Sera

"You can't help liking Colomba Caselli, the young, off-duty police officer who is unable to leave her work behind her. Here, she is investigating the disappearance of a boy and the murder of his mother. It is impossible not to fall in love with Dante Torre, full of nervous tics and psychoses, who was kidnapped at a young age and now is working side by side with the police. Can we trust him? Let's just put our trust in Dazieri and his writing ability."
—Gioia

"Twists and turns, a hectic pace and a sharp, rapid-fire, winning writing style guarantee that the reader can never put the book down."
—Il Manifesto

"Torre and Colomba are much more than Bonnie and Clyde. Their relationship is fragile and uniquely delicate."
—Der Spiegel online

"Dazieri rewards his readers with an ending that will knock their socks off. Kill the Father is a compelling read, and the two main characters have the potential to go on to bigger and better things."
—Krimicouch-de

"Sandrone Dazieri's Kill the Father is a hunt without mercy. Full of surprising special effects but also flashes of sheer literary gold."
—Krimiblock.de

"Simply a masterpiece: for the poignancy of the story, the creation of characters you can never forget, and the way the author grabs the reader by the throat and doesn't let go, even when the book has ended."
—La Lettura/Corriere della Sera

"Nail-biting tension until the very end."
—Radio WDR