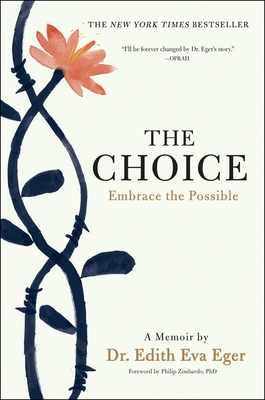 The Choice (Hardcover)
Embrace the Possible
Scribner, 9781501130786, 304pp.
Publication Date: September 5, 2017
* Individual store prices may vary.
Description
Winner of the 2017 National Jewish Book Award and 2018 Christopher Award

"Edith's strength and courage are remarkable…her life and work are an incredible example of forgiveness, resilience, and generosity."—Sheryl Sandberg

It's 1944 and sixteen-year-old ballerina and gymnast Edith Eger is sent to Auschwitz. Separated from her parents on arrival, she endures unimaginable experiences, including being made to dance for the infamous Josef Mengele. When the camp is finally liberated, she is pulled from a pile of bodies, barely alive.

The horrors of the Holocaust didn't break Edith. In fact, they helped her learn to live again with a life-affirming strength and a truly remarkable resilience. The Choice is her unforgettable story.
About the Author
An eminent psychologist and one of the few remaining Holocaust survivors old enough to remember life in the camps, Dr. Edith Eger has worked with veterans, military personnel, and victims of physical and mental trauma. She lives in La Jolla. The Choice is her first book.
Praise For The Choice: Embrace the Possible…
"Edith's strength and courage are remarkable in this memoir as she draws on her own unthinkable experience in Nazi concentration camps to become a therapist and help others recover from all kinds of hardship. Her life and work are an incredible example of forgiveness, resilience and generosity."
— Sheryl Sandberg

"Dr. Edith Eva Eger is my kind of hero. She survived unspeakable horrors and brutality; but rather than let her painful past destroy her, she chose to transform it into a powerful gift – one she uses to help others heal."
— Jeannette Walls, author of The Glass Castle

"The Choice is a gift to humanity. One of those rare and eternal stories that you don't want to end and that leave you forever changed. Dr. Eger's life reveals our capacity to transcend even the greatest of horrors and to use that suffering for the benefit of others. She has found true freedom and forgiveness and shows us how we can as well."
— Desmond Tutu, Nobel Peace Prize Laureate

"I can't imagine a more important message for modern times. Eger's book is a triumph, and should be read by all who care about both their inner freedom and the future of humanity."

A beautiful memoir, reminiscent of the great works of Anne Frank and Viktor Frankl. But it is more than a book—it is a work of art. It gave me goosebumps, the kind that grace you in transcendent moments of appreciating a Mozart sonata, an Elizabeth Barrett Browning sonnet, or the ceiling of the Sistine Chapel.
— Adam Grant, New York Times bestselling author of Give and Take, Originals, and Option B with Sheryl Sandberg

"A more important book for our times is hard to imagine"

"A poignantly crafted memoir...a searing, astute study of intensive healing and self-acceptance through the absolution of suffering and atrocity."

"Life's experiences can lead to contraction and grief and to expansion and love. The story of Edie Eger's WWII era experiences and her subsequent growth and life path is an incredible journey and victory of the human soul over the pain of human degradation."
— Stephen Robinson, CEO, MAGIS Group LLC, Specialist in Optimal Performance under Stress™ (OPS™) training

"The Choice will be an extraordinary book on heroism, healing, resiliency, compassion, survival with dignity, mental toughness, and moral courage. It will appeal to millions of people who can learn from Dr. Eger's inspiring cases and shocking personal story as well as her profound clinical wisdom to heal their lives."
— Philip Zimbardo, Ph.D., Stanford Professor Emeritus of Psychology, Author of the New York Times-Bestselling The Lucifer Effect: Understanding How Good People Turn Evil

"Eger present a searing firsthand account of surviving the Holocaust in this heartfelt memoir of trauma, resilience, and hope… Offering a gripping survival story and hard-won wisdom for facing the painful impact of trauma on the human psyche, this valuable work bears witness to the strength of the human spirit to overcome unfathomable evil."

"The Choice uses Eger's journey to teach readers how they, too, can triumph over trauma."

"The Choice…details [Eger's] time at Auschwitz, her escape, and how she became a groundbreaking clinical therapist who has paved the road for treatment of trauma survivors battling Post-Traumatic Stress Disorder (PTSD)."

"This book, no doubt, will be remembered as important for going beyond the realm of a Holocaust memoir and becoming a Holocaust life lesson."

"The Choice pulls together stories and insights [Eger] has shared with people around the world for decades and reveals new dimensions of her remarkable life."

"The Choice is more than an eloquent memoir by Holocaust survivor and psychologist Edith Eva Eger. It is an exploration of the healing potential of choice. . . Eger is not suggesting that she is unscarred by her experience, but that she lives a life filled with grace. The Choice is not a how-to book; it is, however, an invitation to choose to live life fully."

"I finished the book with tears in my eyes and gratitude in my heart."

"We brought Dr. Eger to work with our most troubled military personnel—people grappling with the most intense emotional scars from their experience in battle. Dr. Eger is a healer of the highest order. Personally, I have learned from this gifted human being, this indomitable survivor, this accomplished therapist more about humanity—and suffering—and resilience, than all my advanced degrees put together. Dr. Eger has informed and inspired me more than any other role model in my practice of thirty years. This effervescent, brawny, octogenarian has more than a story to tell, a therapy to offer, a journey to guide; she brings us to a new way of being."
— U.S. Navy Capt. Robert Koffman, M.D., Former Director of Deployment Health/Psychological Health

"I would take Edie Eger on an Op with me any day."
— U.S. Navy SEAL Commander (Ret) Mark Divine, Bestselling author of The Way of the SEAL and Unbeatable Mind