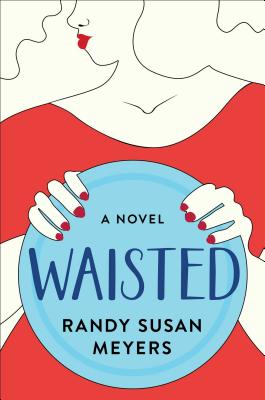 Waisted
A Novel
Hardcover

* Individual store prices may vary.
Other Editions of This Title:
Digital Audiobook (5/20/2019)
Paperback (8/11/2020)
Compact Disc (5/21/2019)
Library Binding, Large Print (10/1/2019)
Description
In this "big-hearted triumph of a novel" (Carolyn Pankhurst, New York Times bestselling author) for fans of Jennifer Weiner, seven women enrolled in an extreme weight loss documentary discover self-love and sisterhood as they enact a daring revenge against the exploitative filmmakers.

Alice and Daphne, both successful and accomplished working mothers, harbor the same secret: obsession with their weight overshadows concerns about their children, husbands, work—and everything else of importance in their lives.

Daphne, plump in a family of model-thin women, discovered early that only slimness earns admiration. Alice, break-up skinny when she met her husband, risks losing her marriage if she keeps gaining weight.

The two women meet at Waisted. Located in a remote Vermont mansion, the program promises fast, dramatic weight loss, and Alice, Daphne, and five other women are desperate enough to leave behind their families for this once-in-a-lifetime opportunity. The catch? They must agree to always be on camera; afterward, the world will see Waisted: The Documentary.

But the women soon discover that the filmmakers have trapped them in a cruel experiment. With each pound lost, they edge deeper into obsession and instability...until they decide to take matters into their own hands.

Randy Susan Meyers "spins a compelling tale" (Kirkus Reviews) and "delivers a timely examination of body image, family, friendship, and what it means to be a woman in modern society...Culturally inclusive and societally on point, this is a must-read" (Library Journal).
Praise For Waisted: A Novel…
"Meyers spins a compelling tale, raising critical questions about familial, social, and cultural messages about body image."— Kirkus Reviews

"To Alice and Daphne, being thin is taking over their world. They become fast friends when they both sign up for a program promising dramatic weight loss in one month. Meyers exquisitely explores body image, family, and marriage in this surprisingly deep novel. though she starts with a fictionalized version of the TV show The Biggest Loser, she dips into major issues of race, culture, obsession, and sisterhood. Taking on the timely topic of how a woman is perceived in today's society, she twists it into how far women will go to be what society deems right, and at what cost—a marriage, a family obligation, a personal goal? A compelling story that will leave readers giving their scale the side eye." —Booklist

"Meyers delivers a timely examination of body image, family, friendship, and what it means to be a woman in modern society. It will appeal to anyone who has ever dreaded stepping on a scale; even those who haven't will learn from it. Culturally inclusive and societally on point, this is a must-read." —Library Journal

"An incredibly well written novel with clever, witty repartee." —New Hampshire Jewish Daily Reporter

"Suspenseful. Witty. Warm. Wonderful. Disturbing. Thoughtful. Compelling. Riveting. Seriously important. Inspiring. It made me hungry. Then made me never want to eat again. I recognized myself. Then hated myself. Then loved myself. This is a must read for every woman who ever stepped on the scale with her eyes closed. And every woman who hasn't." —M.J. Rose, New York Times bestselling author of Tiffany Blues

"A big-hearted triumph of a novel. Meyers tackles painful truths and thorny issues while weaving a smart and engaging story about weight loss, self-acceptance and the fortifying power of female friendship."— Carolyn Parkhurst, New York Times bestselling author of Harmony and The Dogs of Babel

"The perfect blend of great storytelling and incisive commentary, Waisted peels back the layers of women's feelings about their bodies, their relationships, and ultimately their self-worth. Readers will ride a tilt-a-whirl of emotions—fist pumping chief among them—as Alice and Daphne wage war on their inner demons and on the heartless filmmaker who would exploit their deepest wounds for his own gain."— Juliette Fay, author of The Tumbling Turner Sisters

"Meyers perfectly captures every woman's angst overweight in a fresh and entertainingway. The characters are unlike any you've met before and the plot will keep the reader turning pages well into the night. Pardon the pun, but I devoured Waisted in one sitting." —Elyssa Friedland, author of The Intermission

"How far will women go to achieve the weight loss they think will bring them happiness? This incisive story of friendship and self-esteem gets at the heart of body image with the pacing of a thriller." —Nichole Bernier, author of The Unfinished Work of Elizabeth D.

"When body image goes rogue in this tense and riveting novel, three women wade into a swamp of self-destruction as they attempt to save what they love most." —E.B. Moore, author of An Unseemly Wife

"This novel, about the lengths women will go to lose weight, gave me so much to think about in terms of how I think about weight and how I can let it control my life. The idea that a number on a scale can change my mood is ridiculous and yet dead-on. In this novel, Alice and Daphne go to a weight-loss retreat that is a documentary experiment in disguise. They are shamed, put through devastating workouts on little food, and plied with pills. As difficult as it was for me to watch them go through this, I had to think, "Yeah, I might do the same." Meyers does such a great job capturing the mindset of these women and how society views them. There's so much more to this novel–how race plays into body expectations; the examples we do or do not provide for our own children; family dynamics–and I'll be thinking about it for a good long time. I think this is novel looks at some important topics but disguises them in this amazingly readable and engaging novel. I had to see how it would end! This would be an excellent book club novel as there is so much great stuff in here to discuss!" —Jennifer Brown, USA Bestselling Author of Modern Girls

"I honestly can't remember a time when I wasn't worried about my weight, trying to lose it, trying to hide it. I still am. But what I found in Waisted was more valuable than almost any other advice or lessons about weight loss I've ever read. The story of two women, Waisted is about what lengths women will go to lose weight, what happens when you're pushed beyond humiliation, pain, and fear, survive it, and move towards a happier life. The women of Waisted are real, flawed, but completely relatable and lovely characters. I saw so much of myself and women I know, not only in the protagonists but in family and friends. This book pushed so many emotional buttons for me, but Randy Susan Meyer's writing is stunning, her storytelling both compassionate and compelling. Waisted is about so much more than weight loss. It's about learning about yourself and learning to love yourself, step by (sometimes tiny) step. An excellent and empathetic read for, as MJ Rose is quoted saying "every woman who ever stepped on the scale with her eyes closed. And every woman who hasn't." —Tildy Banker-Johnson, Belmont Books Manager
Atria Books, 9781501131387, 288pp.
Publication Date: May 21, 2019
About the Author
Randy Susan Meyers is the internationally bestselling author of five novels, including Waisted, The Widow of Wall Street, Accidents of Marriage, The Comfort of Lies, and The Murderer's Daughters. Her books have been designated one of the ten best works of fiction in 2010, 2014, and 2017 by the Massachusetts Center for the Book, an affiliate of the Library of Congress. She lives in Boston with her husband, where she teaches writing at the GrubStreet writing center. Her novels have been translated into more than twenty-six languages.
or
Not Currently Available for Direct Purchase