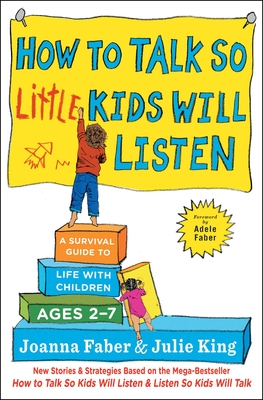 How to Talk so Little Kids Will Listen
A Survival Guide to Life with Children Ages 2-7 (The How To Talk Series)
Paperback

* Individual store prices may vary.
Other Editions of This Title:
Digital Audiobook (1/9/2017)
Hardcover (1/10/2017)
CD-Audio (1/10/2017)
Description
Over 200,000 copies in print!
A must-have guide for anyone who lives or works with young kids, with an introduction by Adele Faber, coauthor of How to Talk So Kids Will Listen & Listen So Kids Will Talk, the international mega-bestseller The Boston Globe dubbed "The Parenting Bible."

For nearly forty years, parents have turned to How to Talk So Kids Will Listen & Listen So Kids Will Talk for its respectful and effective solutions to the unending challenges of raising children. Now, in response to growing demand, Adele's daughter, Joanna Faber, along with Julie King, tailor How to Talk's powerful communication skills to parents of children ages two to seven.

Faber and King, each a parenting expert in her own right, share their wisdom accumulated over years of conducting How To Talk workshops with parents, teachers, and pediatricians. With a lively combination of storytelling, cartoons, and observations from their workshops, they provide concrete tools and tips that will transform your relationship with the children in your life.

What do you do with a little kid who…won't brush her teeth…screams in his car seat…pinches the baby...refuses to eat vegetables…throws books in the library...runs rampant in the supermarket? Organized by common challenges and conflicts, this book is an essential manual of communication strategies, including a chapter that addresses the special needs of children with sensory processing and autism spectrum disorders.

This user-friendly guide will empower parents and caregivers of young children to forge rewarding, joyful relationships with terrible two-year-olds, truculent three-year-olds, ferocious four-year-olds, foolhardy five-year-olds, self-centered six-year-olds, and the occasional semi-civilized seven-year-old. And, it will help little kids grow into self-reliant big kids who are cooperative and connected to their parents, teachers, siblings, and peers.
Praise For How to Talk so Little Kids Will Listen: A Survival Guide to Life with Children Ages 2-7 (The How To Talk Series)…
"Yes, the How to Talk tools work for young children! It is never too soon to reflect children's emotions, acknowledge their wishes, and see things from their perspective. Faber and King are like wise, calm friends that arrive just in time to help you through the toughest moments, with no judging or shaming. In fact, they have just as much empathy for parents as they have for children. They understand that punishment and control are dead ends, and they offer a clear path towards cooperation and connection."--Lawrence J. Cohen, Ph.D., author of Playful Parenting

"This helpful gem of a book guides parents and other caregivers to tune in to the internal worlds of young children to allow their minds to be seen and respected. With practical suggestions and useful illustrations, the authors clearly convey these important steps to guiding our children's development. Cultivating such mindsight for our youth is essential to creating a kinder and more resilient next generation."--Daniel J. Siegel, M.D. Author, Mind: A Journey to the Heart of Being Human and Executive Director, Mindsight Institute

"Faber and King have done the impossible! This guide to how to talk so little kids will listen is BRILLIANT. Every parent needs to read this book because it teaches skills that are solidly based on research. The book is magnificent."--John Gottman, author of Raising an Emotionally Intelligent Child

"Relatable and authentic… [Faber's and King's] creative ideas will help parents feel they are not alone in dealing with little runaways, arguments over tooth brushing, tattling, and numerous child-rearing dilemmas.'"--Publishers Weekly

"Wonderful...reader-friendly [and] a truly indispensable book for parents and for anyone else who interacts with young children."--Work and Family Life
Scribner, 9781501131639, 432pp.
Publication Date: January 10, 2017
About the Author
Joanna Faber is a parenting and education expert. She contributed heavily to her mother's award-winning book, How to Talk So Kids Can Learn, and wrote a new afterword for the thirtieth anniversary edition of How to Talk So Kids Will Listen. She lectures and conducts workshops based on her mother's work and her own experiences as a parent and educator. Joanna lives in the Hudson Valley area of New York, with her husband, three teenagers, dogs, cats, and an assortment of chickens.

Julie King has been educating and supporting parents since 1995. In addition to her work with individual parents and couples, she has led workshops for numerous schools, nonprofits, and parent groups. Julie received her AB from Princeton University and a JD from Yale Law School. She lives in the San Francisco Bay Area and is the mother of three.