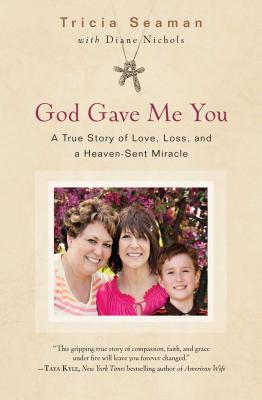 God Gave Me You
A True Story of Love, Loss, and a Heaven-Sent Miracle
Paperback

* Individual store prices may vary.
Other Editions of This Title:
Digital Audiobook (5/2/2016)
Hardcover (5/3/2016)
Description
When a single mother with terminal cancer asked a nurse she'd met in the oncology ward to raise her son, neither could have imagined the miracles God had in store.

God Gave Me You tells the true story of how these two incredible mothers met, the immediate bond they formed, and the ups and downs of joining families as one's earthly life ebbed away. The miracle of these two families coming together demonstrates that family isn't always blood—sometimes it's made up of the people God gives you if you have a willing heart.

Oncology nurse Tricia Seaman and her family had their hearts set on adopting a son. They were months into the grueling process when Tricia met a terminally ill cancer patient on her regular rounds. Curiously, the two shared the same name. Trish Somers was that patient—a single mom whose world revolved around her eight-year-old son, Wesley. As the young mother poured out her fears and emotions during her post-operative care, Tricia sensed theirs would be like no other nurse-patient relationship she had experienced in her career.

When the cancer spread, it became clear Trish had only a short time left to live. That's when the inconceivable happened: Trish asked her nurse—a woman who had been a complete stranger just days before—to raise her beloved son when she passed away.

God Gave Me You will inspire you with a story of courage, trust, and faith that God's plans are bigger and more amazing then we could hope for on our own. It's a story you'll turn to again and again when you're looking for hope and a reason to believe in miracles.
Praise For God Gave Me You: A True Story of Love, Loss, and a Heaven-Sent Miracle…
"God Gave Me You is a must-read for anyone who has ever questioned God's plan in their lives. This book is a beautiful reminder of how God continues to guide us—even during moments of extreme pain and loss. The story of these two women and a precious little boy serves as an example of how some of the most precious moments in our lives actually rise from the ashes of our hardest trials."
— Crystal McVea, Author of the New York Times Bestseller Waking Up in Heaven

"A powerful, masterfully written love story full of heartbreak and joy against all odds. This gripping true story of compassion, faith, and grace under fire will leave you forever changed."
— Taya Kyle, New York Times bestselling author of American Wife

"Seaman never dreamed that entering a hospital room while an oncology nurse in Harrisburg, Penn., would set in motion a series of events that led her to adopt a dying patient's son. Seaman, a wife and mother of five children of her own, had her heart set on adopting an infant to bring into the family when she met ailing Trish Somers. Over a short period of time, as Somers's cancer began to spread, the two became close, but Seaman was left stunned when Somers asked her to take care of her young son, Wesley, after she passed away. Trying to downplay this shocking request, Seaman let the question sink in; she went home, told her husband, and prayed for an answer. The subsequent months saw the entire Seaman family upending their lives to care for Somers in their own home, help Wesley adjust to his mom's terminal diagnosis, and slowly knit these two lonely individuals into their bustling family unit. With the help of Nichols, the narrative moves swiftly, and Seamen's internal search for strength in faith comes across on every page. The authors shares this remarkable story in chronological order, and readers will find themselves both amazed and challenged by the Seaman family's unconditional love for Somers and her son as they truly live out the biblical edict to love one's neighbor as oneself."
— Publishers Weekly Review

"This miraculous true story will certainly capture readers' hearts and immensely inspire and encourage. Point this one out to customers looking for a rich story of God's goodness."
— CBA Retailers and Resources, May Issue
Howard Books, 9781501131950, 256pp.
Publication Date: April 4, 2017
About the Author
Tricia Seaman is a wife, mother, and a hospital nurse with twenty years of professional experience. She and her husband and five children live in rural central Pennsylvania where she was born and raised. She currently works for PinnacleHealth System in Harrisburg for the inpatient oncology unit.

Diane Nichols writes for numerous national print and online publications. She lives with her family in Florida.
or
Not Currently Available for Direct Purchase