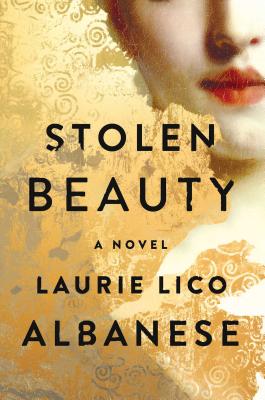 Stolen Beauty
A Novel
Hardcover

* Individual store prices may vary.
Other Editions of This Title:
Paperback (11/14/2017)
Description
"A powerful and important tale of love and war, art and family…I was transported." —Allison Pataki, New York Times bestselling author

"Albanese artfully weaves Adele's story with Maria's harrowing life under the Nazis, but it's hard to read Stolen Beauty without seeing ugly echoes in today's headlines. Seven decades after World War II, have we learned nothing?" —USA TODAY

From the dawn of the twentieth century to the devastation of World War II, this exhilarating novel of love, war, art, and family gives voice to two extraordinary women and brings to life the true story behind the creation and near destruction of Gustav Klimt's most remarkable paintings.

In the dazzling glitter of 1900 Vienna, Adele Bloch-Bauer—young, beautiful, brilliant, and Jewish—meets painter Gustav Klimt. Wealthy in everything but freedom, Adele embraces Klimt's renegade genius as the two awaken to the erotic possibilities on the canvas and beyond. Though they enjoy a life where sex and art are just beginning to break through the façade of conventional society, the city is also exhibiting a disturbing increase in anti-Semitism, as political hatred foments in the shadows of Adele's coffee house afternoons and cultural salons.

Nearly forty years later, Adele's niece Maria Altmann is a newlywed when the Nazis invade Austria—and overnight, her beloved Vienna becomes a war zone. When her husband is arrested and her family is forced out of their home, Maria must summon the courage and resilience that is her aunt's legacy if she is to survive and keep her family—and their history—alive.

Will Maria and her family escape the grip of Nazis' grip? And what will become of the paintings that her aunt nearly sacrificed everything for?

Impeccably researched and a "must-read for fans of Kristin Hannah's The Nightingale and Paula McLain's Circling the Sun" (Christina Baker Kline, #1 New York Times bestselling author), Stolen Beauty intertwines the tales of two remarkable women across more than a hundred years. It juxtaposes passion and discovery against hatred and despair, and shines a light on our ability to love, to destroy, and above all, to endure.
Praise For Stolen Beauty: A Novel…
"Epic."
— Cosmopolitan

"Albanese artfully weaves Adele's story with Maria's harrowing life under the Nazis, and reflections on marriage and fidelity. But it's hard to read Stolen Beauty without seeing ugly echoes in today's headlines, with the clarion call of 'America first' and immigrants singled out as 'the problem.' Seven decades after World War II, have we learned nothing?"
— USA Today

"This sensual and mesmerizing novel brings to vivid life Gustav Klimt and his greatest muse and model, Adele Bloch-Bauer. For fans of Kristin Hannah's The Nightingale and Paula McLain's Circling the Sun, Stolen Beauty is a must-read. I tore through the pages."
— Christina Baker Kline, #1 New York Times bestselling author of Orphan Train

"Albanese has written a gripping historical novel that revolves around the lives of two extraordinary women who live in extraordinary times… The well-paced stories of both women, told in alternating chapters, are presented in clear, crisp language, beautifully described settings, and credible dialogue that moves each woman's story forward, compelling readers to keep the pages turning, as do the historical elements of the novel…With all the elements of a good novel—love, sex, tense relationships, events spiraling out of control, family dynamics, personal conflict as well as war—coupled with real people and true history, this accessible novel of strong women, self-discovery, evolving social mores, artistic challenges, and a rapidly changing world makes for satisfying reading, whether one's interest is primarily women, history, art, or life in one of Europe's most beautiful cities in the time of Freud and free love."
— New York Journal of Books

"Readers will be swept away by the depth of feeling and sensuous writing; whether depicting the salons of Vienna or its slums, the ballroom dances of debutantes or the takeover of a textile factory by German troops, Klimt fervently sketching, or the relaxed atmosphere of a coffee house, Albanese's prose brings the people and the times to life. This novel is a bonanza of information about art history, philosophy, feminism, war, and love."
— Historical Novel Society, Editor's Pick

"With her opening sentence, Albanese draws readers into a world of glamour, art, intrigue, power and fear…In this complex yet utterly readable novel, historical characters are brought to life against the setting of a city on the verge of artistic greatness and societal collapse. Albanese treats thorny moral issues with clarity and depth. Fans of Philippa Gregory, Tracy Chevalier, and those who enjoyed the film Woman in Gold won't be able to put it down."
— Library Journal, starred review

"Laurie Lico Albanese has given us a powerful and important tale of love and war, art and family. Filled with lush prose and vivid historical detail, Stolen Beauty is a work simultaneously intimate and sweeping in its scope. I was transported; I loved being swept up into the glorious, golden era of fin de siecle Vienna."
— Allison Pataki, New York Times Bestselling Author of SISI: EMPRESS ON HER OWN

"With Stolen Beauty Laurie Lico Albanese has effected a perfect marriage between the Vienna of the early years of the 20th century and the Vienna of the Anschluss and the Nazi Occupation. This is particularly remarkable because the mood and tone of the alternating chapters are so different. One wants to dwell or linger on the rich pleasures of the earlier period; one is held in frozen horror by the author's realization of Nazi brutality...Ms. Albanese understands and powerfully shows how people can be comfortably blind to the realities of others' resentment and hatred...you cannot read this book without being made aware of the recurring, perhaps never wholly absent, corrupting power of greed, envy and hatred, a deforming hatred which allows us to see others as objects, not people. Stolen Beauty is a work of art itself--one that is simultaneously alarming and comforting."
— Wall Street Journal

"Stolen Beauty is painfully topical, reminding us in excruciating detail what happens when prejudice wins… an irresistible story, we're taken from the refined worlds of classical music, exquisite gowns and sumptuously appointed homes to the hate-fueled politics that ravaged Austria … Too often when books alternate between different characters and different times the result is jarring and tiresome. Though each woman is nuanced enough to support an independent novel, the intertwining makes for a stronger, more compelling story."
— NJ Star Ledger

"Satisfying…Fans of romantic suspense with an art historical bent will appreciate the vigor of Albanese's reimagining of the family saga behind the masterpiece long regarded as Vienna's Mona Lisa."
— Kirkus Reviews

"Incredibly delicious to read...[Stolen Beauty] uniquely delivers intelligent plot, literary substance, and emotional impact...Albanese's dazzling descriptions depict each moment's contemporary arts movements and real-life artists of the time, following these characters into the new center of Western culture...Stolen Beauty colors and enhances the true drama of the life of Adele Bloch-Bauer, known to the world as the Lady in Gold."
— Jewish Book Council

"Impeccably researched."
— The Jewish Voice

"Albanese's novel will appeal to readers interested in such themes as love, self-discovery, and women's empowerment and to fans of the historical, art-based fiction of Susan Vreeland and Tracy Chevalier."
— Booklist

"Powerful, dynamic storytelling."
— RT Magazine

"Courage and beauty are the banners waving over the double heroines of this truth-telling novel. Adele's suspenseful story and the terrifying narrative of her niece, Maria, capture both fin-de-siècle Vienna and the rise of Nazism. Like the paintings of Klimt, Stolen Beauty both glitters and darkens in its presentation of vibrant life and dreadful death."
— Sena Jeter Naslund, author of Ahab's Wife; Abundance, a Novel of Marie Antoinette; and The Fountain of St. James Court, or, Portrait of the Artist as an Old Woman

"Stolen Beauty is the most stunning depiction of the creation of a work of art—situating it in personal and political history—that I've read since Irving Stone's The Agony and the Ecstasy. Albanese's portrait of the brutality of the Nazi occupation of Austria and its seizure of art is unmatched."
— Louise DeSalvo, author of The Art of Slow Writing

"Stolen Beauty is one of those rare, captivating novels that flies us through time, transports us across continents and oceans and challenges us to imagine the unimaginable, to reckon with the cruel forces of history and to marvel at the perseverance of the human spirit in the face of it."
— David Anthony Durham, author of Pride of Carthage
Atria Books, 9781501131981, 320pp.
Publication Date: February 7, 2017
About the Author
Laurie Lico Albanese has published fiction, poetry, journalism, travel writing, creative nonfiction, and memoir. Her books include Blue Suburbia: Almost a Memoir, Lynelle by the Sea, and The Miracles of Prato, co-written with art historian Laura Morowitz. Laurie is married to a publishing executive and is the mother of two children. To learn more visit her at LaurieLicoAlbanese.com.
or
Not Currently Available for Direct Purchase