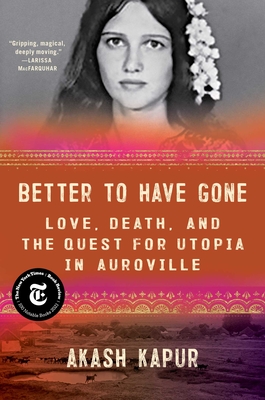 Better to Have Gone
Love, Death, and the Quest for Utopia in Auroville
Hardcover

* Individual store prices may vary.
Other Editions of This Title:
Digital Audiobook (7/19/2021)
Digital Audiobook (7/19/2021)
Compact Disc (7/20/2021)
Description
A spellbinding story about love, faith, the search for utopia—and the often devastating cost of idealism.

It's the late 1960s, and two lovers converge on an arid patch of earth in South India. John Walker is the handsome scion of a powerful East Coast American family. Diane Maes is a beautiful hippie from Belgium. They have come to build a new world—Auroville, an international utopian community for thousands of people. Their faith is strong, the future bright.

So how do John and Diane end up dying two decades later, on the same day, on a cracked concrete floor in a thatch hut by a remote canyon? This is the mystery Akash Kapur sets out to solve in Better to Have Gone, and it carries deep personal resonance: Diane and John were the parents of Akash's wife, Auralice. Akash and Auralice grew up in Auroville; like the rest of their community, they never really understood those deaths.

In 2004, Akash and Auralice return to Auroville from New York, where they have been living with John's family. As they reestablish themselves, along with their two sons, in the community, they must confront the ghosts of those distant deaths. Slowly, they come to understand how the tragic individual fates of John and Diane intersected with the collective history of their town.

Better to Have Gone is a book about the human cost of our age-old quest for a more perfect world. It probes the underexplored yet universal idea of utopia, and it portrays in vivid detail the daily life of one utopian community. Richly atmospheric and filled with remarkable characters, spread across time and continents, this is narrative writing of the highest order—a heartbreaking, unforgettable story.
Praise For Better to Have Gone: Love, Death, and the Quest for Utopia in Auroville…
"A group biography, the investigation of a mystery, a meditation on searching and faith, and an act of love. . . . This is a haunting, heartbreaking story, deeply researched and lucidly told, with an almost painful emotional honesty—the use of present tense weaving a kind of trance. . . . gripping. . . . compelling. . . . Better to Have Gone ends with an unexpected lightness, even transcendence, as Kapur helps us see what Auroville has given him, gives him still, despite the pain." —Amy Waldman, The New York Times Book Review

"Better to Have Gone tells the extraordinary true story of an 'aspiring utopia' . . . a riveting account of human aspiration and folly taken to extremes." —Dan Cryer, The Boston Globe

"Three lives, three acts, and three genres combine in this narrative. Kapur weaves together memoir, history and ethnography to tell a story of the desire for utopia and the cruelties committed in its name. . . . told with a native son's fondness, fury, stubborn loyalty, exasperated amusement. . . . the story is suspensefully structured, and I consumed it with a febrile intensity. . . . He brings [the] past into a kind of balance: He shows how to hold it, all together, in one eye—a people and a place in all their promise and corruption. It is a complicated offering, this book, and the artifact of a great love." —Parul Sehgal, The New York Times

"[A] riveting memoir of a search for utopia. . . . Kapur is a terrific storyteller . . . his writing compels you to follow him as he digs deeper." —Alison Arieff, The San Francisco Chronicle

"Beautiful but devastating. . . . I read Kapur's book . . . with my heart in my mouth." —Aatish Taseer, Airmail

"An enlightening look at how a well-meaning utopian community in India became complicated by reality. . . . propulsive. . . . captivating. . . . Expect the unexpected in this riveting story." —Publishers Weekly

"Melding history, biography, and memoir, the author offers a sensitive examination of Auroville's complex origins, tumultuous evolution, and, not least, 'the very idea of utopia and the search for perfection.'. . . A discerning portrait of a storied community." —Kirkus Reviews

"[A] moving, complex combination of history and memoir. . . . Kapur clearly and passionately articulates both his love for Auroville and his deep awareness of its flaws" —Booklist

"Better to Have Gone is a forensic reconstruction of two deaths set against the background of a tropical utopia. It is beautifully written and structured, deeply moving, and realized in wise, thoughtful, chiseled prose. Like The Beach, it tells an extraordinary tale of a paradise lost, and of the dangers of utopian naivety: what happens when, inevitably, dreams collide with harsh reality. Like In Cold Blood, it is that rarity: a genuine nonfiction classic." —William Dalrymple, author of The Anarchy and Return of a King

"In this compulsively readable account, Akash Kapur—who grew up in the international community of Auroville in South India, and returned to raise his family there—unravels a mystery whose players are yogis and hippies, Tamil villagers and a disaffected son of the American elite. Kapur's great achievement is to narrate a personal tragedy with such generosity and insight that it becomes a love story—one that doesn't shy from the passionate idealism or devastating failures of sixties utopianism." —Nell Freudenberger, author of Lost and Wanted and The Newlyweds

"Spellbinding and otherworldly, Better to Have Gone is an exquisite literary achievement. With graceful, luminous prose, Akash Kapur's intimate account of utopian Auroville is entrancing, devastating, and unforgettable. Above all, this book is a hauntingly beautiful love story, composed by a writer in full command of his craft." —Gilbert King, Pulitzer Prize-winning author of Devil in the Grove

"This gripping, magical, deeply moving book is a story of stubborn, self-sacrificing idealism—both its beauty and its cost. Akash Kapur set out to understand the visionary lives and terrible deaths of his wife's parents in Auroville, the South Indian utopian community where he and she grew up. The struggle to forge a nobler humanity is often brutal, and the history of Auroville is no exception. But at this moment when we are focused on survival, it is exhilarating to read about a place and time where utopia seemed not just possible but close." —Larissa MacFarquhar, New Yorker staff writer and author of Strangers Drowning: Impossible Idealism, Drastic Choices, and the Urge to Help

"Akash Kapur's gripping quest for understanding transports us in the fullest, most satisfying sense. He renders his world with vivid, masterful grace, but he also pulls us into the interior of desires and frailties at a depth that approaches the finest of fiction. Anyone who thirsts for reinvention should read this book as an inspiration—and as a warning." —Evan Osnos, Winner of the National Book Award and author of The Age of Ambition, Joe Biden, and Wildland

"Akash Kapur has written a trenchant, nuanced account of the longing for a perfect world. Working from personal experience and a writer's profound curiosity, he takes us deep into the heart of an intentional community's ambitions and failures. This is an important work about the eternal human desire for utopia, and about the dystopia that always lurks within these dreams." —Vikram Chandra, author of Sacred Games

Praise for Akash Kapur

"A wonderful writer: a courageously clear-eyed observer, an astute listener, a masterful portraitist, and a gripping story teller."
—Philip Gourevitch, author of We Wish To Inform You That Tomorrow We Will Be Killed With Our Families

"In his clarity, sympathy and impeccably sculpted prose, Kapur often summons the spirit of V. S. Naipaul."
—Pico Iyer, Time magazine
Scribner, 9781501132513, 368pp.
Publication Date: July 20, 2021
About the Author
Akash Kapur is the author of India Becoming: A Portrait of Life in Modern India and the editor of an anthology, Auroville: Dream and Reality. He is the former Letter from India columnist for the international New York Times, the recipient of a Whiting Grant, and has written for various leading publications. He grew up in Auroville and returned there to live with his family after boarding school and college in America.