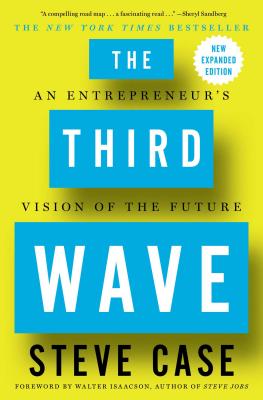 The Third Wave
An Entrepreneur's Vision of the Future
Paperback

* Individual store prices may vary.
Other Editions of This Title:
Digital Audiobook (4/4/2016)
Hardcover (4/5/2016)
CD-Audio (4/5/2016)
Paperback, Spanish (1/31/2017)
Description
The #1 New York Times and Wall Street Journal bestseller from Steve Case—the co-founder of AOL—presents "a compelling roadmap for the future…that can help us make sense of the technological changes reshaping our economy and the world. A fascinating read" (Sheryl Sandberg, Facebook COO and founder of LeanIn.org).

Steve Case—a pioneer who made the Internet part of everyday life—was on the leading edge of a revolution in 1985 when he co-founded AOL, the first Internet company to go public and the most successful business of the 1990s. Back then Case was an entrepreneur in an industry that hadn't really been invented yet, but he had a sense how dramatically the Internet would transform business and society. In The Third Wave, he uses his insights garnered from nearly four decades of working as an innovator, investor, and businessman to argue the importance of entrepreneurship and to chart a path for future innovators.

We are entering, as Case explains, the "Third Wave" of the Internet. The first wave saw AOL and other companies lay the foundation for consumers to connect to the Internet. The second wave saw companies like Google and Facebook build on top of the Internet to create search and social networking capabilities, while apps like Snapchat and Instagram leveraged the smartphone revolution. Now, Case argues, we're entering the Third Wave: a period in which entrepreneurs will vastly transform major "real world" sectors such as health, education, transportation, energy, and food—and in the process change the way we live our daily lives.

Part memoir, part manifesto, and part playbook for the future, The Third Wave explains the ways in which newly emerging technology companies will have to rethink their relationships with customers, with competitors, and with governments; and offers advice for how entrepreneurs can make winning business decisions and strategies—and how all of us can make sense of this ever-changing digital age.
Praise For The Third Wave: An Entrepreneur's Vision of the Future…
"In the Third Wave, Steve Case has drafted a compelling roadmap for the future – one that can help us make sense of the technological changes reshaping our economy and the world. A fascinating read."
—Sheryl Sandberg, Facebook COO and founder of LeanIn.Org

"I've been waiting to read Steve's story and I wasn't disappointed. His business career is straight out of Horatio Alger and carries important lessons for all entrepreneurs."
—Warren Buffett, CEO, Berkshire Hathaway

"We are at the beginning of the next industrial revolution where the combination of software and industrial machines is building the foundation for a new wave of innovation. With clarity and passion, Steve provides a manifesto for the future of innovation and entrepreneurship. It's a must read from a visionary leader for entrepreneurs, corporate executives, and anyone trying to succeed during the Third Wave."
—Jeff Immelt, Chairman and CEO, GE

"The Third Wave is essential reading for leaders in business and government, as well as for anybody trying to make sense of our rapidly changing world. I've worked with Steve for two decades, and I've always been impressed with his intellect and captivated by his insights. If you read this book, you will be, too."
—General Colin Powell, former Secretary of State (and former AOL board member)

"Steve Case made history when he created America Online and introduced the Internet to the world. Steve's startup story is captivating, and chock full of important insights and lessons. But this is not a book about the past; it's a bold and compelling vision for what's coming next. The Third Wave is required reading for every entrepreneur."
—Brad Feld, co-founder, TechStars and Foundry Group, author of Startup Life

"A true visionary, Steve Case understood years ago the tectonic shifts that were to occur in society, fueled by technology and acted with purpose and passion. Case's book, The Third Wave, clarifies for leaders the decisions necessary to thrive in a future increasingly disrupted by accelerating knowledge-creation and sharing."
– Alvin and Heidi Toffler, authors of the original 'The Third Wave'

"The Third Wave is an indispensable book for understanding the history of the Internet and preparing for what's next. Entrepreneurs looking to build truly transformational businesses should listen closely to Steve Case's insightful advice."
– Brian Chesky, Co-founder and CEO, Airbnb

"An extraordinarily frank and incisive book from an extraordinary business leader. All budding entrepreneurs, and all who care about the future, should read The Third Wave and heed the lessons as well as the insights."
—David Rubenstein, Co-founderand Co-CEO, The Carlyle Group

"What's new and noteworthy here is Case's effort to draw a connection between his own history and an impending era of change. Moreover, he's particularly thoughtful on the subject of how digital innovation and existing regulatory regimes will need to work together in the coming decades. . . . There's little doubt that Case's insights have value."
—Jon Gertner, The Washington Post

"Case believes the third wave, which is only just beginning, will have far more impact as the internet transforms real world sectors such as healthcare, education, transport and energy. He shows how existing technologies can be deployed far more smartly rather than assuming that we will see further heroic breakthroughs."—Financial Times
Simon & Schuster, 9781501132599, 272pp.
Publication Date: April 18, 2017
About the Author
Steve Case is one of America's most accomplished entrepreneurs—a pioneer who made the Internet part of everyday life and orchestrated the largest merger in the history of business between America Online (AOL) and Time Warner. Case's entrepreneurial career began when he cofounded AOL, which became the top performing company of the 1990s. At its peak, nearly half of Internet users in the United States signed on through AOL. As chairman and CEO of Revolution, a Washington, DC based investment firm he cofounded in 2005, Case partners with visionary entrepreneurs to build businesses such as Zipcar, LivingSocial, Sweetgreen, and many others. Case was the founding chair of the Startup America Partnership—an effort launched at the White House to accelerate high-growth entrepreneurship throughout the nation. A member of the Presidential Ambassadors for Global Entrepreneurship, Case also serves as Chairman of the Case Foundation, which he established with his wife Jean in 1997.
or
Not Currently Available for Direct Purchase