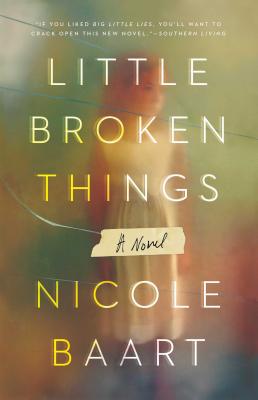 Little Broken Things
A Novel
Paperback

* Individual store prices may vary.
Other Editions of This Title:
Digital Audiobook (4/30/2018)
Digital Audiobook (11/20/2017)
Library Binding, Large Print (3/21/2018)
Description
"If you liked Big Little Lies, you'll want to crack open this new novel by Nicole Baart." —Southern Living

"Steeped in menace, Baart's latest is a race-to-the-finish family drama." —People

An engrossing and suspenseful novel for fans of Liane Moriarty and Amy Hatvany about an affluent suburban family whose carefully constructed facade starts to come apart with the unexpected arrival of an endangered young girl.

I have something for you. When Quinn Cruz receives that cryptic text message from her older sister Nora, she doesn't think much of it. They haven't seen each other in nearly a year and thanks to Nora's fierce aloofness, their relationship consists mostly of infrequent phone calls and an occasional email or text. But when a haunted Nora shows up at the lake near Quinn's house just hours later, a chain reaction is set into motion that will change both of their lives forever.

Nora's "something" is more shocking than Quinn could have ever imagined: a little girl, cowering, wide-eyed, and tight-lipped. Nora hands her over to Quinn with instructions to keep her safe, and not to utter a word about the child to anyone, especially not their buttoned-up mother who seems determined to pretend everything is perfect. But before Quinn can ask even one of the million questions swirling around her head, Nora disappears, and Quinn finds herself the unlikely caretaker of a girl introduced simply as Lucy.

While Quinn struggles to honor her sister's desperate request and care for the lost, scared Lucy, she fears that Nora may have gotten involved in something way over her head—something that will threaten them all. But Quinn's worries are nothing compared to the firestorm that Nora is facing. It's a matter of life and death, of family and freedom, and ultimately, about the lengths a woman will go to protect the ones she loves.
Praise For Little Broken Things: A Novel…
"Sweet, scary and sometimes sordid, Little Broken Things is filled with determined women tenacious in their love for a girl whose childhood has been anything but easy."
— Shelf Awareness

"Mesmerizing...an accomplished exploration of the fragile bonds of a family as they attempt to overcome obstacles they never saw coming.
— Publishers Weekly

"Baart's novel of familial ties, betrayals, and longoverdue confrontations ventures into the territory of Paula Hawkins, Mary Kubica, and Kimberly Belle. Baart's pacing keeps the novel driving forward, while a core group of narrators offers different perspectives on the murky facts of Lucy's upbringing. Full of twists and turns, this is a great addition to the recent surge in suspenseful domestic fiction."
— Booklist

"Part psychological thriller, part women's fiction, Baart's latest novel is wholly compelling. Told from the perspectives of three complex women (a mother and her two adult daughters) over the course of four emotional days...Questions abound and, in true thriller fashion, answers are doled out on a need-to-know basis, keeping the tension high from beginning to end. Baart's smartly exquisite prose and her setting of a scene, not so much physically as mentally, allows readers to relate personally to these three women and to embrace the little girl in their care. The intricacies of family relationships, love and friendship are all skillfully explored, layered in all the right places and captivating in its entirety."
— Romantic Times

"Richly atmospheric and featuring a compelling cast of sharply drawn female characters, Little Broken Things is both a page-turner and a thoughtful examination of what it means to mother and be mothered, in all its most real and varied forms."
— Kimberly McCreight, New York Times bestselling author of Reconstructing Amelia and Where They Found Her

"Beautifully layered...gives readers everything they could possible want in a novel - vivid, engaging characters, a town filled with dark secrets, a mind-twisting mystery and the ferocious power of a mother's love. Original and gripping, Little Broken Things is a stunner that will linger with you long after the final page is turned."
— Heather Gudenkauf, New York Times bestselling author of The Weight of Silence and Not A Sound

"If you liked Big Little Lies, you'll want to crack open this new novel by Nicole Baart, which will be released in November—just in time for your Thanksgiving holiday reading. This novel will engross you in the suspenseful story of Quinn Cruz; her estranged and troubled sister, Nora; and a mysterious little girl named Lucy who shows up on her doorstep."
— Southern Living

"Nicole Baart weaves exquisite writing with unstoppable drama in this tale of family schisms and secrets on a collision course with life-threatening danger. Putting down Little Broken Things was impossible."


— Randy Susan Meyers, bestselling author of Accidents of Marriage and The Widow of Wall Street

"I have long been a fan of Nicole Baart's finely crafted, flawed characters, her deft plotting, her fluid, lovely writing, and all of these gifts are on display in Little Broken Things. I cared about these sisters, feared and hoped for them, and lost my heart to Lucy, the locked-shut little girl living in the center of the book's secrets. It's a gripping and suspenseful tale that kept me turning pages late into the night; move it to the top of your stack."
— Joshilyn Jackson, New York Times bestselling author of The Almost Sisters

"Nicole Baart has outdone herself with this lush, evocative family drama full of shocking twists and a heart-warming grand finale. I will think about the Sanford family for a good long time. Put Little Broken Things on your fall reading list now!"




— Kate Moretti, New York Times bestselling author of The Vanishing Year

"Little Broken Things made me abandon my life and responsibilities for days. Stunning, beautifully wrought, tenaciously hopeful—move this book to the very top of your book club list."
— Kimberly Stuart, author of Sugar: A Novel and the Heidi Elliott series

"Hold on to your hearts for this one. Nicole Baart leaves no emotion untapped with Little Broken Things as she nudges readers to ask: What kind of mother am I? With page after page of her trademark lyrical prose, Baart offers a treat of a tale that will please her loyal readers while drawing the praise of many more. Soul-stretchingly good!"


— Julie Cantrell, author of Into the Free and Perennials

"Suspenseful, heartfelt, and emotionally rich, Little Broken Things explores the complicated bonds of family—those we're born into and those we choose. Baart's writing—as always—is a delight."
— Elizabeth Blackwell, author of While Beauty Slept and In the Shadow of Lakecrest
Atria Books, 9781501133602, 368pp.
Publication Date: November 21, 2017
About the Author
Nicole Baart is the author of eleven novels, including Everything We Didn't Say and The Long Way Back. The cofounder of a nonprofit and mother of five, she lives in Iowa with her family. Learn more at NicoleBaart.com.