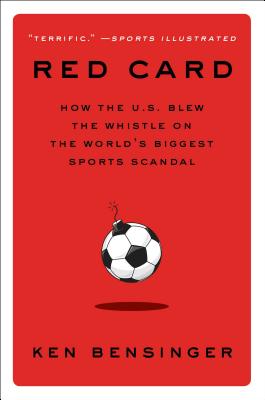 Red Card
How the U.S. Blew the Whistle on the World's Biggest Sports Scandal
Hardcover

* Individual store prices may vary.
Other Editions of This Title:
Digital Audiobook (6/11/2018)
Paperback (6/11/2019)
Compact Disc (6/12/2018)
Description
The definitive, shocking account of the FIFA scandal—the biggest international corruption case of recent years, spearheaded by US investigators, involving dozens of countries, and implicating nearly every aspect of the world's most popular sport, soccer, including its biggest event, the World Cup.

The FIFA case began small, boosted by an IRS agent's review of an American soccer official's tax returns. But that humble investigation eventually led to a huge worldwide corruption scandal that crossed continents and reached the highest levels of the soccer's world governing body in Switzerland.

In Red Card, Ken Bensinger explores the case, and the personalities behind it, in vivid detail. There's Chuck Blazer, a high-living soccer dad who ascended to the highest ranks of the sport while creaming millions from its coffers; Jack Warner, a Trinidadian soccer official whose lust for power was matched only by his boundless greed; and the sport's most powerful man, FIFA president Sepp Blatter, who held on to his position at any cost even as soccer rotted from the inside out.

Remarkably, this corruption existed for decades before American law enforcement officials began to secretly dig, finally revealing that nearly every aspect of the planet's favorite sport was corrupted by bribes, kickbacks, fraud, and money laundering. Not even the World Cup, the most-watched sporting event in history, was safe from the thick web of corruption, as powerful FIFA officials extracted their bribes at every turn. Arriving just in time for the 2018 World Cup, Red Card goes beyond the headlines to bring the real story to light, accompanying the determined American prosecutors and special agents who uncovered what proved to be not only the biggest scandal in sports history, but one of the biggest international corruption cases ever. And it is far from over.
Praise For Red Card: How the U.S. Blew the Whistle on the World's Biggest Sports Scandal…
"A gripping white-collar crime thriller that, in its scope and human drama, ranks with some of the best investigative business books of the past 30 years."
— David Hirshey

"An engrossing and jaw-dropping tale of international intrigue. . . . The FIFA scandal involved old-fashioned and highly intuitive vote buying, bribery, payoffs and kickbacks on a breathtaking scale. Such corruption makes for a particularly gripping narrative. . . . A riveting book."
— Jonathan A. Knee

"Red Card is timely and fascinating, a galloping world tour of the filth and corruption that stretches from Trump Tower to the heart of Russia. With gripping storytelling, Ken Bensinger reveals how the FIFA empire was constructed, what caused it to crash down, and why nothing will ever be the same. Readers won't be able to put this book down."
— Charles Duhigg, Pulitzer Prize winner and bestselling author of The Power of Habit and Smarter Faster Better

"Red Card is a globe-trotting, stylish non-fiction crime thriller…. Ken Bensinger exposes the massive FIFA case as a narrative with enough twists, betrayals, and action for a Hollywood noir."
— Ashlee Vance, author of Elon Musk

"If you love soccer, then you probably hate FIFA. I took immense pleasure in reading this cracking tale of how an unlikely crew of Yanks busted the cabal of crooks that ran the global game for so long. Ken Bensinger has beautifully reported a great procedural that gets to the heart of so much that is wrong with sport—and the world."
— Franklin Foer, author of How Soccer Explains the World and World Without Mind

"Red Card is the meeting of American investigative reporting and real-life cop show."
— Simon Kuper

"With the flair of a novelist, Bensinger meticulously chronicles the magnitude of corruption that permeates the world's most popular sport."
— Publishers Weekly (starred review)

"[A] fine, deeply researched, painstakingly assembled book. . . . A deeply forensic investigation of the depth of corruption within FIFA and its regional bodies that also shows how much work goes into high-level criminal investigations."
— Kirkus Reviews (starred review)

"Writing with deep inside knowledge of the key players and events in the U.S.-led investigation, veteran journalist Bensinger manages to give a mind-bogglingly complex cast of characters and time lines the pace and plot of a crackling white-collar-crime thriller. . . . It may be a beautiful game on the field, but in the backrooms and boardrooms, it's downright disgusting. Anyone seeking crystal-clear understanding of the rot in soccer can start with this remarkable book."
— Booklist (starred review)

"With revelatory reporting and glittering prose, Ken Bensinger delivers the definitive account of how American investigators pulled the string on a tax case that ended up unraveling the 'World Cup of fraud' leading to the executive suites at FIFA headquarters in Zurich. A remarkable achievement."
— Don Van Natta Jr., three-time Pulitzer Prize winning author of Wonder Girl and Her Way

"Ken Bensinger does what few journalists can, taking a story that you think you know, and detailing how much deeper it actually goes. This is a book about the unending greed and deceit that took place inside FIFA. It's a book that is woven together with the mastery of a movie script that will leave you angry, shocked, and unable to look away."
— Nick Bilton, author of American Kingpin and Hatching Twitter

"Red Card is the definitive account of the biggest sports scandal in history, a deeply sourced and brightly written book from one of America's finest investigative journalists. It is also a true crime gem, gripping and entertaining."
— George Dohrmann, Pulitzer Prize-winning author of Play Their Hearts Out and Superfans

"A fascinating tale of fraud, kickbacks, bribes, and money laundering—a white-collar crime extravaganza."
— Paul M. Barrett, author of Glock and Law of the Jungle

"Red Card is both a searing indictment of corruption in the beautiful game and a kinetic international police thriller. . . . Bensinger unsparingly shows how soccer's top echelon brazenly became a cash-smuggling mafia beholden to the worst regimes on earth."
— Tim Elfrink, co-author Blood Sport

"Take one of the biggest scandals in sports history—the FIFA soccer case—and put it in the hands of a skilled reporter and writer, and you have a riveting book like Red Card. Author Ken Bensinger delivers a suspenseful, highly entertaining story told with novelistic detail, deep insight and the pace of a thriller. Anyone wanting to know how international soccer fell into a colossal swamp of corruption will find all the answers here."
— Doug J. Swanson, author of Blood Aces

"[A] cinematic debut. . . . Bensinger's ability to peel away the complex layers of these international schemes illustrates the absurdity owing to the extent and ubiquity of corruption as personal self-interests take over at every level. . . . Not solely for soccer fans but also those curious about organized crime—not least for the references to Eliot Ness and his team of Untouchables—and international intrigue."
— Library Journal

"The authoritative account of the elaborate and stunning web of corruption which swallowed the highest ranks of the world's most popular sport. . . . A lively and disturbing journey full of the sort of ruthless characters you wouldn't want to meet in a dark alley, or on the other side of the villainous negotiating table in FIFA's underground bunker in Switzerland."
— Gus Garcia-Roberts, co-author of Blood Sport

"Bensinger brings soccer's case of the century—and the people involved, on both sides of the law—to vivid life. Thoroughly reported, carefully constructed, and wholly entertaining."
— Rafi Kohan, author of The Arena

"Gripping. . . . Bensinger's impeccably sourced account serves as a sharp reminder of the gargantuan levels of largesse and excess during FIFA's bad, bad days."
— Sean Ingle
Simon & Schuster, 9781501133909, 368pp.
Publication Date: June 12, 2018
About the Author
Ken Bensinger has been a journalist for more than twenty years. He has worked at The Wall Street Journal, the Los Angeles Times, and, since 2014, for BuzzFeed News, as a member of its investigations team, and has written about sports, labor, art, automobiles, and politics, among other topics. He has been a winner of the ASME National Magazine award and the Gerald Loeb Award for Distinguished Finance & Business Reporting, and a finalist for the Pulitzer Prize in national reporting. He grew up in Seattle, graduated from Duke University, and lives with his wife, two children, and dog, in Los Angeles. Red Card is his first book.
or
Not Currently Available for Direct Purchase