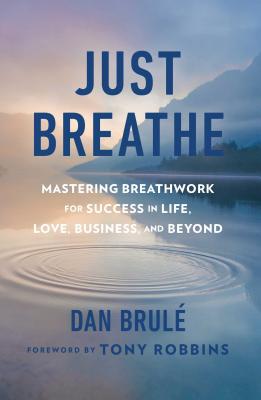 Just Breathe
Mastering Breathwork for Success in Life, Love, Business, and Beyond
Hardcover

* Individual store prices may vary.
Other Editions of This Title:
Digital Audiobook (3/27/2017)
Paperback (2/27/2018)
Paperback, Spanish (1/15/2018)
Compact Disc (2/12/2019)
Description
Reduce stress and anxiety, increase your productivity, detox your body, balance your health, and find the path to greater mindfulness with this collection of signature breathing techniques by the world's leading breathmaster, Dan Brulé.

What if you could control your outcomes and change results simply by controlling your breath? Now you can. In this definitive handbook, world-renown pioneer of breathwork Dan Brulé shares for the first-time his Breath Mastery technique that has helped more than 100,000 people in over forty-five countries.

Just Breathe is a simple and revolutionary guide that reveals the secret behind what the elite athletes, champion martial artists, Navy SEAL warriors, and spiritual yogis have always known—when you control your breathing you can control your state of well-being and level of performance. So if you want to optimize your health, clear and calm your mind, and spark peak performance—the secret to unlock and sustain these results comes from a free and natural resource that's right under your nose.

From high stress, critical situations to everyday challenges, Just Breathe will show you how to harness your awareness and conscious breathing to benefit your body, mind, and spirit. Breathwork benefits a wide range of issues including: managing acute/chronic pain; help with insomnia, weight loss, attention deficit, anxiety, depression, PTSD, and grief; improves intuition, creativity, mindfulness, self-esteem, leadership, and much more.

Just Breathe will show you the skills and tools to breathe your way to optimum health, ultimate potential, and peak performance.
Praise For Just Breathe: Mastering Breathwork for Success in Life, Love, Business, and Beyond…
"This is a timely and essential book for our challenged world. Dan Brulé is a true master and deeply inspiring. Just Breathe is free medicine that will not only bring you optimal health, but also expand your consciousness."
— Mark Divine, retired navy seal, founder/ceo Sealfit, and New York Times bestselling author of The Way of the Seal and Unbeatable Mind

"A worthwhile resource for achieving wellness, particularly for those who wish to destress naturally."
— Library Journal

"Dan Brulé's new book is a fascinating and practical guide to the overlooked importance of the breath for creativity, vitality and healing."
— Barnet Bain, author of The Book of Doing and Being: Rediscovering Creativity in Life, Love and Work and producer of What Dreams May Come

"Excellent content and presentation. I will be very happy when more of my students and associates contribute as much as Dan has to the enlightenment and evolution of humanity through breathwork."
— Leonard Orr, founder of Rebirth International

"Dan Brule is one of the world's great breathwork masters of our time. He weaves together breathing physiology, psychology, and spirituality in uniquely practical ways that most anyone can learn for improving health and performance. His writing style is crisp, clear, personal, easy to read, and even exciting. His book is a "must read" not only for breathworkers, healthcare practitioners, and yoga-meditation fans but also for virtually anyone who suspects that breathing might just be something important in their lives!"
— Peter M. Litchfield, Ph.D., President of the Graduate School of Behavioral Health Sciences

"Just Breathe is a needed Gift to humanity! It brings us back to the importance and value of conscious breathing, and the many ways it improves the quality and depth our lives."
— Judith Kravitz, Founder and Director, Transformational Breath® Foundation and Global Trainings; author of Breathe Deep Laugh Loudly: The Joy of Transformational Breathing

"Just Breathe will provide you with information about the revolutionary healing and growth that comes from conscious breathing which Dan Brule has accumulated over his many years of teaching and practice. Just Breathe also will provide you with the wisdom of a world traveler who has presented breathwork successfully in more cultures and diverse settings than practically anyone on the planet. Most importantly, Just Breathe will provide you with the inspiration to adapt these life affirming practices and have the confidence to come to inner peace and self love if you just breathe."
— Jim Morningstar, PhD, director of Transformations Breathwork Training Program and author of Breathing in Light and Love and The Complete Breath

"I am a skeptic of nearly everything. I've trained with the Navy, helped an NFL player get on a team, raced Grand Prix motorcycles… all high stress environments. What works? Train. Eat. Sleep. That's what works. But wait a second… Enter Dan Brulé and his BREATHWORK. To me THIS technology is the fourth pillar of achievement. It makes a huge difference in performance, and I am all in. Today I might miss a workout, I might miss a meal, but I'll never miss a breathing session. Welcome to the fourth pillar, and welcome Dan as your coach."
— Oren Klaff, founder of Intersection Capital and author of Pitch Anything

"Breath is the ultimate key to your well-being, and if done right, it has the power to transform your entire life—physical, mental, and spiritual. Just Breathe is the definitive breathwork handbook, and Dan Brulé is the master to show you how…I love his coaching and it's made a huge impact in my life."
— Tony Robbins, bestselling author and life coach

"In Just Breathe, Dan Brule really explains what it means to, as the book says, just breathe. It is a fundamental part of life to breathe, so why not do it correctly? And that is exactly what Dan teaches in this book, how to breathe in a way that lets you be the healthiest you can be, and live your life one amazing breath at a time."
— David Riklan, founder of SelfGrowth.com

"I always start my breathing courses by saying that breathing is simple but it is not easy. Either you JUST let your autonomic nervous system do the job and breathe your life… or you ADJUST your breath and tweak it to its optimal functioning and live the full life you deserve. I love the way Dan gently enters breath mastery through awareness, relaxation and breathing. His 'Wake Up!' 'Let Go!' and 'Take Charge' are the basics of what we all teach, but here in Just Breathe it is so clear and straightforward."
— Dr. David O'Hare, MD, author of 365 Heart Coherence

"This book, which embodies Dan's life work, draws us in, inhales us into a fresh new state of awareness, of seeing how, even in the small moments of each day, we can transform our experiences with conscious breathing. Then it breathes us out into the world with freedom from habits and limitations, with wisdom from ancient traditions and modern science, and with the knowledge that it is quite possible to heal ourselves and others using the power of our breath. Thanks to Dan for this inspirational work!"
— Patricia Gerbarg, MD Assistant Clinical Professor of Psychiatry, New York Medical College and coauthor of The Healing Power of the Breath

"Most of us have never even considered the gift and value of the breath until something comes in the way of its flow. In Just Breathe, Dan succeeds in sharing a lifetime of experience and wisdom in a way that is accessible and practical but at the same time wakes us up to the magic and mystery of the breath. He makes the simple act of breathing come alive through his passion and deep insight. He guides us to develop a conscious relationship with the breath to optimize every aspect of tour lives. What a gift!"
— Ela Manga, MD, author of My Energy Codes, director of Woodlands Spa and Center for Conscious Living, South Africa

"Of all the experts we met during the development of the breathing chair, Dan was one of the most impressive! The breathing techniques and exercises he uses and his approach to breathwork were very new and revolutionary for us. Thanks to Dan, we now understand that breathing not only supplies oxygen to our body and releases C02 but brings our mind, body and soul to an unexpected level. Just Breathe is a guide to not only improving your physical, emotional and psychological health, and your performance, it is also a guide to raising your consciousness."


— Jean-Louis Portales, inventor of the 02Chair

"I have known Dan for many years through the International Breathwork Foundation. I see him as a passionate hunter, having explored, enjoyed and mastered the amazing gift that Life offers us through the breath. That gift, along with all his passion and mastery is what he offers us through Just Breathe. A very practical and inspiring book with a wide range of exercises for our daily life, and also for very specific situations and health issues. Ideal for oneself, but also to use with our peers, clients, patients, pupils and family. Don't resist the temptation to dive into it and let yourself be guided along a life-changing journey!"
— Véronique Batter, MS, Breathwork coach, founder of AlmaNacer, and former President of International Breathwork Foundation
Atria/Enliven Books, 9781501134388, 224pp.
Publication Date: March 28, 2017
About the Author
Dan Brulé is the world's foremost expert and renowned pioneer in the field of breathwork, and leader of the worldwide Spiritual Breathing movement. He served in the United States Navy as a medical deep-sea dive during the Vietnam era and completed his master's degree in Cambridge, Massachusetts.

Tony Robbins is a bestselling author, entrepreneur, and philanthropist. For more than 37 years, millions of people have enjoyed the warmth, humor, and the transformational power of Mr. Robbins' business and personal development events. He is one of the nation's top life and business strategists. He's called upon to consult and coach with some of the world's finest athletes, entertainers, Fortune 500 CEOs, and presidents. Robbins is a founder or partner in over a dozen companies in industries as diverse as a 5-star Fijian island resort to custom 3D printed Prosthetic limbs. Through the Tony Robbins foundation and his matching funds, Tony has provided over 400 million meals in his partnership with Feeding America. He lives in Palm Beach, FL.
or
Not Currently Available for Direct Purchase