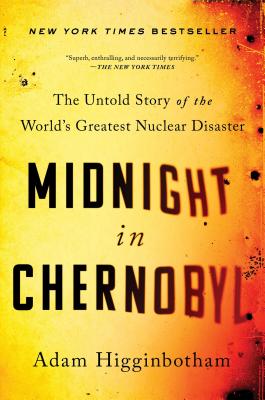 Midnight in Chernobyl
The Untold Story of the World's Greatest Nuclear Disaster
Hardcover

* Individual store prices may vary.
Other Editions of This Title:
Digital Audiobook (2/11/2019)
Paperback (2/4/2020)
Compact Disc (2/12/2019)
Library Binding, Large Print (11/11/2020)
Description
A New York Times Best Book of the Year
A Time Best Book of the Year
A Kirkus Reviews Best Nonfiction Book of the Year
2020 Andrew Carnegie Medals for Excellence Winner
One of NPR's Best Books of 2019

Journalist Adam Higginbotham's definitive, years-in-the-making account of the Chernobyl nuclear power plant disaster—and a powerful investigation into how propaganda, secrecy, and myth have obscured the true story of one of the twentieth century's greatest disasters.

Early in the morning of April 26, 1986, Reactor Number Four of the Chernobyl Atomic Energy Station exploded, triggering history's worst nuclear disaster. In the thirty years since then, Chernobyl has become lodged in the collective nightmares of the world: shorthand for the spectral horrors of radiation poisoning, for a dangerous technology slipping its leash, for ecological fragility, and for what can happen when a dishonest and careless state endangers its citizens and the entire world. But the real story of the accident, clouded from the beginning by secrecy, propaganda, and misinformation, has long remained in dispute.

Drawing on hundreds of hours of interviews conducted over the course of more than ten years, as well as letters, unpublished memoirs, and documents from recently-declassified archives, Adam Higginbotham has written a harrowing and compelling narrative which brings the disaster to life through the eyes of the men and women who witnessed it firsthand. The result is a masterful nonfiction thriller, and the definitive account of an event that changed history: a story that is more complex, more human, and more terrifying than the Soviet myth.

Midnight in Chernobyl is an indelible portrait of one of the great disasters of the twentieth century, of human resilience and ingenuity, and the lessons learned when mankind seeks to bend the natural world to his will—lessons which, in the face of climate change and other threats, remain not just vital but necessary.
Praise For Midnight in Chernobyl: The Untold Story of the World's Greatest Nuclear Disaster…
" Superb, enthralling and necessarily terrifying . . . the accident unfurls with a horrible inevitability. Weaving together the experiences of those who were there that night, Higginbotham marshals the details so meticulously that every step feels spring-loaded with tension. . . . Amid so much rich reporting and scrupulous analysis, some major themes emerge. . . . Higginbotham's extraordinary book is another advance in the long struggle to fill in some of the gaps, bringing much of what was hidden into the light." —Jennifer Szalai, The New York Times

"A gripping miss-your-subway-stop read . . . Higginbotham captures the nerve-racked Soviet atmosphere brilliantly." —The New York Times Book Review

"A compelling, panoramic account."—The Christian Science Monitor

"An account that reads almost like the script for a movie . . . Mr. Higginbotham has captured the terrible drama." —The Wall Street Journal

"Midnight in Chernobyl is top-notch historical narrative: a tense, fast-paced, engrossing, and revelatory product of more than a decade of research. . . . A stunningly detailed account . . . For all its wealth of information, the work never becomes overwhelming or difficult to follow. Higginbotham humanizes the tale, maintaining a focus on the people involved and the choices, both heroic and not, they made in unimaginable circumstances. This is an essential human tale with global consequences."—Booklist, Starred Review

"Written with authority, this superb book reads like a classic disaster story and reveals a Soviet empire on the brink. . . . [A] vivid and exhaustive account."—Kirkus, Starred Review

"This is a highly detailed, carefully documented, beautifully narrated telling of this breathtakingly complex accident and its mitigation. Higginbotham's handling of the sociopolitical context is also deft." —Nature

"In chilling detail, this book recounts the many missteps of their response to the disaster. . . . Higginbotham compellingly suggests that these flaws all but predicted the calamity—and, in turn, the collapse of the Soviet Union itself." —The New Yorker

"There has been much reporting about the disaster, but no book has so ably and artfully captured the whole story of what happened that night and in the months and years that followed. With meticulous details, careful research and a gripping narrative, Midnight in Chernobyl is a must-read about nuclear power and the end of the Soviet Union." —Time

"Midnight in Chernobyl is wonderful and chilling. . . . Adam Higginbotham tells the story of the disaster and its gruesome aftermath with thriller-like flair. . . . It is a tale of hubris and doomed ambition, featuring Communist party bosses and hapless engineers, victims and villains, confusion and cover-up." —The Guardian

"A riveting, deeply reported reconstruction . . . In this powerful work of reportage, Chernobyl and its aftermath emerge as the Soviet Union's last stand, containing all the pathologies and passion of that social experiment now lost to history." —The Los Angeles Times

"More harrowing than any horror movie and more gripping than any thriller. . . Higginbotham creates a history book with the headlong pacing of fiction. . . . Read it to be scared. Read it to be angry. Read it because Higginbotham is a great writer in total control of his material. Just read it. This book will haunt you forever." —The Oklahoman

"Highly readable . . . Higginbotham [is] a skilled science writer. . . . Mr. Higginbotham's book reflects extensive on-the-scene research. . . . Disaster was inevitable, and Mr. Higginbotham vividly describes the futile attempts of engineers to bring a runaway reactor under control." —The Washington Times

"The book reads like an adventure novel, but it's a richly researched non-fiction work by a brilliant storyteller. . . . Get and read this gripping account to understand why people are still so afraid of nuclear power." —Skeptic Magazine's Science Salon

"Higginbotham's scrupulously reported book catalogues the chain of events that occasionally reads as stranger than fiction. The book is more than a gripping history that recounts in great detail events at the reactors; it also offers contextual insights into the Soviet era that help to explain how such a failure could occur. . . . As is the case with many great nonfiction books, it has the urgency and intrigue of the very best thrillers." —Wired

"Adam Higginbotham's brilliantly well-written Midnight In Chernobyl draws on new sources and original research to illuminate the true story of one of history's greatest technological failures—and, along with it, the bewildering reality of everyday life during the final years of the Soviet Union."— Anne Applebaum, Pulitzer Prize-winning author of Gulag: A History and Red Famine: Stalin's War On Ukraine

"A masterpiece of reporting and storytelling that puts us on the ground for one of the most important events of the twentieth century. Adam Higginbotham opens a world nearly impossible to penetrate, then finds truths inside we weren't supposed to discover. As readers, we could not hope for a more thrilling and visceral adventure. As citizens of the world, we ignore Midnight in Chernobyl at our peril."—Robert Kurson, New York Times bestselling author of Shadow Divers and Rocket Men

"A definitive book. Adam Higginbotham has written a wonderful and chilling account of how the Chernobyl disaster happened, featuring protagonists and victims, party bosses and hapless engineers, confusion and cover up. The story of how the reactor exploded and its grisly aftermath are told with thriller-like flair. Higginbotham captures the scientific and the human, in a tale of hubris and doomed ambition."—Luke Harding, New York Times bestselling author of Collusion and The Snowden Files

"Adam Higginbotham's Midnight at Chernobyl is a superb account of the catastrophic accident that occurred in the No 4 reactor of the Chernobyl nuclear power station in 1986. Higginbotham's research is thorough and enlightening; much has emerged about what really happened following the fall of the Soviet Union. An experienced journalist, he makes the complex historical, political, technical, and human aspects of this dramatic story intelligible. His book is a pleasure to read."—Piers Paul Read, award-winning author of Alive: The Story of the Andes Survivors

"Midnight in Chernobyl is the most thorough and scrupulously reported book to appear on the greatest nuclear disaster of the 20th century. Attentive and humane, it is also a gripping read on the tragic intersection of nuclear and Soviet power."—Keith Gessen, author of A Terrible Country and translator of Voices from Chernobyl

"Here is a triumph of investigative reportage, exquisite science writing, and heart-pounding storytelling. With Midnight in Chernobyl, Adam Higginbotham gives us a glimpse of Armageddon, but carries it off with such narrative verve that he somehow makes it entertaining. One thing is assured: After reading this astonishing, terrifying book, you will never think of nuclear power in quite the same way again." —Hampton Sides, author of In the Kingdom of Ice and On Desperate Ground

"Spellbinding… profound... an enthralling account of the disaster and its fallout."—Bookpage

"The most complete and compelling history yet written in English of the worst nuclear power plant meltdown in history." —The Christian Science Monitor

"A colorful, well-researched book, which explains the scientific and political background clearly." —The Times Literary Supplement

"May be the most frightening book readers will pick up in 2019. . . . Higginbotham's skill in building minute-by-minute suspense during the accident itself and his characterizations of both survivors and victims make the book a page-turner." —Lincoln Journal Star

"Remarkable....a gripping narrative, undergirded with the forensic detail of a courtroom drama." —Foreign Policy

"A new book offers perhaps the clearest, and fullest, look at the catastrophe yet. Adam Higginbotham's Midnight in Chernobyl is a compelling and comprehensive account of one awful night in Ukraine and the consequences that were felt worldwide. Higginbotham's observations, and his writing, are so sharp there is no need to overdo anything for dramatic effect. Told so clearly and in such detail, the story is dramatic — and horrific — enough." —Undark

"Exhaustively researched and critically acclaimed history of the event." —The Los Angeles Times

"In fascinating detail, Higginbotham chronicles how the drama played out, showing that Soviet hubris in part led to the accident and Soviet secrecy compounded it." —Newsday
Simon & Schuster, 9781501134616, 560pp.
Publication Date: February 12, 2019
About the Author
Adam Higginbotham writes for The New Yorker, The New York Times Magazine, Wired, GQ, and Smithsonian. The author of Midnight in Chernobyl, he lives in New York City.
Coverage from NPR
or
Not Currently Available for Direct Purchase