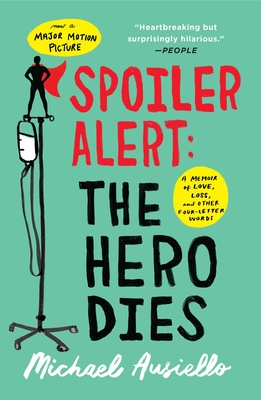 Spoiler Alert
The Hero Dies: A Memoir of Love, Loss, and Other Four-Letter Words
Paperback

* Individual store prices may vary.
Other Editions of This Title:
Digital Audiobook (9/11/2017)
Hardcover (9/12/2017)
Description
ONE OF KIRKUS REVIEWS' BEST BOOKS OF THE YEAR

In this "heartbreaking but often surprisingly hilarious memoir" (People) reminiscent of Love Is a Mixtape and Bettyville, a respected TV columnist remembers his late husband, and the lessons, love, and laughter that they shared throughout their fourteen years together. As J.J. Abrams raves, "A more honest, funny, and insightful book on the subject of loss can be found nowhere."

For the past decade, TV fans have counted upon Michael Ausiello's insider knowledge to get the scoop on their favorite shows and stars. From his time at Soaps in Depth and Entertainment Tonight to his influential stints at TV Guide and Entertainment Weekly to his current role as co-founder of the wildly popular website TVLine.com, Michael has established himself as the go-to expert when it comes to our most popular form of entertainment.

What many of his fans don't know, however, is that while his professional life was in full swing, Michael had to endure the greatest of personal tragedies: his longtime boyfriend, Kit Cowan, was diagnosed with a rare and very aggressive form of neuroendocrine cancer. Over the course of eleven months, Kit and Michael did their best to combat the deadly disease, but Kit succumbed to his illness in February 2015.

In this heartbreaking and darkly hilarious memoir, Michael tells the story of his harrowing and challenging last year with Kit while revisiting the thirteen years that preceded it, and how the undeniably powerful bond between him and Kit carried them through all manner of difficulties—always with laughter front and center in their relationship. Spoiler Alert: The Hero Dies is "a story about love and loss, joy and heartbreak. And in the midst of personal turmoil, we learn that bravery comes in many forms" (The Washington Post).
Praise For Spoiler Alert: The Hero Dies: A Memoir of Love, Loss, and Other Four-Letter Words…
"When a journalist as talented as Ausiello turns their focus inward, something special is bound to occur. Such is the case with Spoiler Alert: The Hero Dies. A more heartbreaking, honest, funny, and insightful book on the subject of loss can be found nowhere."
— J.J. Abrams, writer-director-producer, Lost, Alias, Westworld, Star Trek, Star Wars: The Force Awakens

"Engrossing, poignant, tragic, and hilarious – I couldn't put it down. Read this book. You are welcome."
— Jenny Lawson, #1 New York Times bestselling author of Let's Pretend This Never Happened and Furiously Happy

"Sexy and sweet, charming and funny, Michael Ausiello somehow manages to turn a story of loss into a hopeful tale that shines with warmth and wit."
— Lauren Graham, star of Gilmore Girls and Parenthood and New York Times bestselling author of Someday, Someday, Maybe and Talking as Fast as I Can

"Like some of Michael's favorite TV shows, his book is heartfelt, smart, funny, insightful, and packs an enormous emotional punch. I can't recommend it more."
— Greg Berlanti, writer-director-producer, The Flash, Arrow, Everwood, Dawson's Creek, Brothers & Sisters

"Tender, profoundly poignant, and cleverly written with equal parts wit and integrity, the book is grounded in the realities of modern relationships and the grim fate of mortality. A heartbreaking memoir infused with dark humor and composed with true love."
— Kirkus Reviews (starred review)

"The ending is given away in the title, but the experience of reading it is something wholly unexpected . . . . a humorous, enlightening, and sometimes even sensual look at gay life in New York City…and a swoon-inducing romance that pulls no punches about how just how much work goes into staying with the love of your life until the end of his life . . . .The beauty of the book, however, is that the details don't have to mirror a reader's own life so eerily for the story to feel so personally powerful."
— Kevin Fallon

"Spoiler Alert: The Hero Dies is a haunting and profoundly sad story, but it's brightened by witty writing, comedic interludes and the two charismatic, endearing and appealing heroes at the book's center."
— Shelf Awareness

"What Ausiello has done is made certain that Cowan's one special life will never be forgotten. The hero died, but the spirit lives."
— Lambda Literary Review

"A poignant memoir."
— Entertainment Weekly

"As hate threatens to strangle our country, take a look at what love looks like."
— Newark Star-Ledger

"Spoiler Alert is both tender and raw. It almost feels inappropriate to be invited into such a deeply personal chapter of someone's life. It's a story about love and loss, joy and heartbreak. And in the midst of personal turmoil, we learn that bravery comes in many forms."
— The Washington Post
Atria Books, 9781501134975, 320pp.
Publication Date: September 18, 2018
About the Author
Michael Ausiello is the founder and editor-in-chief of TVLine.com, a television entertainment website owned by Penske Media that launched in 2010. Ausiello began his publishing career in 1997 at Soaps In Depth magazine before moving on to TVGuide.com in 2000, where he debuted his signature, spoiler-tinged "Ask Ausiello" column and established himself as a major player in the world of TV journalism. In 2008, he jumped to Entertainment Weekly, where he penned a column in the magazine as well as an award-winning blog on EW.com (both titled "The Ausiello Files"). He currently splits his time between New York City and Los Angeles.