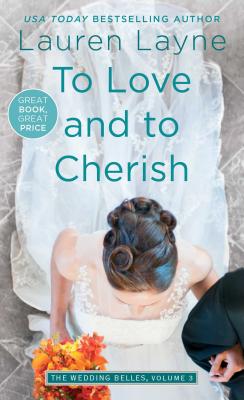 To Love and to Cherish (Wedding Belles #3)
Mass Market

* Individual store prices may vary.
Other Editions of This Title:
Digital Audiobook (2/27/2017)
Compact Disc (2/28/2017)
MP3 CD (2/28/2017)
Compact Disc (2/28/2017)
MP3 CD (2/28/2017)
Description
Sex and the City meets The Wedding Planner in The Wedding Belles, a contemporary and witty romance series about three high-powered New York City women who can plan any wedding—but their own.

Alexis Morgan has spent the past eight years devoted to turning her tiny start-up into Manhattan's premiere wedding planning company, The Wedding Belles. Now that her business is thriving, it's time to turn towards her much neglected personal life, and Alexis approaches her relationships like she does everything else: with a plan. Not a part of that plan is Logan Harris, the silent partner in the Belles, and the one person who's been there for her since the very beginning. But Alexis needs someone fun, and Logan's all business, all the time—except when a late night at the office ends with an unexpected kiss that leaves the usually cool and together Alexis reeling.

Logan has lusted after Alexis since the day he walked into the tiny Harlem apartment that used to double as her office. But the ambitious wedding planner has always been untouchable...until now. Alexis has made it clear that she's on the dating market—and equally clear that he's not in the running. But when Alexis finds herself in need of a date for her sister's last minute wedding in Florida, Logan knows it's the perfect time to show Alexis that there's more to him than numbers and spreadsheets—and beneath the pinstripes and glasses lies a hot-blooded heartthrob. As Florida's sultry days turn into even hotter nights, Logan's out to convince Alexis that the fling of a lifetime could just maybe turn into forever...
Praise For To Love and to Cherish (Wedding Belles #3)…
"I highly recommend For Better or Worse. The second in a series, it can be read as a standalone, but I say start with the first because it's just as good. They've got the funny bickering that I love, and even as her stories have a light touch with cute flirty, they delve deep into the characters."
— Harlequin Junkie, Top Pick, on For Better or Worse

"From This Day Forward, To Have and To Hold and For Better or Worse are all enchanting and chock full of all the witty repartee we have come to joyfully anticipate... an absolute delight."
— Hypable

"Really likable and interesting characters. Excellent pace and build. I was just so entertained while reading. Seriously excellent read! I absolutely loved every single second of this. Heather and Josh's story was really perfect to me. 5 stars all the way!"
— About That Story, on For Better or Worse

"I couldn't get enough of this book. I read it from beginning to end without putting it down. It made me smile so much! It was everything I like in a Contemporary Romance. It was cute, light-hearted, funny and sweet. It made me so excited to read the next book in this series! For Better or Worse is a must read for Contemporary Romance lovers."
— A Novel Glimpse, on For Better or Worse

"For Better or Worse is a love story that is carefree, real and packed with emotion any reader can relate with!!! TRULY FANTASTIC!!"
— Addicted to Romance, on For Better or Worse

"I loved this book and can easily recommend you add it to your #needtoread. I am smiling like a lunatic while writing this and remembering Heather and Josh's journey. I laughed, cheered, cried, sighed and almost swooned while reading For Better or Worse, and any book that can make me feel this wide spectrum of emotions is a book that qualifies as one of my favorite reads."
— All About Romance, on For Better or Worse

"This book was everything. It was sweet and romantic and funny and entertaining. At moments, it broke my heart and then in the next page I'd be laughing out loud. This book is exactly why I love to read so much. It gave me all the feels and was absolutely perfect."

— Smitten With Reading, on For Better or Worse

"I'll never get how LL can instantly captivate me from page one, but she continually does. The dance and the lead-up are the best part of her books and FOR BETTER OR WORSE has that in spades. I really honestly couldn't put it down because the story was so well crafted, and both it and their chemistry pulled at me continuously. She writes characters that feel so real and are just incredibly likable, another thing that LL does well. It was absolutely fantastic and this series is one not to be missed."
— Book Reader Chronicles, on For Better or Worse

"A fun, enjoyable, sexy story that I refused to put down... If you enjoy romance, fun, sexy couples, friendship, family, and laugh out loud moments, then you need to be reading this series."
— The Reading Cafe, on For Better or Worse

"Layne packs as much into this sexually charged and emotionally intense novella (an introduction to her upcoming Wedding Belles series) as most authors do in a full novel…The heat between [Leah & Jason] enough to melt steel, and the emotional connection and psychological struggles will keep readers engaged."
— Publishers Weekly on From This Day Forward, Starred Review

"A sweet, charming sexy romance that perfectly weaved passion, friendship, family, second chances, banter and love into one intoxicating and entertaining read... Highly recommend."
— Four Chicks Flipping Pages on To Have and To Hold

"I was wrapped up tight in this story from beginning to end and I enjoyed the entire ride... everything that I love about reading a Lauren Layne book."
— BookBinge on To Have and To Hold

"A character-driven and sizzling romance!"
— Fresh Fiction on To Have and To Hold

"I love romance and this one had all the right ingredients!"
— Mrs. Leif's Two Fangs About It on To Have and To Hold

"I had a major love fest with the story, the writing, and the characters. The ladies were well represented by all the darling, witty, and kick-butt Belles...a great beginning to what promises to be a MUST READ series for adult Contemporary Romance fans."

— Satisfaction for Insatiable Readers on To Have and To Hold
Pocket Books, 9781501135170, 320pp.
Publication Date: October 18, 2016
About the Author
Lauren Layne is the New York Times and USA TODAY bestselling author of more than three dozen romantic comedies. Her books have sold over a million copies worldwide. Lauren's work has been featured in Publishers Weekly, Glamour, The Wall Street Journal, and Inside Edition. She is based in New York City.