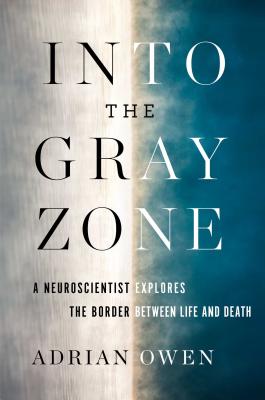 Into the Gray Zone
A Neuroscientist Explores the Border Between Life and Death
Hardcover

* Individual store prices may vary.
Other Editions of This Title:
Digital Audiobook (6/19/2017)
Paperback (6/12/2018)
Description
In this startling and thought-provoking book, which will remind readers of works by Oliver Sacks and Atul Gawande, a world-renowned neuroscientist reveals his controversial, groundbreaking work with patients whose brains were previously thought vegetative or non-responsive but turn out—in up to 20 percent of cases—to be vibrantly alive, existing in the "Gray Zone."

Into the Gray Zone takes readers to the edge of a dazzling, humbling frontier in our understanding of the brain: the so-called "gray zone" between full consciousness and brain death. People in this middle place have sustained traumatic brain injuries or are the victims of stroke or degenerative diseases, such as Alzheimer's and Parkinson's. Many are oblivious to the outside world, and their doctors believe they are incapable of thought. But a sizeable number are experiencing something different: intact minds adrift deep within damaged brains and bodies. An expert in the field, Adrian Owen led a team that, in 2006, discovered this lost population and made medical history. Scientists, physicians, and philosophers have only just begun to grapple with the implications.

Following Owen's journey of exciting medical discovery, Into the Gray Zone asks some tough and terrifying questions, such as: What is life like for these patients? What can their families and friends do to help them? What are the ethical implications for religious organizations, politicians, the Right to Die movement, and even insurers? And perhaps most intriguing of all: in defining what a life worth living is, are we too concerned with the physical and not giving enough emphasis to the power of thought? What, truly, defines a satisfying life?

This book is about the difference between a brain and a mind, a body and a person. It is about what these fascinating borderlands between life and death have taught us about being human.
Praise For Into the Gray Zone: A Neuroscientist Explores the Border Between Life and Death…
"Riveting and strangely uplifting . . . the testimonies of people who have returned from the gray zone evoke the mysteries of consciousness and identity with tremendous power."
—The New Yorker

"Astonishing . . . ground-breaking research . . . Science as an act of adventure, and also rescue. Owen is intrepid, and vulnerable. It never feels less than miraculous when he pulls a fellow human out of the dark."
—The Times (UK) Book of the Week

"[A] fascinating memoir . . . The Gray Zone reads like a thriller as [Owen] recounts his and his teams' efforts to explore [the] 'gray zone' . . . Owen's enthusiasm for his science crackles from the pages. His determination to fight for the scores of voiceless gray-zone patients he encounters, to prove they're 'thinking, feeling people' is hugely thought-provoking and deeply moving."
—Mail on Sunday (UK)

"Ground-breaking . . . a fascinating and accessible account of cutting-edge science, and of those whose lives have been altered in an instant . . . ?Owen's enthusiasm for his subject is infectious . . . This book will be required reading for anyone sitting by a loved one's bedside, caregivers, doctors, ethicists, lawyers and philosophers."
—Sunday Times (UK)

"A fascinating and highly readable book, written with evangelical fervor . . . gripping and moving."
—New Statesman

"Into the Gray Zone weaves a fascinating tale using medical data, heart-wrenching case studies and [Owen's] own personal experiences."
—Good Housekeeping

"[A] remarkable book . . . Through examinations of human brains damaged by trauma, tumors, infections and vascular accidents, [Owen] attempts to explore the nature of consciousness . . . [his] experiments have allowed vegetative-state patients with residual consciousness to connect with the external world."
—Literary Review (UK)

"Meshing memoir with scientific explication, Owen reveals how functional magnetic resonance imaging can probe the deep space of trapped minds. It's a riveting read, from the march of technology and tests for neural responses—such as imagining playing a game of tennis—to extraordinary personal accounts of the 'gray zone' by partially recovered patients."
—Nature magazine

"Although he has written hundreds of research papers about his work, Into the Gray Zone is Owen's first book pulling it altogether in fast-paced prose. Readers should prepare to be educated, yes. But more satisfyingly, they should prepare to be fascinated, astonished and, at times, moved to tears."
—Winnipeg Free Press

"The model of how pop science involving sensational subjects should be done."
—The Globe and Mail

"Fascinating…With remarkable clarity, Owen punctuates his findings with concise dispatches on the human condition and the disparities between what is considered quality of life and what some consider an inhumane, dysfunctional existence….A striking scientific journey that draws hopeful attention to how the brain reacts, restores, and perseveres despite grave injury."
—Kirkus Reviews

"Vivid, emotional, and thought-provoking . . . Owen's story of horror and hope will long haunt readers."
—Publishers Weekly

"A fantastically thought provoking book that will cause you to question the most essential ideas you have about what it means to be alive, and what it means to be you. Adrian Owen is not just one of our top scientists, but a great storyteller."
—Daniel J. Levitin, New York Times bestselling author of This Is Your Brain on Music and The Organized Mind

"Into the Gray Zone is required reading for anyone who wants to explore the outer limits of consciousness, and the human spirit. Neuroscientist Adrian Owen takes us on gripping, often harrowing journeys into the most mysterious realm of human experience: the twilight zone between life and death. He narrates this real-life scientific thriller with authority, compassion and unexpected humor. Into the Gray Zone is a riveting read that will open your eyes, your heart, and your mind."
—Joshua Horwitz, War of the Whales: A True Story, Winner, 2015 PEN Literary Award for Best Science Writing

"What an amazing read! Adrian Owen takes us on a personal and scientific journey, which leads to the discovery of lost minds hidden within the damaged brains of patients in a vegetative state. The book is a real page-turner, both because it unpacks the complexities of modern neuroscience in an accessible way and because it directly confronts profound ethical questions."
—Melvyn Goodale, PhD, coauthor of Sight Unseen: An Exploration of Conscious and Unconscious Vision

"Into the Gray Zone is both a crystal-clear description of cutting-edge neuroscience from one of the pioneers in the field, and a set of intensely personal stories about patients in the twilight of consciousness. Owen deftly knits these two strands together to raise fascinating ethical questions about human identity and value. The result is one of the most moving and gripping science books you're ever likely to read."
—Daniel Bor, author of The Ravenous Brain: How the New Science of Consciousness Explains Our Insatiable Search for Meaning

"This is an unforgettable book. Owen weaves together stories of human resilience in the face of extraordinary adversity with an account of his own ground-breaking research, and in so doing takes us on a deeply moving journey to the very frontiers of consciousness. I couldn't put it down."
—Tim Bayne, author of The Unity of Consciousness

"Immensely moving, profound, and engaging, with a zest for life and science that bubbles off the page…Owen has lived the dream of a neuroscientific discovery that changes thinking about a terrifying medical condition and how patients and their families can be given the answers they crave. Reading how this happened will make you alternately laugh, gasp and cry."
—John Duncan, author of How Intelligence Happens

"As a journalist observing Adrian Owen's pioneering research over the years, I've grown used to the media sensation created by his descents into the twilight world between death and consciousness. But to understand the profound impact of his work on his many patients, told in his own words, is truly moving and inspirational. Though their experiences are disturbing, Into the Gray Zone provides an uplifting testament to the power of scientific curiosity and the extraordinary resilience of the human spirit. This book delivers an eloquent message: even in the most desperate circumstances, there can be hope."
—Roger Highfield, former editor of New Scientist and coauthor of SuperCooperators and The Arrow of Time

"Taking my evening bath while dipping into the opening pages of Into the Gray Zone, I finished three hours later, with the water cold. The book is simply unputdownable. What kept me in the bathtub is Owen's account of communicating with the most impaired neurological patients—those unfortunate individuals whose damaged body and brains often put them at a greater distance from us than an astronaut lost in space."
—Christof Koch, PhD, President and Chief Scientific Officer, Allen Institute for Brain Science

"Into the Gray Zone takes us on an unforgettable journey, and provides fascinating insight into cutting-edge neuroscience and the power of the human psyche. Owen's impressive scientific credentials and remarkable personal experiences make him the perfect host as we attempt to discover the truth about patients thought to be in a vegetative state. Time and again we are taken to the edge of our seats, reflecting on what it means to be alive and how hope can triumph in the most tragic of circumstances."
—Richard Wiseman, bestselling author of The Luck Factor and 59 Seconds: Think a Little, Change a Lot

"An amazing book that challengs basic assumptions about what it means to be a person! What's on display here is a curious branch of brain research that is both fascinating and, frankly, terrifying. Owen's work, which lies at the intersection of neuroscience, philosophy, and ethics, gives a voice to patients long written off by all but the most devoted family members—who somehow knew all along that their loved ones were still in there. It should be required reading for anyone interested in the brain, and especially, for all those who care for patients thought to be in a vegetative state."
—Katrina Firlik, author of Another Day in the Frontal Lobe: A Brain Surgeon Exposes Life on the Inside

"Captivating . . . In this book, which will bring new hope to many, we see Owen explore new realms of consciousness—ones experienced by patients who are devastated by brain injury yet surprisingly endowed with thought, feeling, and memory."
—Kevin Nelson, author of The Spiritual Doorway in the Brain: A Neurologist's Search for the God Experience
Scribner, 9781501135200, 320pp.
Publication Date: June 20, 2017
About the Author
Adrian Owen is currently the Canada Excellence Research Chair in Cognitive Neuroscience and imaging at The Brain and Mind Institute, Western University, Canada. He has spent the last twenty years pioneering breakthroughs in cognitive neuroscience. Among the media outlets that have featured Adrian's research are The New York Times, The Wall Street Journal, The New Yorker, Nature, The Lancet, Science, and The New England Journal of Medicine. A resident of London, Ontario, he can be found at OwenLab.uwo.ca.
or
Not Currently Available for Direct Purchase