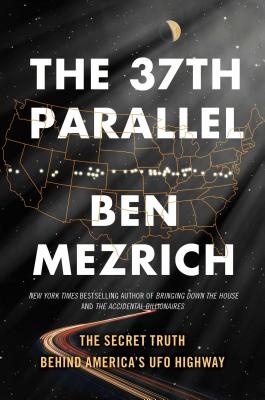 The 37th Parallel (Hardcover)
The Secret Truth Behind America's UFO Highway
Atria Books, 9781501135521, 272pp.
Publication Date: September 6, 2016
Other Editions of This Title:
Digital Audiobook (9/5/2016)
Paperback (6/13/2017)
Hardcover, Large Print (3/21/2017)
* Individual store prices may vary.
Description
This real-life The X-Files and Close Encounters of the Third Kind tells the true story of a computer programmer who tracks paranormal events along a 3,000-mile stretch through the heart of America and is drawn deeper and deeper into a vast conspiracy.

Like "Agent Mulder" of The X-Files, computer programmer and sheriff's deputy Zukowski is obsessed with tracking down UFO reports in Colorado. He would take the family with him on weekend trips to look for evidence of aliens. But this innocent hobby takes on a sinister urgency when Zukowski learns of mutilated livestock, and sees the bodies of dead horses and cattle—whose exsanguination is inexplicable by any known human or animal means.

Along an expanse of land stretching across the southern borders of Utah, Colorado, and Kansas, Zukowski discovers multiple bizarre incidences of mutilations, and suddenly realizes that they cluster around the 37th Parallel or "UFO Highway." So begins an extraordinary and fascinating journey from El Paso and Rush, Colorado, to a mysterious space studies company and MUFON, from Roswell and Area 51 to the Pentagon and beyond; to underground secret military caverns and Indian sacred sites; beneath strange, unexplained lights in the sky and into corporations that obstruct and try to take over investigations. Inspiring and terrifying, this true story will keep you up at night, staring at the sky, and wondering if we really are alone...and what could happen next.
About the Author
Ben Mezrich graduated magna cum laude from Harvard. He has published seventeen books, including the New York Times bestsellers The Accidental Billionaires, which was adapted into the Academy Award–winning film The Social Network, and Bringing Down the House, which was the basis for the hit movie 21. He lives in Boston.
Praise For The 37th Parallel: The Secret Truth Behind America's UFO Highway…
"Mezrich writes vividly and grippingly… It all makes a terrific story."

"A book to make X-Files fans twitch in excitement, Mezrich connects dots we didn't even know existed.… A nicely dramatic narrative... Something's clearly happening out there in the high meadows and along desert highways... Fans of Art Bell and company will find all the affirmation they need."





"Fascinating... Chuck Zukowski takes up UFO investigations as a hobby, but it slowly turns into something more. ... Mezrich approaches the material seriously, preserving the human element but taking care to present the facts. Zukowski's realization that many sightings and events line up along the 37th parallel is the culmination of years of investigations, and after thrilling stories of lights in the sky, screams in the night, and mysterious dark helicopters, readers will be more than ready for the exciting revelation."

"[E]xtremely engaging … the inclusion of photos and important documents really helps the reader understand the intricacies of the investigation."

"The 37th Parallel makes strong case for UFO's. Riveting."