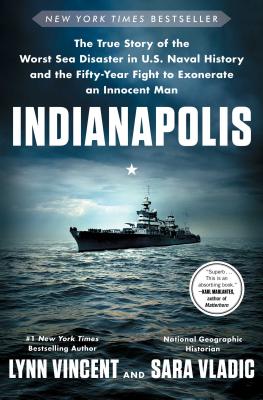 Indianapolis
The True Story of the Worst Sea Disaster in U.S. Naval History and the Fifty-Year Fight to Exonerate an Innocent Man
Hardcover

* Individual store prices may vary.
Other Editions of This Title:
Digital Audiobook (7/9/2018)
Digital Audiobook (7/9/2018)
Paperback (5/21/2019)
Description
NEW YORK TIMES BESTSELLER * "GRIPPING…THIS YARN HAS IT ALL." —USA Today * "A WONDERFUL BOOK." —Christian Science Monitor * "ENTHRALLING." —Kirkus Reviews (starred review) * "A MUST-READ." —Booklist (starred review)

A human drama unlike any other—the riveting and definitive full story of the worst sea disaster in United States naval history.

Just after midnight on July 30, 1945, days after delivering the components of the atomic bomb from California to the Pacific Islands in the most highly classified naval mission of the war, USS Indianapolis is sailing alone in the center of the Philippine Sea when she is struck by two Japanese torpedoes. The ship is instantly transformed into a fiery cauldron and sinks within minutes. Some 300 men go down with the ship. Nearly 900 make it into the water alive. For the next five nights and four days, almost three hundred miles from the nearest land, the men battle injuries, sharks, dehydration, insanity, and eventually each other. Only 316 will survive.

For the better part of a century, the story of USS Indianapolis has been understood as a sinking tale. The reality, however, is far more complicated—and compelling. Now, for the first time, thanks to a decade of original research and interviews with 107 survivors and eyewit­nesses, Lynn Vincent and Sara Vladic tell the complete story of the ship, her crew, and their final mission to save one of their own.

It begins in 1932, when Indianapolis is christened and launched as the ship of state for President Franklin Roosevelt. After Pearl Harbor, Indianapolis leads the charge to the Pacific Islands, notching an unbroken string of victories in an uncharted theater of war. Then, under orders from President Harry Truman, the ship takes aboard a superspy and embarks on her final world-changing mission: delivering the core of the atomic bomb to the Pacific for the strike on Hiroshima. Vincent and Vladic provide a visceral, moment-by-moment account of the disaster that unfolds days later after the Japanese torpedo attack, from the chaos on board the sinking ship to the first moments of shock as the crew plunge into the remote waters of the Philippine Sea, to the long days and nights during which terror and hunger morph into delusion and desperation, and the men must band together to survive.

Then, for the first time, the authors go beyond the men's rescue to chronicle Indianapolis's extraordinary final mission: the survivors' fifty-year fight for justice on behalf of their skipper, Captain Charles McVay III, who is wrongly court-martialed for the sinking. What follows is a captivating courtroom drama that weaves through generations of American presidents, from Harry Truman to George W. Bush, and forever entwines the lives of three captains—McVay, whose life and career are never the same after the scandal; Mochitsura Hashimoto, the Japanese sub commander who sinks Indianapolis but later joins the battle to exonerate McVay; and William Toti, the captain of the modern-day submarine Indianapolis, who helps the survivors fight to vindicate their captain.

A sweeping saga of survival, sacrifice, justice, and love, Indianapolis stands as both groundbreaking naval history and spellbinding narrative—and brings the ship and her heroic crew back to full, vivid, unforgettable life. It is the definitive account of one of the most remarkable episodes in American history.
Praise For Indianapolis: The True Story of the Worst Sea Disaster in U.S. Naval History and the Fifty-Year Fight to Exonerate an Innocent Man…
"A wonderful book . . . Thanks to Indianapolis, we now have a complete and accessible story of this saga. It is a gripping and engaging tale that features grievous mistakes, extraordinary courage, unimaginable horror, and a cover-up. . . . Vincent and Vladic spent years talking to the dwindling band of survivors and giving voice to their stories. . . . This exhaustive and comprehensive assessment is as complete an account of this tragic tale as we are likely to have. It is compelling history."
—Christian Science Monitor

"Sharks, torpedoes, deadly secrets . . . In Indianapolis, Lynn Vincent and Sara Vladic expose what really happened that day in 1945 when a Japanese submarine torpedoed the Navy cruiser."
—New York Times Book Review

"Gripping . . . This yarn has it all . . . Stories of courage, cowardice, and sharks—lots of sharks . . . The disaster has been the subject of numerous books . . . [and] you wouldn't think there would be much left to say. But, as it turns out, there is. Vincent and Vladic have delivered an account that stands out through its crisp writing and superb research. Indianapolis also goes where past books haven't, to the full story behind the decades-long movement to clear the captain's besmirched name. . . . Somehow, Vincent and Vladic manage to weave the story of the fateful voyage with events occurring fifty-five or more years later, making for taut action throughout the book. Is this the definitive and final narrative of the Navy's worst sea disaster? Indianapolis is sure to hold its own for a long time."
—USA Today

"Vividly detailed . . . In a brisk, fact-based narrative, Indianapolis mixes horror and scandal. . . . With diligent reporting and sharp writing, Lynn Vincent and Sara Vladic have accomplished a daunting chore facing writers of historic nonfiction: take a story whose outline is known to the public and craft an account that is compelling yet comprehensive."
—Los Angeles Times

"Enthralling . . . Meticulously researched . . . A gripping study of the greatest sea disaster in the history of the U.S. Navy and its aftermath."
—Kirkus Reviews (starred review)

"Simply outstanding . . . Indianapolis is a must-read . . . Sea battles, adventures, the secret mission to deliver materials for the assemblage of the atomic bomb to the Pacific Islands, tragedy, disaster, an epic ordeal—sharks included—in the open ocean, courtroom drama, political intrigue, and the uphill battle by the band of survivors to exonerate the ship's captain will all have readers unable to put this book down. . . . Vincent and Vladic have produced a tour de force of true human drama."
—Booklist (starred review)

"The story of USS Indianapolis is movingly and vividly captured in this visceral account, the result of more than a decade's research and interviews conducted by its authors. . . . This is an eye-popping book, with as many twists and turns as an airport thriller. . . . Vincent and Vladic's extraordinary book morphs from high seas adventure to courtroom drama and congressional hearing. . . . It is a work of serious naval history and a detective story, told with passion."
—The Times (London)

"Haunting . . . Lynn Vincent and Sara Vladic do a fabulous job of bringing this tragedy to life and setting it in its proper context."
—Christian Science Monitor

"Chilling . . . The facts are more horrible than fiction."
—New York Daily News

"Indianapolis is a gripping and emotional read. You may know part of the story from the famous speech in Jaws, but this book goes far beyond that. The product of extraordinary research, it is a brilliant, stunning, and stirring book."
—Don Winslow, author of The Force and The Cartel

"It was the worst sea disaster in U.S. naval history and Indianapolis, by Lynn Vincent and Sara Vladic, tells the grisly story without flinching. Their tale has almost everything. There's a secret mission, an honorable enemy and a scapegoated captain. There's madmen, heroes and cannibals. There's enough in this tale for several movies."
—San Diego Union-Tribune

"Simultaneously a gripping narrative, a convincing analysis, and a pitiless exposure of institutional mendacity . . . The systemic oversights and misjudgments that enabled this tragedy remained obscure until this investigation, which drew upon new sources clarifying how the file was amended. This exposé will be valuable for scholars and general readers alike."
—Publishers Weekly

"Valuable and illuminating. Vladic and Vincent's work brings to life the history of this valorous and extraordinary ship."
—Doug Stanton, # 1 New York Times bestselling author of In Harm's Way and The Odyssey of Echo Company

"Our hearts quickened while racing through this page-turning book. You may think you know the story of the worst seafaring disaster in the history of the United States Navy. You would be wrong. As Lynn Vincent and Sara Vladic's propulsive narrative segues from wartime action-adventure to riveting courtroom drama, their newly unearthed mountain of details encompassing this tragedy and its shape-shifting aftermath will not only enhance your understanding of the courage, sacrifice, and dedication of the American sailors so evocatively portrayed in Indianapolis, but shine a light on their dogged pursuit of truth and justice. It is astonishingly rare when such a significant work of history also brings tears to your eyes. Vincent and Vladic's ultimate tale of redemption accomplishes just that feat."
—Bob Drury and Tom Clavin, #1 New York Times bestselling coauthors of Halsey's Typhoon, The Heart of Everything That Is, and Valley Forge

"Vincent and Vladic have rendered this long-overdue story in a way few writers of narrative nonfiction could ever achieve. They are consummate storytellers, and their research is impeccable, including accounts not only from the sailors and officers who survived, but also from the Japanese kamikaze and submarine commanders who were there. The authors reveal all that is good and all that is bad about humanity: the destruction and the courage, the selfishness and selflessness, and ultimately the shared respect and dignity of those who were once enemies. Few other books will satisfy a reader's longing for a true and truly great story more than Indianapolis."
—Gary Kinder, New York Times bestselling author of Ship of Gold in the Deep Blue Sea

"This is an absorbing book. The attention to detail is superb, the clear result of lots of plain hard work. Yet the detail doesn't get in the way, but rather serves, along with a driving narrative, to get the reader as close to experiencing this most tragic episode of World War II as is possible without living through it."
—Karl Marlantes, New York Times bestselling author of Matterhorn

"The voices of the Greatest Generation come alive in Indianapolis. Through first-person accounts we hear horrific stories of fear, pain, and anger but also of resilience, hope, and courage. Stories of the friendships the sailors forged with each other on board and the sacrifices they made for each other in their darkest hours are inspirational. Ultimately, Indianapolis is about the sacrifice these men made for our country at a time of unparalleled risk and of their lifelong search for justice for the captain of their ship. It's a beautifully told and incredibly detailed narrative that brings this famous disaster to life."
—Kate Andersen Brower, #1 New York Times bestselling author of The Residence and First Women

"This is a brilliant, highly readable, and ultimately groundbreaking account of a proud ship's life and times, not simply a rendering of her tragic ending. Absolutely superb."
—James Stavridis, U.S. Navy Admiral (Ret.), Supreme Allied Commander at NATO (2009-2013), and Dean of the Fletcher School of Law and Diplomacy at Tufts University
Simon & Schuster, 9781501135941, 592pp.
Publication Date: July 10, 2018
About the Author
Lynn Vincent, a US Navy veteran, is a #1 New York Times bestselling author and coauthor of eleven nonfiction books with more than sixteen million copies in print, including Indianapolis, Same of Kind of Different as Me (with Ron Hall and Denver Moore) and Heaven Is for Real (with Todd Burpo). A veteran journalist and author of more than 1,000 articles, her investigative pieces have been cited before Congress and the US Supreme Court. She lives in the mountains east of San Diego with her husband and their three Labrador retrievers.

Sara Vladic, an acclaimed documentary filmmaker, is one of the world's leading experts on the USS Indianapolis, having become obsessed with the story at the age of thirteen. Over the next two decades, Vladic met and interviewed 108 of the ship's survivors, and in 2016 she released an award-winning documentary film on the disaster, USS Indianapolis: The Legacy. She has published new research on Indianapolis in Proceedings, the official journal of the US Navy, and appeared as an expert commentator on PBS's USS Indianapolis: Live from the Deep, which explored the ship's wreckage. She and her husband, Ben, live in San Marcos, California.
or
Not Currently Available for Direct Purchase