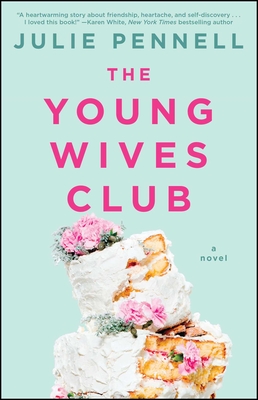 The Young Wives Club
A Novel
Paperback

* Individual store prices may vary.
Other Editions of This Title:
Digital Audiobook (2/13/2017)
Description
Southern Living's Best New Summer Books

In Toulouse, Louisiana finding your one true love happens sometime around high school. If you're lucky, he might be the man you thought he was. But as four friends are about to find out, not every girl has luck on her side in this charming debut novel perfect for fans of The Divine Secrets of the Ya-Ya Sisterhood and Desperate Housewives.

Laura Landry's quarterback husband was her ticket out of Toulouse. But when a devastating football injury sidelines him, they're forced to move back to the small town she was so desperate to leave. As Brian starts drinking instead of rehabbing his knee, Laura must reevaluate what her future looks like…and if it includes her husband.

For years, Madison Blanchette has been waiting for bad-boy musician Cash Romero to commit to her. When wealthy George Dubois asks her out, she figures she may as well wait in style. Life with George means weekend trips to New Orleans, gourmet meals, and expensive gifts. At first she loves how George's affection sparks Cash's jealousy, but when George proposes to Madison, she finds herself torn between two men…

All Claire Thibodeaux wants is to be the perfect wife and mother. If she can do everything right she won't end up like her mom, a divorced, single parent trying to make ends meet. But when Claire's husband Gavin, a well-respected local pastor, starts spending late nights at work and less time in their bed, she can't help but fear that history is about to repeat itself…

Gabrielle Vaughn never thought she'd end up with someone like her fiancé. The son of a prominent congressman, Tony Ford is completely out of her league—which is why she lied to him about everything from having a college degree to the dark truth about her family. She knows she has to come clean, but how do you tell the love of your life that your entire relationship is a lie?

As these young wives come together to help each other through life, love, and heartbreak, they discover that there are no easy answers when it comes to matters of the heart.
Praise For The Young Wives Club: A Novel…
"Pennell's debut novel shimmers with lively banter and the glitter of these young women's dreams. By shifting perspectives and ending each chapter with an emotional cliffhanger, Pennell escalates the tension, making each woman's tribulations intensify her friends' troubles, as well. A light novel in which women take charge of their own happily-ever-afters."
— Kirkus

"The Young Wives Club is as delicious as its cover! A heartwarming story about friendship, heartache, and self-discovery set in the kind of small Southern town I wish I'd grown up in. You will find yourself rooting for Claire, Laura, Madison, and Gabby as they navigate from girlhood to womanhood, learning what to keep, and what to leave behind. I loved this book!"
— Karen White, New York Times Bestselling Author of Spinning the Moon

"Four friends whose lives are varying degrees of perfect lean on each other in tiny Toulouse, Louisiana . . . It's uplifting to watch each woman come into her own–some via forgiveness, some via romance. This sweet (but not too sweet) page-turning debut will appeal to fans of warm southern women's fiction like Rebecca Wells and Mary Kay Andrews. A really delightful book."
— Booklist

"So satisfying—lots of laughing and crying! A wonderful read!"
— Amy Poeppel, author of SMALL ADMISSIONS

"This book is the one to pick up if you're a fan of THE DIVINE SECRETS OF THE YA-YA SISTERHOOD or 'Desperate Housewives.'"
— Today.com

"I could not put it down . . . Pennell drew me in right from the beginning. From the first page I was invested in these ladies . . . Each woman is struggling with something different, but their friendship binds them together."
— Books for the Living

"I turned the last page and closed the book with a huge grin on my face, with the idea to start giving the book as a bridal gift!"
— Romance Rewind

"The Young Wives Club is a charming and entertaining novel that I couldn't put down . . . This is definitely a read-in-one-sitting kind of book, so be prepared to ignore everything you're supposed to do for the next 12 hours."
— The Blonde Bookworm

"If you're looking for a delightful and heartwarming story with family, friendship and strong bonds between four great women, this is one I would highly recommend. A great chick-lit!"
— Book Babes Unite

"I laughed out loud at times and teared up at other parts--loved that!...A perfect book club selection!"
— Steph and Chris's Book Review

"If you're in the mood for best friends forever...this is the book to pick up if you're looking for female friendships and women learning who they are and what they want out of life. I so liked it, and I couldn't put it down once I started it."
— So Obsessed With

"This is what reading is all about. The type of book that makes you feel and one that makes you think."
— The Lovely Books

"Funny, enjoyable . . . . The characters are realistic, resilient and lovable. I laughed, cried, cheered, and smiled my way through this delightful book."
— A Path of Joy Book Blog

"What's better than one first love? Why, four of them, of course! In this charming debut, four best friends from Toulouse, La., navigate the perils, pitfalls and passions of not just falling in love but also of marrying your best friend at a young age."
— Happily Ever After at USAToday.com

"A warm, delightful celebration of female friendships, the importance of a woman's independence within her marriage, and the bravery that it takes to pick up and start anew."
— Owsley Loves Books
Atria/Emily Bestler Books/Alloy Entertainment, 9781501136467, 320pp.
Publication Date: February 14, 2017
About the Author
Julie Pennell was born and raised in Louisiana. After graduating from college, she headed to New York to work at Seventeen magazine. She currently lives in Philadelphia with her husband and young son, and is a regular contributor to TODAY.com. Her writing has also appeared in The Knot, In Style, and Refinery29. She is the author of The Young Wives Club and Louisiana Lucky.