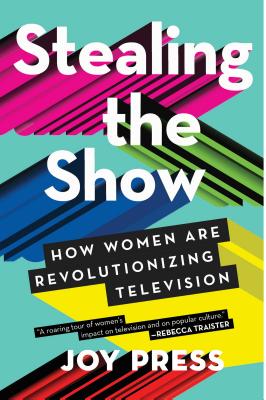 Stealing the Show
How Women Are Revolutionizing Television
Paperback

* Individual store prices may vary.
Other Editions of This Title:
Compact Disc (5/15/2018)
MP3 CD (5/15/2018)
MP3 CD (5/15/2018)
Compact Disc (5/15/2018)
Hardcover (2/27/2018)
Description
From a leading cultural journalist, the definitive cultural history of female showrunners—including exclusive interviews with such influential figures as Shonda Rhimes, Amy Sherman-Palladino, Mindy Kaling, Amy Schumer, and many more. "An urgent and entertaining history of the transformative powers of women in TV" (Kirkus Reviews, starred review).

In recent years, women have radically transformed the television industry both behind and in front of the camera. From Murphy Brown to 30 Rock and beyond, these shows and the extraordinary women behind them have shaken up the entertainment landscape, making it look as if equal opportunities abound. But it took decades of determination in the face of outright exclusion to reach this new era.

In this "sharp, funny, and gorgeously researched" (Emily Nussbaum, The New Yorker) book, veteran journalist Joy Press tells the story of the maverick women who broke through the barricades and the iconic shows that redefined the television landscape starting with Diane English and Roseanne Barr—and even incited controversy that reached as far as the White House. Drawing on a wealth of original interviews with the key players like Amy Sherman-Palladino (Gilmore Girls), Jenji Kohan (Orange is the New Black), and Jill Soloway (Transparent) who created storylines and characters that changed how women are seen and how they see themselves, this is the exhilarating behind-the-scenes story of a cultural revolution.
Praise For Stealing the Show: How Women Are Revolutionizing Television…
"A roaring tour of women's professional, artistic, and political impact on television and on popular culture. By turns invigorating and sobering, Stealing the Show maps the progress of the expanded voice, vision, and reach of women on television and behind its scenes."—Rebecca Traister, New York Times bestselling author of All the Single Ladies and Big Girls Don't Cry

Joy Press's Stealing the Show is essential reading for anyone interested in women gaining power, in how edgy storytelling comes to screens, and in brilliantly talented females taking the reins of a once-derided-as-secondary-to-movies medium during its current multi-platform explosion. It's a page-turner that – between emergency-amped-up feminism in the age of Trump and the digitalization of....well, everything – comes at a perfect time. Shonda, Lena, Jenji, Jill, et al are the hipster powerhouses driving a new bold, wacky, humane presentation of women's truths and images, many too-long hidden or too-long shamed. I relished their stories – and was inspired by them, too." —Sheila Weller, author of the New York Times bestseller Girls Like Us and The News Sorority

"Please read this book immediately. It is sharp, funny, and gorgeously researched, a satisfying blend of inside dirt and critical illumination. It also places female creativity on television exactly where it belongs: dead center in the cultural conversation."—Emily Nussbaum, television critic for The New Yorker

"With a keen eye and a sharp writing style, [Press] presents the argument that, despite the limited power of TV and the current political backlash facing women, increased representation on-screen has the potential to inspire a cultural revolution . . . . An urgent and entertaining history of the transformative powers of women in TV."— Kirkus Reviews (starred review)

"[A] powerful narrative that expertly weaves reporting, analysis, and anecdotes . . . . Press's chronicle of a pop-culture movement should inspire a new generation of women creators." — Publishers Weekly (starred review)

"[Stealing the Show] is well-organized chronologically and is an absorbing read with some politics thrown in . . . . Highly recommended for those who enjoy reading about the entertainment industry, how their favorite TV shows are created, and women."—Library Journal (starred review)

"Press gives television lovers an inspiring, eye-opening look into the way women are creating groundbreaking, original content."—Booklist

"Stealing the Show is informative and incredibly entertaining, and features insight from the very women who are continuing to make cracks in television's glass ceiling."—Bitch Media

"Stealing the Show is a wildly entertaining and informative jaunt through the creative upheaval that's been taking place on TV screens over the past thirty years. Crucially, the book doesn't treat women's contributions to this awakening as a sideshow. Rather, Press's book is something of an alternate history of the modern TV era, a persuasive rebuke to the now-familiar story of the brilliant male showrunners and their brooding male characters who breathed new life into the medium and ushered it to the top of the cultural food chain."—Village Voice

"In this thrilling book, Joy Press weaves the most influential TV shows created by women into a cohesive narrative arc. You'll learn how Murphy Brown and Roseanne paved the way for revolutionary shows like Transparent and Orange is the New Black — and how these shows actually influenced the culture around them. Press also conjures up figures, and the writing room environments, behind the creation of these shows. Through her sharp descriptions, the showrunners become characters as interesting as the protagonists they created for seasons."— Refinery 29
Atria Books, 9781501137723, 320pp.
Publication Date: March 19, 2019
About the Author
Joy Press is the TV correspondent for Vanity Fair. She was previously the chief television critic at The Village Voice, an entertainment editor and writer for Salon and the Los Angeles Times, and a contributor to publications such as New York, The Guardian, and The New York Times. She lives in Los Angeles.