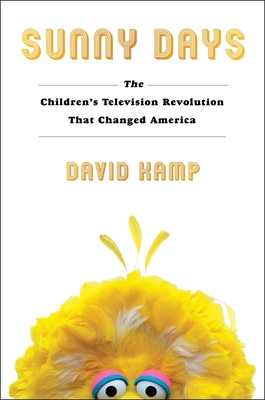 Sunny Days
The Children's Television Revolution That Changed America
Hardcover

* Individual store prices may vary.
Other Editions of This Title:
Digital Audiobook (5/11/2020)
Paperback (5/18/2021)
Compact Disc (5/12/2020)
Description
One of the "Best Books" of the year from The Smithsonian, The Washington Independent Review, and more!

From bestselling writer David Kamp, the "fun, fascinating, and surprisingly touching," (People) behind-the-scenes story of the cultural heroes who created the beloved children's TV programs Sesame Street, The Electric Company, Mister Rogers' Neighborhood, Free to Be…You and Me, and Schoolhouse Rock!—which transformed American childhood for the better, teaching kids about diversity, the ABCs, and feminism through a fun, funky 1970s lens.

With a foreword by Questlove.

In 1970, on a soundstage on Manhattan's Upper West Side, a group of men, women, and Muppets of various ages and colors worked doggedly to finish the first season of a children's TV program that was not yet assured a second season: Sesame Street. They were conducting an experiment to see if television could be used to better prepare disadvantaged preschoolers for kindergarten. What they didn't know then was that they were starting a cultural revolution that would affect all American kids.

In Sunny Days, bestselling author David Kamp captures the unique political and social moment that gave us not only Sesame Street, but also Fred Rogers's gentle yet brave Mister Rogers' Neighborhood; Marlo Thomas's unabashed gender politics primer Free to Be…You and Me; Schoolhouse Rock!, an infectious series of educational shorts dreamed up by Madison Ave admen; and more, including The Electric Company and ZOOM. It was a unique time when an uncommon number of media professionals and thought leaders leveraged their influence to help children learn—and, just as notably, a time of unprecedented buy-in from American parents.

"Sunny Days is full of such nostalgic jolts…it makes the era a pleasure to revisit" (The Wall Street Journal) and captures a wondrous period in the US when a determined few proved that, with persistence and effort, they could change the lives of millions. It is "a lively and bewitching recounting of a particularly ripe period in television and cultural history" (The New York Times Book Review) and, as the Los Angeles Times notes, "a sublime book about a variety of creative people coming together not in the pursuit of fame or money, but to enrich the lives of children."
Praise For Sunny Days: The Children's Television Revolution That Changed America…
"Sunny Days" is full of such nostalgic jolts for readers who grew up in those years....it makes the era a pleasure to revisit."


— WALL STREET JOURNAL

"Fun, fascinating and surprisingly touching."
— PEOPLE MAGAZINE

"[A] lively and bewitching recounting of a particularly ripe period in television and cultural history."
— NEW YORK TIMES BOOK REVIEW

"It is almost impossible not to feel a warm blanket of nostalgia draped over you as you read; Kamp delivers a sense of comfort and familiarity on every page."
— WASHINGTON INDEPENDENT REVIEW OF BOOKS

"David Kamp takes readers on a fascinating journey through the development of one of the most beloved shows on television."
— THE ASSOCIATED PRESS

"Assiduously researched and frolicsome…both an educational odyssey and a balm for uncertain times."
— O: THE OPRAH MAGAZINE

"If you're looking for a healthy dose of nostalgia, this is your book...a deeply researched cultural history of beloved children's TV programs—including Sesame Street, Schoolhouse Rock, The Muppets, and many more."
— FORTUNE

"This passionate, highly engaging media history will thrill pop culture buffs and those who remember these shows from their childhood."
— PUBLISHERS WEEKLY

"Researchers and nostalgic Sesame Street fans alike will appreciate this thorough, compelling overview of a pivotal period of TV history."
— LIBRARY JOURNAL

"A cultural history of how children's TV, once criticized for banal programming, changed dramatically in the 1960s...Kamp offers a brisk, lively account."
— KIRKUS

"Enchanting...For readers of a certain generation, Sunny Days will have a thrilling flashback effect, like a fizzy nostalgia drink, and the book's archival photos only enhance the time-tripping experience. For millennial readers, Sunny Days will be both a captivating glimpse at a revolutionary time and a blueprint for what's possible with a little seed money, civic-mindedness, feathers and glue."
— SHELF AWARENESS

"Sunny Days is a splendid, clever, inspiring, and strangely suspenseful history of the revolution in children's television that was Sesame Street. For those of us who grew up with the show, it was as natural and essential as oxygen, but Kamp's detailed reporting reveals that its existence was anything but assured — in fact, it was a miracle. This book, just like its subject, is a tonic and an education, and casts a bright light of hope during these dark times."
— ELIZABETH GILBERT, #1 New York Times bestseller author

"God, I loved the book…If you're a Gen-X American who grew up in front of the television set, you gotta read this book…If you enjoyed the sunny days of your childhood, if you're looking for more sunny days in America, pick up SUNNY DAYS by David Kamp."
— Daniel Pink, #1 New York Times bestselling author of WHEN and DRIVE

"With Sunny Days, David Kamp captures the pivotal moment when children's television grew up. It could teach numbers! Letters! Emotions! These shows changed generations of children's lives, myself included. Kamp has told an inspiring story, powered by love and grace."
— —MORGAN NEVILLE, Oscar-winning director of Won't You Be My Neighbor?

"A great read. I learned all kinds of things that I didn't know, even after being at Sesame Street for 50 years."
— —BOB MCGRATH, original Sesame Street cast member

"Terrific! In one fell swoop, Sunny Days nails an entire historical era of American children's TV. It took me back to when I worked with all of those extraordinarily talented people."
— EMILIO DELGADO, Sesame Street cast member for 45 years

"When I read Sunny Days, I can once again see all the faces, human and Muppet and otherwise. Most important, I can feel all the things I felt back then, and I'm grateful for it."
— QUESTLOVE, from the foreword of Sunny Days

"David Kamp has long been one of the keenest observers of popular culture. In Sunny Days, he turns that formidable mind to something with real emotional heft, too, and brings back to life a time of hope and optimism amidst a country torn apart at the seams. This is an essential book on an essential moment in the history of American television."
— BRIAN KOPPELMAN, Co-creator of Billions

"Sunny Days is a terrific read. It's nostalgic, sure, but it's also revealing, inspiring, and entirely engrossing."
— RON HOWARD

"I've been asked to contribute to several books over the years, but the one that really impressed my Mama is David Kamp's Sunny Days."
— APRIL REIGN, founder of the #OscarsSoWhite movement

"Real. Radical. Revered. Remarkable. Relevant. Revealing. Racy. REVOLUTIONARY. Those are all words that start with R and yes, we are talking about Sesame Street and David Kamp's fascinating origin story of a show that raised us all."
— PAMELA ADLON, creator of Better Things

"Anybody interested in the history of television will love Sunny Days. Cool read."
— MICHAEL IAN BLACK
Simon & Schuster, 9781501137808, 352pp.
Publication Date: May 12, 2020
About the Author
David Kamp is an author, journalist, humorist, lyricist, and a charter member of the Sesame Street—viewing audience. A longtime contributor to Vanity Fair, he has profiled such cultural icons as Johnny Cash, Sly Stone, Lucian Freud, Bruce Springsteen, and Phoebe Waller-Bridge. Among his books are the national bestseller The United States of Arugula, a chronicle of America's foodways. His first musical as a lyricist, Kiss My Aztec!, a collaboration with John Leguizamo, had its world premiere at Berkeley Rep in 2019. He began his career at Spy, the legendary satirical monthly. He lives with his family in New York City and rural Connecticut.