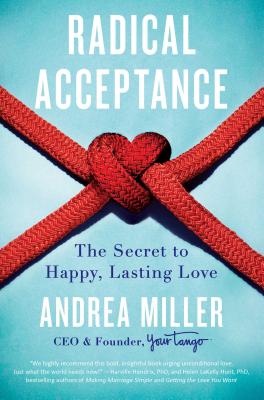 Radical Acceptance
The Secret to Happy, Lasting Love
Hardcover

* Individual store prices may vary.
Other Editions of This Title:
Paperback (5/15/2018)
Compact Disc (6/27/2017)
MP3 CD (6/27/2017)
Compact Disc (6/27/2017)
Description
A Nautilus Better Books for A Better World Silver Medalist

"If you're at the end of your relationship rope, reach for Radical Acceptance." —Elle

In this "warm, honest approach to prioritizing your partner and creating true happiness in your relationship" (John Gray, PhD, author of Men Are From Mars, Women Are From Venus), the founder and CEO of YourTango, the #1 online destination for relationships, with fifteen-million monthly visitors, provides a refreshing new approach to romantic partnerships, grounded in the importance of unconditional love.

Loving the lovable parts of your partner is easy. He's funny, charming, smart, successful, and kind. He's perfect. Except for when he is not. Like when he is late. Or short-tempered. Or lazy. Or he's incorrectly loaded the dishwasher (again). Maybe he feels like the most frustrating person on the planet. Or maybe you're simply not feeling heard or seen. Or loved enough.

It's these proverbial unlovable parts that make loving all of him so tough. But imagine if you let go of your itch to fix, judge, improve, or control your partner. Imagine if you replaced judgement with compassion and empathy. Tremendous empowerment and liberation come from loving someone—and being loved—for who we really are. This practice is called Radical Acceptance. Whether you're looking for Mr. Right or are already with him, this is your powerful five-step guide to attaining life's ultimate prize: unconditional love.

You'll learn how to increase your emotional resilience, feel more confident, determine whether you're settling, quiet those doubt-filled voices in your head, get out of that endless cycle of dead-end dates, reduce conflict, and build a deeply fulfilling, affirming relationship—all through highly actionable advice. Best of all, you will discover how amazing it feels to have your heart expanded by an abundance of love and compassion for your partner and yourself.

Featuring compelling stories for real-life couples and insights from the foremost thought leaders and researchers in brain science, sexuality, psychotherapy, and neurobiology, Radical Acceptance illustrates that embracing your partner for exactly who they are will lead to a more harmonious relationship—and provide an unexpected path to your own personal transformation.
Praise For Radical Acceptance: The Secret to Happy, Lasting Love…
"If you're at the end of your relationship rope, reach for Radical Acceptance: a thinky, shrinky, five-step guide to loving by embracing, as Miller's written, 'the darkness, the murkiness, the shadows of a relationship and the people in it.'"
— Elle

"Despite its anti-romantic thesis — that finding and keeping love is hard work and takes practice — Radical Acceptance is a positive and practical self-help book."
— Los Angeles Review of Books

"Full of touching stories, illuminating research, and sage wisdom, Miller's book is an original take on love – that fully loving someone is not just good for them, it is good for us."
— Psych Central

"This bold, insightful book is the most unequivocal challenge to love unconditionally that we have ever read. Radical Acceptance is just what the world needs now. We highly recommend it!"

— Harville Hendrix, PhD, and Helen LaKelly Hunt, PhD, bestselling authors of Making Marriage Simple and Getting the Love You Want

"A warm, honest approach to prioritizing your partner and creating true happiness in your relationship--and in yourself. Andrea is like the friend everyone needs in not only the tough moments, but the good ones too. A compelling book."

— John Gray, PhD, New York Times bestselling author of Men Are From Mars, Women Are From Venus

"Miller has written a fascinating, original, and highly courageous book on that issue dear to all of us—the eternal drive of partners to build and sustain a happy and fulfilling relationship. It's full of poignant stories, smart advice, and good science. And it's a great read."

— Helen Fisher, PhD, biological anthropologist, bestselling author of Why We Love

"A wonderful new book. Relatable and emotional, Andrea Miller divulges her own and others' marriage and dating stories that have benefited from learning how to practice Radical Acceptance."

— Stan Tatkin, PsyD, MFT, clinician, teacher & author of Wired for Love

"In this important book, Andrea Miller succeeds in making us feel like we are having the most life-changing talk with our BFF. Jam-packed with wisdom for the ages, it compassionately pushes us to reclaim more from ourselves and our relationships."
— Pat Love, EdD, therapist, bestselling author of The Truth About Love

"By embracing the enlightening concept of Radical Acceptance, couples can far more easily make the leap from silent desperation to loving interconnection."

— Ian Kerner, PhD LMFT, bestselling author of She Comes First

"Perhaps no one is better qualified than Andrea to simplify the secret to love and intimacy. She brings together the wisdom of YourTango's amazing experts and the millions of visitors and their experiences. A beautiful work."

— David Bell, chairman emeritus of the Interpublic Group

"Andrea Miller brilliantly illuminates how the conflict between our expectations and the actual attributes of our partner can destroy relationships, while acceptance leads to trust and love."

— Stephen W. Porges, PhD, Distinguished University Scientist, Indiana University, author of The Polyvagal Theory

"Andrea Miller debunks many of the destructive myths that have arisen around "romance". In their place she offers practical and sage advice on "love," told in the context of real stories and the new science of relationships—all presented in a remarkably entertaining, enjoyable style."

— Sue Carter, PhD, Director of the Kinsey Institute, Rudy Professor of Biology, Indiana University
Atria Books, 9781501139208, 320pp.
Publication Date: May 2, 2017
About the Author
Andrea Miller is the founder and CEO of YourTango. She earned an engineering degree from Tulane University and a MBA from Columbia Business School. She lives in Manhattan with her husband and children.
or
Not Currently Available for Direct Purchase