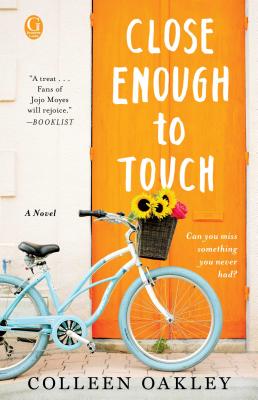 Close Enough to Touch
A Novel
Paperback

* Individual store prices may vary.
Other Editions of This Title:
Digital Audiobook (3/6/2017)
Mass Market (3/30/2021)
Hardcover, Large Print (6/28/2017)
Hardcover (3/7/2017)
Description
A "heart-wrenching and humorous" (Publishers Weekly) love story for anyone who's ever wanted something—or someone—just out of reach, Colleen Oakley's Close Enough to Touch will delight fans of Jojo Moyes's One Plus One and Graeme Simsion's The Rosie Project.

Can you miss something you never had?

Jubilee Jenkins is no ordinary librarian. With a rare allergy to human touch, any skin-to-skin contact could literally kill her. But after retreating into solitude for nearly ten years, Jubilee's decided to brave the world again, despite the risks. Armed with a pair of gloves, long sleeves, and her trusty bicycle, she finally ventures out the front door—and into her future.

Eric Keegan has troubles of his own. With his daughter from a failed marriage no longer speaking to him, and his brilliant, if psychologically troubled, adopted son attempting telekinesis, Eric's struggling to figure out how his life got so off course, and how to be the dad—and man—he wants so desperately to be. So when an encounter over the check-out desk at the local library entangles his life with that of a beautiful—albeit eccentric—woman, he finds himself wanting nothing more than to be near her.

A "heart-wrenching and humorous" (Publishers Weekly) love story for anyone who's ever wanted something—or someone—just out of reach, Colleen Oakley's Close Enough to Touch will delight fans of Jojo Moyes's One Plus One and Graeme Simsion's The Rosie Project.
Praise For Close Enough to Touch: A Novel…
Praise for Close Enough to Touch

"The story of three wounded souls denied the human touch they desire, expertly conceived with all the warmth and affection of an enormous bear hug. A real achievement."
— Steven Rowley, national bestselling author of Lily and the Octopus

"A witty, inventive, and bittersweet story of a reclusive young woman forced to venture into the world where complex medical issues become tangled with longings of the heart."


— Beth Hoffman, New York Times bestselling author of Saving CeeCee Honeycutt and Looking for Me

"It's so rare these days to find an utterly original heroine like Jubilee - one who is bravely living an almost unimaginable life. Gripping, raw, and moving, this is one of my favorite novels of the year."
— Sarah Pekkanen, bestselling author of Skipping a Beat and The Opposite of Me

"In Close Enough to Touch we meet Jubilee Jenkins, who has a life-threatening allergy to human touch, and Eric Keegan, a good guy whose life isn't going according to plan. Colleen Oakley expertly weaves Jubilee and Eric's stories together, ensuring we laugh a lot and cry a little as we fly through the pages. This is a heart-warming, unconventional love story you won't be able to put down."
— Karma Brown, bestselling author of Come Away With Me and The Choices We Make

"Oakley delivers a story that overflows with compassion, humor, and the impulsive need to read just one more chapter until you reach the very satisfying end."
— Patti Callahan Henry, New York Times bestselling author of Driftwood Summer and Coming Up For Air

"Colleen Oakley writes a unique twist on love that I couldn't read fast enough. With effortless charm, wit, and just a touch of heat (pun intended), Close Enough to Touch's offbeat characters warmed my heart with tender moments and heartbreaking revelations."
— Amy E. Reichert, author of The Coincidence of Coconut Cake and Luck, Love & Lemon Pie

"Heart wrenching and humorous, Oakley delivers an out-of-the-ordinary love story with steady quips and endearing characters… [Jubilee's] journey from recluse to recovery is fascinating."
— Publishers Weekly

"Oakley masterfully creates a high-stakes story that still feels solidly real. All of her characters are well-rounded and charming, especially Jubilee. Readers will cheer each time she takes a risk and delight in her triumphs. A romantic, sweet story about taking chances and living life fully."
— Kirkus Reviews

"Oakley's sophomore novel is a treat… Fans of JoJo Moyes and rom-coms set within the stacks of libraries will rejoice."
— Booklist

"It is easy to get lost in this vividly told story with characters and a fictional malady that are utterly believable. Oakley's second novel should build on the author's popularity and continue comparisons to popular authors such as Jojo Moyes."
— Library Journal

"This novel is the ideal pick for book clubs or just for curling up with a rainy day read… [a] sweet story of love and life."—
— RT Book Reviews (4 1/2 stars; an RT Top Pick)

"A humorous yet heart-wrenching love story."
— Jezebel

"A breathtaking story about love with all the odds against it. Two lives coming together at a time when they are both learning how to live again. Colleen will tug at your heartstrings with this powerful and touching novel."
— Anna Todd, bestselling author of AFTER EVER HAPPY

"Collen Oakley's gem of a novel, Close Enough to Touch, [is] a witty, quirky, and far more layered book than what initially meets the eye... Oakley, in this irresistible novel, succeeds in examining the myriad ways in which people relate to one another, even at arm's length."
— Atlanta Journal-Constitution

Praise for Before I Go

"Oakley expertly tugs at the heartstrings with well-rounded characters and a liberal dose of gallows humor."
— Publishers Weekly

"Highly recommended for laugh-out-loud fans and the tearjerker set."
— Library Journal

"This emotional novel will make readers laugh through their tears."
— Kirkus Reviews

"Oakley has produced an affecting work that, while avoiding maudlin sentimentality, makes the reader care about Daisy and her determination to live while dying."
— Booklist

"Author Oakley has set herself a tricky balancing act here, blending a comic sensibility with the depth and poignancy her subject requires. She pulls it off."
— People

"An impressive feat…an immensely entertaining, moving and believable read."
— Atlanta Journal-Constitution

"Emotional, insightful novel."
— In Touch Magazine

"Oakley knocks it out of the park in her treatment of a very sensitive subject…pleasurable, thought-provoking reading."
— Athens Banner-Herald

"Colleen Oakley's debut deftly balances sorrow with laughs and compassion."
— US Weekly

"Colleen Oakley takes on the big three--life, death,and love--and delivers a jewel. Before I Go absolutely glows with humor, wit, and compassion. I adore Oakley's fresh voice and could hardly bear for the book to end."
— Lynn Cullen, author of the national bestseller MRS. POE

"In Before I Go, Oakley address the oft-asked question: if you only had six months to live, what would you do? In her deft hands, what could easily turn maudlin becomes a funny and insightful journey with Daisy, and the love of her life, Jack. If you loved JoJo Moyes' Me Before You, this book is for you."
— Catherine McKenzie, bestselling author of HIDDEN and FORGOTTEN

"What would you do if you knew you were dying? This emotional debut and its gutsy heroine will have you laughing through tears and staying up late until you've reached the final, fully satisfying page."
— Jennie Shortridge, author of LOVE WATER MEMORY

"Brilliant in its simplicity, beautiful in its sentiment, heartbreaking in its honesty, Colleen Oakley's Before I Go takes on one of life's ultimate cruelties, death before one's time, and makes us believe."
— Susan Crandall, author of WHISTLING PAST THE GRAVEYARD

"BEFORE I GO is a big-hearted tale, with a fresh take on a woman grappling with the inevitable. The characters are approachable, full of wit and humor and--above all else--touching sincerity."
— Suzanne Ridell, author of THE OTHER TYPIST
Gallery Books, 9781501139291, 352pp.
Publication Date: August 15, 2017
About the Author
Colleen Oakley is an Atlanta-based writer and author of the novel Before I Go. Her articles, essays, and interviews have been featured in The New York Times, Ladies' Home Journal, Marie Claire, Women's Health, Redbook, Parade, and Martha Stewart Weddings. Before she was a freelance writer, Colleen was editor in chief of Women's Health & Fitness and senior editor at Marie Claire. Close Enough to Touch is her second novel.
1. What effect does the alternating narrative between Jubilee's and Eric's perspectives have on your understanding of the events and characters in the book? How would the story have been different if it was just from Jubilee's point of view?
2. Do you think Eric is a good dad to Aja? To Ellie? Why or why not? Compare and contrast his parenting style with that of Jubilee's mother, Victoria. Consider the challenges each parent faces.
3. Why do you think Eric agreed to adopt Aja? How did that change his relationship with Stephanie? With Ellie?
4. How does Jubilee's relationship with her mother affect her outlook on life? What would you do in her mother's shoes, having a child with a unique condition like Jubilee's?
5. How is Jubilee affected by each of the people she interacts with as she reenters the world? How do they affect her perspective about her condition? Consider her interactions with Madison, Eric, Aja, Michael the pillow-golfer, and Louise.
6. Is Eric's long-distance father-daughter book club experiment a success? What is so powerful about the shared reading experience? How has a book brought you closer to another family member or friend?
7. Why do you think Jubilee resists pursuing treatments or management for her condition? Why wouldn't she want to see a doctor for an Epipen prescription?
8. Consider this quote: "People did stare at me in high school—like I was a curiosity—but I didn't think anyone ever noticed me. It's a strange feeling, to be seen but invisible at the same time." (p. 94) What is the difference between being seen and being noticed? Why is the difference important to Jubilee?
9. How has Jubilee's nine-year seclusion affected her emotional maturity?
10. Discuss the importance of female friendship. How does Madison and Jubilee's relationship affect each of the women?
11. Why is Jubilee the only adult who is able to get through to Aja? How do their shared experiences link them?
12. How does the truth about Jubilee's condition change her relationship with Eric? With Madison?
13. Throughout the book, Jubilee starts to understand that her biggest fear isn't actually physical touch but having emotional connections, only to be let down or disappointed by them. How does each character experience and deal with their own fears of vulnerability throughout the book?
14. Did the letter Jubilee found from her mother change your view of her? How so?
15. In the end, Jubilee asks Madison "if love is worth the risk." How would you have answered that?
16. What was your reaction to the epilogue? Do you think Jubilee and Eric end up together for good? Why or why not?