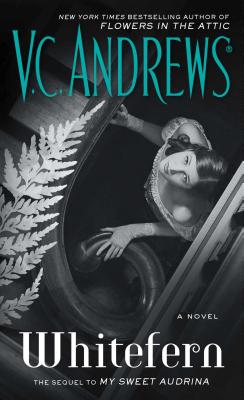 Whitefern (The Audrina Series #2) (Mass Market)
Pocket Books, 9781501139406, 368pp.
Publication Date: July 26, 2016
* Individual store prices may vary.
Description
The long-awaited sequel to My Sweet Audrina, one of V.C. Andrews's strangest, most beloved books—and now a Lifetime movie! Whitefern swallowed Audrina's childhood—and now the sprawling Victorian mansion threatens her adult life too...

Audrina remembers a better time, when her husband, Arden, was a young man with a heart filled with devotion for her. He didn't used to be this ambitious, expansive...this cruel. But then, the death of Audrina's father changed a great many things.

When the reading of her father's will reveals that Audrina herself will control fifty-one percent of the family brokerage—the halls of Whitefern again don't feel safe. Arden's protestations become frantic, nearly violent. And while Audrina didn't anticipate running the family business, she's curious to do so. And she can't help but wonder what had made her father change his will at the last minute? What did he know about Arden that she didn't?

Trapped in the middle of it all: her fragile, simple sister—the beautiful, trusting Sylvia. Audrina promised her father she'd watch over the young woman. But after years of relative quiet, the dark days of Whitefern may have returned...
About the Author
V.C. Andrews novels have been a bestselling phenomenon since the publication of Flowers in the Attic. The renowned Dollanganger series, includes Petals on the Wind, If There Be Thorns, Seeds of Yesterday, and Garden of Shadows. The family saga continues with Christopher's Diary: Secrets of Foxworth, Christopher's Diary: Echoes of Dollanganger, Secret Brother, and now Beneath the Attic in 2019, and Out of the Attic in 2020, as part of the fortieth anniversary celebration. There are more than seventy V.C. Andrews novels in total, which have sold over 106 million copies worldwide and have been translated into twenty-five foreign languages. Join the conversation about the world of V.C. Andrews at Facebook.com/OfficialVCAndrews.