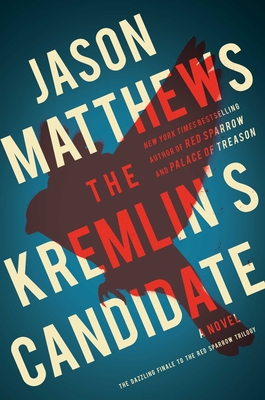 The Kremlin's Candidate
A Novel (The Red Sparrow Trilogy #3)
Hardcover

* Individual store prices may vary.
Other Editions of This Title:
Digital Audiobook (2/12/2018)
Mass Market (2/22/2022)
Paperback (8/7/2018)
CD-Audio (2/13/2018)
Library Binding, Large Print (5/16/2018)
Mass Market (12/31/2050)
Description
The "terrifically good" (The New York Times Book Review) finale in the New York Times bestselling Red Sparrow trilogy continues the dangerous entanglements of Russian counterintelligence chief Dominika Egorova and her lover, CIA agent Nate Nash, on the hunt for a Russian agent working in the US government.

Russian president Vladimir Putin is planning the covert assassination of a high-ranking US official with the intention of replacing him with a mole whom Russian intelligence has cultivated for more than fifteen years.

Catching wind of this plot, Dominika, Nate, and their CIA colleagues must unmask the traitor before he or she is able to reveal that Dominika has been spying for years on behalf of the CIA. Any leak, any misstep, will expose her as a CIA asset and result in a one-way trip to a Moscow execution cellar. Ultimately, the lines of danger converge on the spectacular billion-dollar presidential palace on the Black Sea during a power weekend with Putin's inner circle. Does Nate sacrifice himself to save Dominika? Does Dominika forfeit herself to protect Nate? Do they go down together?

With a plot ripped from tomorrow's headlines, The Kremlin's Candidate is "both timely and timeless; an espionage tale that takes the reader behind and beyond the headlines of Russia's assault on America" (Nelson DeMille).
Praise For The Kremlin's Candidate: A Novel (The Red Sparrow Trilogy #3)…
PRAISE FOR THE KREMLIN'S CANDIDATE





"Delivers a wallop on all fronts, from adrenaline-charged action to dark political intrigue to gripping emotional stakes.…Matthews stuffs his always hungry characters with onions, garlic, and personalities that make the last of this trilogy both satisfying and bittersweet. Readers will finish the book, but their memories of Matthews' brilliant and fearless heroine will linger well past the final page." —Kirkus Reviews, starred review

"Jason Matthews's finale to the Red Sparrow Trilogy is both timely and timeless; an espionage tale that takes the reader behind and beyond the headlines of Russia's assault on America. If anyone doubts that we are in the midst of Cold War II, The Kremlin's Candidate will erase those doubts, page by eye-opening page. Matthews's writing is elegant and self-assured, and we know we are in the capable hands of a man who is writing about what he knows and who he knows. Twenty-first-century spy novels don't get any better than this." —Nelson DeMille, bestselling author of The Cuban Affair

"Matthews spins a mighty operational web replete with exacting tradecraft and horrific violence. His descriptive precision is breathtaking; the sparring between his vividly realized characters is devilishly clever. With nail-biting suspense, scorching eroticism, dark wit, lashing contempt for politicians dismissive of intelligence work, and fury over Russia's disinformation campaigns, this is a riveting and knowing dramatization of today's clandestine geopolitical conflicts." —Booklist, starred review

"A stellar conclusion…[The Kremlin's Candidate] races to a heart-pounding and unexpected resolution." —Publishers Weekly, starred review

"Jason Matthews has found a formula that is making him one of America's most readable spy novelists: To animate the James Bond staples of seduction and violence, he has added touches of the meticulous tradecraft he learned in his 33 years as a CIA operations officer. The sex scenes in his books are good, but the surveillance-detection runs are sublime. The Kremlin's Candidate doesn't disappoint." —David Ignatius, Washington Post Book World

"Jason Matthews steers his popular Red Sparrow trilogy to an exciting conclusion. This one's timely, too, exploring how Russian espionage can place agents in positions of power." —Entertainment Weekly

"On every required level, The Kremlin's Candidate is superb: a slam-dunk conclusion to a superlative series." —Claremont Review of Books

PRAISE FOR THE FIRST TWO BOOKS OF THE RED SPARROW TRILOGY

"There hasn't been a first-rate American spy novelist who claims to have worked as an intelligence officer before turning his hand at fiction. Until now, that is. . . . Matthews offers the reader a primer in twenty-first-century spying. His former foes in Moscow will be choking on their blinis when they read how much has been revealed about their tradecraft. . . . Terrifically good." —The New York Times Book Review

"A smart, intriguing tale rooted in his own experience . . . Fans of the genre's masters including John le Carré and Ian Fleming will happily embrace Matthews's central spy." —USA Today

"As suspenseful and cinematic as the best spy movies around. Matthews knows his tradecraft, and he knows his writing craft, too." —The Philadelphia Inquirer

"All the tradecraft and cat-and-mouse tension of a classic spy thriller—a terrific read." —Joseph Kanon, author of Istanbul Passage
Scribner, 9781501140082, 448pp.
Publication Date: February 13, 2018
About the Author
Jason Matthews was an officer of the CIA's Operations Directorate. Over a thirty-three-year career he served in multiple overseas locations, spoke six foreign languages, and engaged in clandestine collection of national security intelligence, specializing in denied-area operations. Matthews conducted recruitment operations against Soviet–East European, East Asian, Middle Eastern, and Caribbean targets. As Chief in various CIA Stations, he collaborated with foreign partners in counterproliferation and counterterrorism operations. His first novel, Red Sparrow, won the Edgar Award for Best First Novel and was made into a major motion picture starring Jennifer Lawrence. He continued the Red Sparrow trilogy with Palace of Treason and The Kremlin's Candidate. Jason Matthews passed away in 2021.