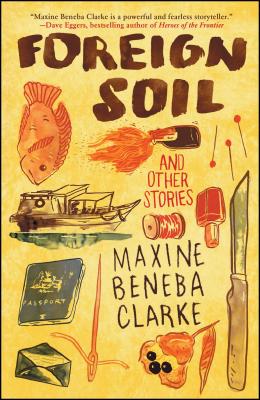 Foreign Soil
And Other Stories
Paperback

* Individual store prices may vary.
Other Editions of This Title:
Hardcover (1/3/2017)
Description
"Clarke is the real deal…" —Dave Eggers, author of A Heartbreaking Work of Staggering Genius

"A tremendous new voice; a writer of immense talent and depth." —Kirkus Reviews (starred review)

"Sterling…a powerful view of the beauty and complexities of globalization." —Essence

From a powerful new voice in international fiction, this prize-winning collection of stories crosses the world—from Africa, London, the West Indies, and Australia—and expresses the global experience.

Maxine Beneba Clarke gives voice to the disenfranchised, the lost, and the mistreated in this stunning collection of provocative and gorgeously wrought stories that will challenge you, move you, and change the way you view this complex world we inhabit.

Within these pages, a desperate asylum seeker is pacing the hallways of Sydney's notorious Villawood detention centre; a Black man joins rioters protesting police brutality and swats away the feeling that he might be the next casualty at the hands of the authorities; seven-year-old Sudanese boy has found solace in a patchwork bike; an enraged black militant is on the war-path through the rebel squats of 1960s Brixton; a Mississippi housewife decides to make the ultimate sacrifice to save her son from small-town ignorance; a young woman leaves rural Jamaica in search of her destiny; and an Australian schoolgirl loses her way.

In the bestselling tradition of novelists such as Chimamanda Ngozi Adichie and Marlon James, this urgent, poetic, and essential work is the perfect introduction to a fresh and talented voice in international fiction.
Praise For Foreign Soil: And Other Stories…
"Maxine Beneba Clarke is a powerful and fearless storyteller, and this collection - written with exquisite sensitivity and yet uncompromising - will stay with you with the force of elemental truth. Clarke is the real deal, and will, if we're lucky, be an essential voice in world literature for years to come."
— Dave Eggers bestselling author of A HEARTBREAKING WORK OF STAGGERING GENIUS

"Foreign Soil is a collection of outstanding literary quality and promise. Clarke is a confident and highly skilled writer."
— Hannah Kent, bestselling author of Burial Rites

"A tremendous new voice; a writer of immense talent and depth."
— Kirkus, STARRED REVIEW

"Sterling. . . a powerful view of the beauty and complexities of globalization. The tales take us from Britain's fiery Brixton community in the 1960's to modern-day Sydney, Australia. Each story paints a pastiche of the human condition with clarity, insight and creativity abetted by a confident and necessary international voice."
— Essence Magazine

"Clarke is a magical writer whose ability to create so many very different people is absolutely uncanny."
— Tonstant Weader Reviews

"A new voice to fiction comes with a new vision that all readers will find captivating and mind changing as she gives perspectives of those that have been neglected."
— Sheen Magazine

"Stylistically bold, structurally innovative and brave in subject, confronting war, child soldiers, domestic abuse, gender identity, and political violence...Clarke writes with the lyricism of a poet..."
— BookBrowse
37 Ink, 9781501140518, 272pp.
Publication Date: October 17, 2017
About the Author
Maxine Beneba Clarke is a novelist, poet, and editor living in Melbourne, Australia. In addition to being a recipient of the Hazel Rowley Fellowship for Biography she is also the winner of the 2013 Victorian Premier's Award for an Unpublished Manuscript, the Debut Fiction Indie Award and the Literary Fiction Book of the Year in the Australian Book Industry Awards. Foreign Soil is Maxine's first book.