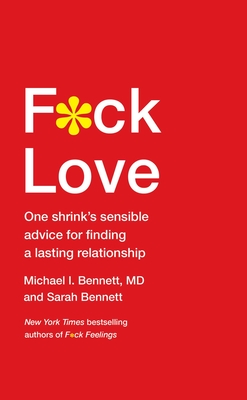 F*ck Love (Hardcover)
One Shrink's Sensible Advice for Finding a Lasting Relationship
Atria Books, 9781501140563, 288pp.
Publication Date: January 31, 2017
* Individual store prices may vary.
Description
From the brilliant New York Times bestselling authors of the "refreshingly blunt" (Harper's Bazaar) F*ck Feelings—this seriously irreverent roadmap reveals the essentials to look for when you're done being suckered by the promise of true love and want help seeking a real, lasting relationship.

Many people have opinions on the subject of romantic relationships—why they're so hard to find, so difficult to maintain, so easily analogized to planets and pets—but the real source of trouble isn't too complicated: it's that we are choosing our partners based on love, excitement, lust, attraction, neediness…on feelings.

Instead of helping readers find true love (also known as "total bullshit"), Dr. Michael Bennett and his comedy-writing daughter Sarah reveal the practical, commonsense criteria for good partnerships that will allow real love to develop, even after the romance has died down or been buried completely. Finding a good partner involves losing preconceived notions about who your dream date might be, so the Bennetts helpfully appraise the pros and cons of eight traits people most commonly seek: charisma, beauty, chemistry, communication, sense of humor, family stability, intelligence, and wealth. They suggest you'll have better luck finding a partner in a bar, online, or on a date arranged by your chiropractor if you focus on ideas like mutual attraction and respect and common interests and common goals. With helpful quizzes, case studies inspired by Dr. Bennett's practice, and unscientific flow charts, F*ck Love is packed with enough advice and wisdom to help you avoid the relationship nightmares that led you to this book in the first place.
About the Author
Dr. Michael I. Bennett, educated at both Harvard College and Harvard Medical School, is a board-certified psychiatrist, Canadian, and Red Sox fan. While he's worked in every aspect of his field, from hospital administration to managed care, his major interest is his private practice that he's been running for almost thirty years. The author of F*ck Feelings, with his daughter Sarah Bennett, he lives with his wife in Boston and New Hampshire.

Sarah Bennett has written for magazines, the Internet, television, and books. She also spent two years writing for a monthly sketch comedy show at the Upright Citizens Brigade Theater in New York City. When not living by her philosophy of "will write for food," Sarah walks her dog, watches Red Sox games, and avoids eye contact with other humans. Somehow, she lives in New Hampshire and works in New York. F*ck Feelings, written with her father Dr. Michael I. Bennett, is her first book.
Praise For F*ck Love: One Shrink's Sensible Advice for Finding a Lasting Relationship…
"Gives the middle finger to the self-help genre....Refreshingly blunt."

"Refreshingly honest....Psychiatrist Michael and his comedy-writing daughter, Sarah, bring the funny, but they are also eminently sensible."

"The Bennetts have no time for gooey motivational slogans....Together they urge readers to abandon a quest for perfection in favor of realistic attempts at betterment....The Bennetts' goal is not that you might finish the book and say, 'I am perfect,' but that you might finish the book and say, 'I am the best version of myself that I can be at the moment.'

"A tough-love, irreverent take on 'life's impossible problems.'"

"Engaging...it's hard to argue with the book's advice."

"Entertaining...refreshing...hilarious...funny and useful."