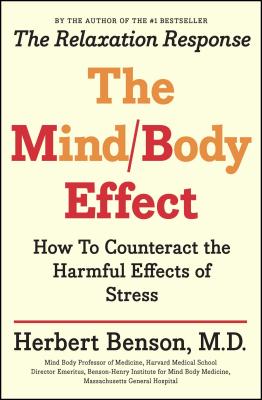 Mind Body Effect
How to Counteract the Harmful Effects of Stress
Paperback

* Individual store prices may vary.
Description
From the author of #1 bestseller The Relaxation Response comes a practical guide to how behavioral medicine can counteract the harmful effects of stress and help you regain control of your health.

"In The Mind/Body Effect, Herbert Benson, MD, redefines medical care as a process in which the mind and body are tended as components of a single vital organism, and calls upon individual patients to share with physicians the responsibility for their own medical well-being. Writing with brilliant clarity, he exposes hypes and commercialism within a society obsessed with health and terrified of pain. The Mind/Body Effect may be the most important medical book for laymen since Dr. Benson's The Relaxation Response."—Noah Gordon, publisher, Journal of Human Stress

"In their avid pursuit of better health, millions of Americans are making themselves less healthy. Ironically, their doctors often make things worse instead of better. In this fascinating book, Dr. Benson tells us—patients and doctors alike —how to break the vicious cycle."—David W. Ewing, executive editor, Harvard Business Review

"The next great advance in the health of the American people will come not from hospitals or laboratories but from what they learn to do for themselves. The Mind/Body Effect represents a major step in that direction."—C. Norman Shealy, MD, PhD, codirector, The Pain and Health Rehabilitation Center
Simon & Schuster, 9781501140921, 192pp.
Publication Date: November 14, 2015
About the Author
Herbert Benson, MD, is the Mind Body Medical Institute Associate Professor of Medicine, Harvard Medical School. He is the author of the mega-bestselling book, The Relaxation Response, as well as ten other trade books. His groundbreaking work established the modern field of mind body medicine. Dr. Benson is the Director Emeritus of the Benson-Henry Institute for Mind Body Medicine at Massachusetts General Hospital.