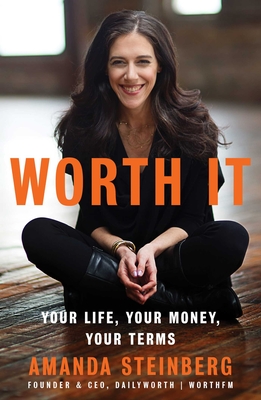 Worth It
Your Life, Your Money, Your Terms
Hardcover

* Individual store prices may vary.
Other Editions of This Title:
Digital Audiobook (2/6/2017)
Paperback (3/13/2018)
CD-Audio (2/7/2017)
Description
From the founder and superstar CEO of DailyWorth.com—the go-to financial site for women with more than one million subscribers—comes a fresh book that redefines the relationship between women, self-worth, and money. Worth It shows women how to view money as a source of personal power and freedom—and live life on their terms.

Millions of women want to create financial stability and abundance in their lives, but they don't know how. They are stuck in overwhelming confusion and guilt, driven by internalized "money stories" that have nothing to do with what is really possible. As the founder of DailyWorth.com, a financial media and education platform, Amanda Steinberg encounters these smart, ambitious women every day. With this book, she helps them face their money stories head on and wake up to the prosperity that awaits them.

Worth It outlines the essential financial information women need—and everything the institutions and advisors don't spell out. Steinberg gets to the bottom of why women are stressed and anxious when it comes to their finances and teaches them to stay away from strict budgeting and other harsh austerity practices. Instead, she makes money relatable, while sharing strategies she uses herself to build confidence and ease in her own financial life. Through her first-hand experiences and the stories from other women who've woken up, Steinberg's powerful and encouraging advice can help women of any age and income view money as a source of freedom and independence—and create bright financial futures.
Praise For Worth It: Your Life, Your Money, Your Terms…
Amanda Steinberg gives us unvarnished assessments of sexism, our complex relationships with money, and her own path to taking control of her money and her life. Now with Amanda's help, you will find the courage, and the tools, to make your money work for you.
— Becky Saeger, former Chief Marketing Officer, Charles Schwab

After a while, personal finance books all look the same. Worth It is not even in the same milieu. It changed how I think about my money, my future, and my life.
— Emma Johnson, personal finance journalist and founder, WealthySingleMommy

The reasons people mishandle money are far more deeply rooted than an absence of information, and many self-help books make things worse with intimidating how-to lists that don't address the real source of the problem. Salvation has finally arrived thanks to Amanda Steinberg, the founder of DailyWorth, who bridges the gap between technical know-how and emotional resistance with her brilliant new book, Worth It. Combining savvy nuts-and-bolts instruction with psychological insight smart enough to help even the most recalcitrant, Worth It is written in a warm, user-friendly tone that feels like your best girlfriend reassuring you instead of a scary math teacher yelling at you to do your homework, Money is power, and nobody can achieve real freedom without financial autonomy. Worth It shows the way for anyone to achieve the ultimate goal: Free At Last.
— Leslie Bennetts, author of THE FEMININE MISTAKE and LAST GIRL BEFORE FREEWAY: The Life, Loves, Losses and Liberation of Joan Rivers

Amanda Steinberg has done more toward educating women financially than anyone I know. She eloquently captures the pain and obstacles women face with money. Her stories are riveting. Her writing is inspiring. Her advice is brilliantly clear. I can't imagine anyone reading this without being deeply touched and highly motivated.
— Barbara Stanny, best selling author of Prince Charming Isn't Coming: How Women Get Smart About Money

Amanda Steinberg is a champion for women and their relationship to money. She believes that in order to raise our net-worth we must raise our self-worth. In her book Worth It, she guides us to step outside our comfort zone in order to step into financial freedom. This is a must read if you want to live with confidence, abundance and freedom
— Gabrielle Bernstein, #1 New York Times bestselling author of the The Universe Has Your Back

For all the finance books I've read, I've never felt so gotten as to my inner world around money and relationships. It's like dawn coming into deep unconscious, ancient patterns in my mind. And I know I'm not alone in this tangled darkness. This is going to be a landmark book - one that catalyzes liberation for women in their fullest expression of power and worth. This is how we rise.
— KC Baker, Founder Woman Speak/Girl Speak, Women's thought leadership coach and speechwriter.

Holy WOW! Worth It is a book I want every one of my female friends and clients to read. Finally someone who talks to us in our own language and delivers crisp advice you'll be excited to act on immediately. Ladies, we have come into a critical juncture where we can no longer ignore the importance of money both in our lives and as a tool to lead. Read this now. It's time.
— Ali Brown, entrepreneur mentor and angel investor, featured on ABC's Secret Millionaire
Gallery Books, 9781501140990, 288pp.
Publication Date: February 7, 2017
About the Author
Amanda Steinberg launched DailyWorth in 2009 to bring a fresh voice and an outsider's perspective to personal finance. Forbes named her one of the twenty-one New American Money Masters. DailyWorth.com has made Forbes's 100 Best Websites for Women three years running. Amanda has also appeared on GMA, Today, CNN, and MSNBC, among other major media venues. Her new digital investing platform, WorthFM, received front-page coverage in The New York Times Business section. She is the author of Worth It.
or
Not Currently Available for Direct Purchase