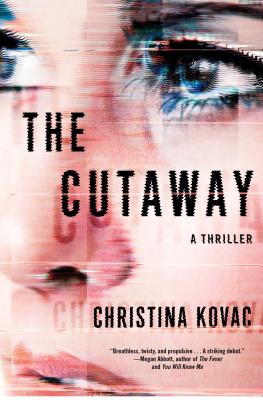 The Cutaway
A Thriller
Hardcover

* Individual store prices may vary.
Other Editions of This Title:
Digital Audiobook (3/20/2017)
Paperback (1/9/2018)
Hardcover, Large Print (7/5/2017)
Description
"The Newsroom meets Gone Girl." —Cosmopolitan

The Cutaway draws you into the tangled world of corruption and cover-up as a young television producer investigates the disappearance of a beautiful Georgetown lawyer in this stunning psychological thriller, perfect for fans of Paula Hawkins and Gillian Flynn.

When brilliant TV news producer Virginia Knightly receives a disturbing "MISSING" notice on her desk related to the disappearance of a beautiful young attorney, she can't seem to shake the image from her head. Despite skepticism from her colleagues, Knightly suspects this ambitious young lawyer may be at the heart of something far more sinister, especially since she was last seen leaving an upscale restaurant after a domestic dispute. Yet, as the only woman of power at her station, Knightly quickly finds herself investigating on her own.

Risking her career, her life, and perhaps even her own sanity, Knightly dives deep into the dark underbelly of Washington, DC business and politics in an investigation that will drag her mercilessly through the inextricable webs of corruption that bind the press, the police, and politics in our nation's capital.

Harkening to dark thrillers such as Gone Girl, Luckiest Girl Alive, and Big Little Lies, The Cutaway is a striking debut that will haunt you long after you reach the last page.
Praise For The Cutaway: A Thriller…
"The Newsroom meets Gone Girl"
— Cosmopolitan

"An insider's look at TV news and the real workings of Washington DC, The Cutaway combines relentless pace, a compelling story, and a truly memorable protagonist. Terrific."
— Joseph Finder, New York Times bestselling author of Suspicion and The Switch

"Readers will want to see more of this tenacious, lovable heroine."
— Publishers Weekly STARRED Review

"A smart, highly satisfying story of crime, politics, the media, and ruthless ambition. With an insider's knowledge of how to do everything from produce a live TV shoot, trade tips with cops during an investigation, or navigate the complex dynamics of gender in the modern workplace, Kovac brings intelligence and breathless plotting to The Cutaway. The result is sensational, in the best sense of the word."
— Thomas Mullen, author of DARKTOWN

"THE CUTAWAY" is as clever as its title, a smart, fast-paced thriller that rolls through the murky waters of D.C. media and politics that Christina Kovac knows so well. Virginia Knightly, the television news producer at the heart of this story, makes her debut with all the panache and style you wish the evening news still had."
— Neely Tucker, author of Only The Hunted Run and Washington Post national desk correspondent

"Former D.C. newsroom manager Kovac knows her milieu and portrays it vividly in this smart, absorbing mix of media, politics, and mystery, with twists and turns to the end."
— Booklist

"A fast-paced and exciting story set in the glitz, glamour, and danger of DC."
— E.P. Clarke

"A great story that has romance, intrigue, and great dialogue. It is also a walking tour of the nation's capital and a peek behind the scenes of politics, justice, and the news business."
— PAULDALEANDERSON

"...a fast-paced, engrossing adult mystery whose biggest strengths are its top-notch writing, a noble protagonist, and the many fascinating insights Kovac shares about the world of television journalism."
— Eve Messenger's OtherWORDly Endeavors

"...this will appeal to readers who enjoy (Paula) Hawkins and (Gillian) Flynn, though Kovac has her own voice."
— Mirkat Always Reading

"Smart, strong, well drawn women characters add an extra dimension to this page-turning thriller, looking at the greed and power of the politically connected through a feminist lens." "Smart, strong, well drawn women characters add an extra dimension to this page-turning thriller, looking at the greed and power of the politically connected through a feminist lens."
— Genrefluent

"A crackling thriller."
— B&N Reads, March's Best New Thrillers

"Fast-paced and captivating,"
— RT Book Reviews

"This book tics a lot of items on my list: DC based-check, murder mystery-check, bulldog investigative journalist-check, legal thriller-check. Lot to like about this. Sure do hope Kovac isn't a one & done."
— Men Reading Books

"Cosmopolitan called it 'The Newsroom' meets 'Gone Girl.' They are wrong. It is better."
— Andrew Boylan

"I would be hard-pressed to find a book more timely than The Cutaway."
— BOLO Books
37 Ink, 9781501141690, 320pp.
Publication Date: March 21, 2017
About the Author
Christina Kovac worked for seventeen years managing Washington, DC newsrooms and producing crime and political stories in the District. Her career as television journalist began with Fox Five's Ten O'Clock News, and after that, the ABC affiliate in Washington. For the last nine years, she worked at NBC News, where she worked for Tim Russert and provided news coverage for Meet the Press, the Today show, Nightly News, and others. Christina Kovac lives with her family outside of Washington, DC. The Cutaway is her first novel.
or
Not Currently Available for Direct Purchase