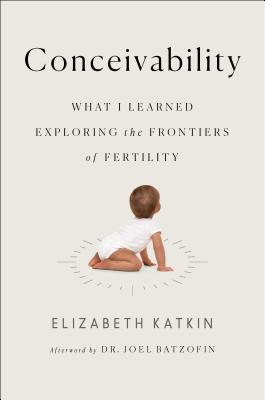 Conceivability
What I Learned Exploring the Frontiers of Fertility
Hardcover

* Individual store prices may vary.
Other Editions of This Title:
Digital Audiobook (12/17/2018)
Paperback (6/25/2019)
Compact Disc (12/18/2018)
MP3 CD (12/18/2018)
Description
Part memoir, part guide, this personal and deeply informative account of one woman's gripping journey through the global fertility industry in search of the solution to her own "unexplained infertility" exposes eye-opening information about the medical, financial, legal, scientific, emotional and ethical issues at stake.

Although conception may seem like a simple biological process, this is often hardly the case. While many would like to have children, the road toward conceiving and maintaining a pregnancy can be unexpectedly rocky and winding.

Lawyer Elizabeth Katkin never imagined her quest for children would ultimately involve seven miscarriages, eight fresh IVF cycles, two frozen IVF attempts, five natural pregnancies, four IVF pregnancies, ten doctors, six countries, two potential surrogates, nine years, and roughly $200,000. Despite her three Ivy League degrees and wealth of resources, Katkin found she was woefully undereducated when it came to understanding and confronting her own difficulties having children. Shattered by her inability to get and stay pregnant, Katkin surprised even herself by her determination to keep trying. After being told by four doctors she should give up, but without an explanation as to what exactly was going wrong with her body, Katkin decided to look for answers herself. The global investigation that followed revealed that approaches to the fertility process taken in many foreign countries are vastly different than those in the US and UK.

In Conceivability, Elizabeth Katkin, now a mother of two, shares her fertility journey. Part memoir, part practical guide—with an afterword by founder of New York Fertility Services Dr. Joel Batzofin—Conceivability sheds light on the often murky and baffling world of conception science, presenting a shocking exposé into the practical and emotional journey toward creating a happy family. Armed with a wealth of knowledge from her years-long fertility struggle, as well as stories from other women and couples, Katkin bravely offers a look inside one of the most difficult, painful, rewarding, and loving journeys a woman can take.
Praise For Conceivability: What I Learned Exploring the Frontiers of Fertility…
Praise for CONCEIVABILITY by ELIZABETH KATKIN

"Katkin comes off as the Jason Bourne of fertility patients…[Conceivability is] highly instructive on things like the difference between fresh and frozen I.V.F. cycles, the need to ask pointed questions at fertility clinics and the value of taking risks on less conventional treatments. Katkin unrelentingly questions the whole infertility industrial complex. Under her cross-examination, the expert opinions of various doctors seem to wilt."—New York Times Book Review

"[Katkin's] story reveals the importance of becoming a savvy, educated consumer, questioning fertility protocols, and investigating different options. She also examines the ethical questions surrounding egg and sperm donation, and helps readers unpack confusing and sometimes conflicting laws. Katkin's lawyerly thoroughness has resulted in an invaluable and inspiring text that will be a boon to others navigating the deep and "choppy waters" of fertility treatment."—Publishers Weekly

"In her debut memoir, [Katkin] shares the various methods she and her husband used to finally have two healthy children in their lives. Katkin also incorporates the stories of other couples, giving a wide-angle look at the pros and cons of medical intervention, the use of surrogate mothers, and the extreme measures many will go to in order to have a baby. A well-researched, informative, and positive account of a very long journey to motherhood."—Kirkus Reviews

"Elizabeth Katkin's Conceivability—at once a poignant personal narrative and an impeccably researched account of the baffling realities of the baby business—is a clarion call for a far more thoughtful, more humane approach to one of the most emotionally charged of life's challenges. A must read for patients and caregivers alike." —Julia Indichova, author of The Fertile Female and Inconceivable
Simon & Schuster, 9781501142369, 320pp.
Publication Date: June 19, 2018
About the Author
Elizabeth Katkin, a lawyer and mother of two, is a former partner at a large international law firm. A graduate of Yale University and Columbia's Law School and School of International and Public Affairs, she lives with her husband, Richard, and their children in Denver, Colorado. Conceivability is her first book.
or
Not Currently Available for Direct Purchase