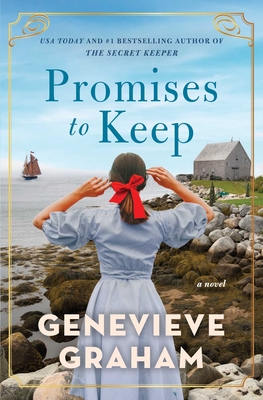 Promises to Keep
Paperback

* Individual store prices may vary.
Other Editions of This Title:
MP3 CD (12/12/2017)
Description
An enchanting and poignant story about the unfailing power of love in a world turned upside down by war—from the bestselling author of Tides of Honour.

Summer 1755, Acadia

Young, beautiful Amélie Belliveau lives with her family among the Acadians of Grande Pré, Nova Scotia, content with her life on their idyllic farm. Along with their friends, the neighbouring Mi'kmaq, the community believes they can remain on neutral political ground despite the rising tides of war. But peace can be fragile, and sometimes faith is not enough. When the Acadians refuse to pledge allegiance to the British in their war against the French, the army invades Grande Pré, claims the land, and rips the people from their homes. Amélie's entire family, alongside the other Acadians, is exiled to ports unknown aboard dilapidated ships.

Fortunately, Amélie has made a powerful ally. Having survived his own harrowing experience at the hands of the English, Corporal Connor MacDonnell is a reluctant participant in the British plan to expel the Acadians from their homeland. His sympathy for Amélie gradually evolves into a profound love, and he resolves to help her and her family in any way he can—even if it means treason. As the last warmth of summer fades, more ships arrive to ferry the Acadians away, and Connor is forced to make a decision that will alter the future forever.

Heart-wrenching and captivating, Promises to Keep is a gloriously romantic tale of a young couple forced to risk everything amidst the uncertainties of war.
Praise For Promises to Keep…
"At once dizzyingly romantic and tremendously adventurous, this novel also serves as a poignant reminder of the senseless toll the violence of war can take—and the incredible lengths of heroism humans will go to in order to survive and rescue the ones they love."
— Toronto Star

"Fascinating, harrowing, illuminating, this is a gripping love story. Graham sheds light on a dark chapter of Canadian history, immersing the reader in 1755 Grand Pré, making vivid the flames and the pain of the Acadians deported from their idyllic homeland."


— Beth Powning, bestselling author of A Measure of Light

"In this beautifully-written, meticulously researched novel of the Acadian expulsion from Grand Pré in 1755, Genevieve Graham crafts an uncompromising glimpse into the anguish of war and the eventual triumph of love. A must read for fans of Canadian history."
— Kaki Warner, bestselling author of Pieces of Sky

"Sinking into Promises to Keep is like stepping into the lush forest of whole new world. The novel sings with power, adventure, and heart."
— Katherine Scott Crawford, author of Keowee Valley

"A compelling tale of a strong young woman fiercely loyal to her family and to her heart."
— Sophie Perinot, author of Médicis Daughter

"Graham makes the 1755 Acadian Expulsion feel like a modern-day tragedy. Her powerful fiction is a boat sailing the choppy surf of love and war over her ocean-deep research into a vital time in Canadian history."
— Jon Tattrie, author of Cornwallis: The Violent Birth of Halifax

PRAISE FOR TIDES OF HONOUR

"[Graham] has delivered a book that reads like a love letter to a time and place that figures largely in our national identity: Halifax in 1917."
— The Globe and Mail

"Fans of Gabaldon and other historical fiction/romance writers will lap this up for the classy, fast-moving, easy-to-read and absorbing book that it is—with some Canadian history to boot."
— Winnipeg Free Press

"Evocative of place and time, a novel blending tragedy and triumph in a poignant and uplifting tale that's sure to leave its mark upon your heart."
— Susanna Kearsley, New York Times & Globe and Mail bestselling author

"Travel back to 1917 and explore a world of suffragettes, Bolsheviks and the Great War - and the love story that illuminates them all."
— Jon Tattrie, author of Black Snow

"A moving Maritime story of love, loss, and the human spirit."
— Lesley Crewe, author of Relative Happiness and Kin

"Graham has created a memorable story of love surviving devastation. Set during the darks days of the Halifax Explosion—the largest man-made explosion prior to Hiroshima—a young artist and a wounded soldier are forced to overcome their personal struggles in the face of disaster. Graham examines class struggles and the post-traumatic effect of war with a vivid description of early twentieth century Halifax."
— Pamela Callow, international bestselling author

"Audrey is a strong female character, a hallmark of Graham's books."
— The Chronicle Herald
Simon & Schuster, 9781501142871, 336pp.
Publication Date: April 4, 2017
About the Author
Genevieve Graham is the #1 bestselling author of The Forgotten Home Child, Tides of Honour, Promises to Keep, Come from Away, and At the Mountain's Edge. She is passionate about breathing life back into Canadian history through tales of love and adventure. She lives near Halifax, Nova Scotia. Visit her at GenevieveGraham.com or on Twitter and Instagram @GenGrahamAuthor.