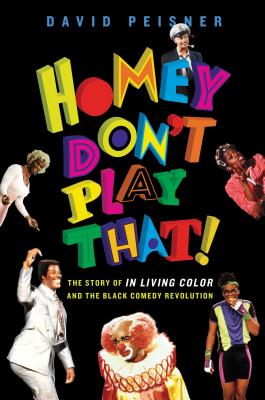 Homey Don't Play That! (Hardcover)
The Story of In Living Color and the Black Comedy Revolution
Atria / 37 INK, 9781501143328, 400pp.
Publication Date: February 6, 2018
* Individual store prices may vary.
Description
Discover the fascinating behind-the-scenes stories and lasting impact of the trailblazing sketch comedy show that upended television, launched the careers of some of our biggest stars, and changed the way we talk, think, and laugh about race: In Living Color.

Few television shows revolutionized comedy as profoundly or have had such an enormous and continued impact on our culture as In Living Color. Inspired by Richard Pryor, Carol Burnett, and Eddie Murphy, Keenen Ivory Wayans created a television series unlike any that had come before it. Along the way, he introduced the world to Jamie Foxx, Jim Carrey, David Alan Grier, Rosie Perez, and Jennifer Lopez, not to mention his own brothers Damon, Marlon, and Shawn Wayans. In Living Color shaped American culture in ways both seen and unseen, and was part of a sea change that moved black comedy and hip-hop culture from the shadows into the spotlight.

Now, Homey Don't Play That reveals the complete, captivating story of how In Living Color overcame enormous odds to become a major, zeitgeist-seizing hit. Through exclusive interviews with the cast, writers, producers, and network executives, this insightful and entertaining chronicle follows the show's ups and downs, friendships and feuds, tragedies and triumphs, sketches and scandals, the famous and the infamous, unveiling a vital piece of history in the evolution of comedy, television, and black culture.
About the Author
David Peisner is a freelance writer based in Decatur, Georgia. He has been writing about music, film, television, books, politics, technology, sports, and world affairs for a wide array of publications for nearly twenty years. His work has appeared in Rolling Stone, The New York Times, TV Guide, Spin, Billboard, Vibe, Fast Company, New York, Esquire, Playboy, The Atlanta Journal-Constitution, and BuzzFeed. Peisner is the co-author of Steve-O's New York Times betselling memoir Professional Idiot.
Praise For Homey Don't Play That!: The Story of In Living Color and the Black Comedy Revolution…
In Living Color was the training ground for America's future Oscar winners, pop idols, and comedy film luminaries. The number of superstars to come from its ranks is truly incredible. In this entertaining book David Peisner finally gives the program its due, demonstrating that the Wayans Family has been one of the most influential forces in comedy for the past thirty years.
— Kliph Nesteroff

"[Homey Don't Play That!] dodges and weaves through the biographies of many people, laying down a cultural history of late-twentieth-century black humor, television, and civil rights, even as its bite-size chapters maintain the brisk, gossipy tone of a celebrity tell-all...Peisner does a wizardly job of turning the potentially dull machinations of backstage Hollywood into intriguing details by highlighting the personalities involved and distilling their aspirations and skirmishes down to their essence."

"An in-depth, well-researched look into the success and aftermath of the 1990s TV show In Living Color...It's a fascinating glimpse into the intense work needed to create and keep a show running, and how the production's popularity impacted the culture at that time and still reverberates today...Highly recommended for those who enjoy reading about the entertainment industry, how their favorite TV shows are created, In Living Color, the Wayans family, Jim Carrey, and African Americans in the entertainment industry."
— Sally Bryant

"Peisner . . . argues convincingly for In Living Color's cultural importance at the dawn of the 1990s, as it brought an underground tradition of confrontational yet reflective African-American comedy into the mainstream."

"In Homey Don't Play That!, culture and entertainment writer David Peisner traces how Keenan Ivory Wayans and his siblings, including Damon Wayans, Kim Wayans, and Shawn Wayans, created a cultural touchstone for a generation of viewers. Through his reporting and cultural analysis, Peisner specifically focuses on the Wayans family from their upbringing through their departure from the show during its fourth season. Homey Don't Play That! is a must-read."

"New Book On 'In Living Color' Provides A Thorough History Dripping With Finesse...This book doesn't clown around."

"Loaded with great stories and insights, Peisner has put together a loving requiem for one of TV comedy's greatest shows."

"essential reading for TV, comedy, and culture lovers."

"A fascinating inside look at the trailblazing Fox series. Moreover, Homey Don't Play That dissects how ILC carved a space in the culture of comic innovation while delving into the evolution of black comedy, and the backstory of Wayans' rise from struggling comic to running an Emmy-winning series."

"[F]ascinating...Homey Don't Play That is a welcome addition to the excavation of Black television history."

"Best books for Comedy Fans"