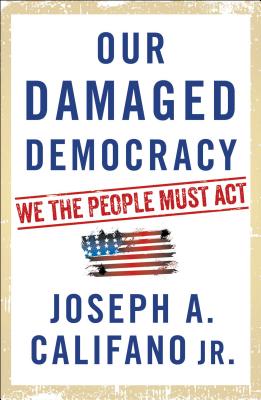 Our Damaged Democracy (Hardcover)
We the People Must Act
Atria Books, 9781501144615, 336pp.
Publication Date: February 13, 2018
Other Editions of This Title:
Digital Audiobook (2/12/2018)
Paperback (4/2/2019)
* Individual store prices may vary.
Description
This authoritative and passionate scrutiny of the three branches of government reveals the changes—political, cultural, constitutional, technological, institutional—that render our government completely dysfunctional, and the urgent need to fix our democracy before it's too late.

If you've been watching the news and worrying that our democracy no longer works, this book will help you understand why you're right. There is colossal concentration of power in the Presidency. Congress is crippled by partisanship and dependence on special interest money. The Supreme Court and many lower federal courts are driven by politics. Add politically fractured and fragile media, feckless campaign finance laws, rampant income and education inequality, and multicultural divisions, and it's no wonder our leaders can't agree on anything or muster a solid majority of Americans behind them.

With decades as a leader in government, law, and business, Joseph A. Califano, Jr. has the maturity to be party-neutral in his evaluation and the perspective to see the big picture of our democracy. Using anecdotes and examples featuring every modern president and actions of both parties, Califano makes the urgent case that we do not need to agree, but we do need to trust each other and be worthy of that trust, in order to bring back systems of government that protect freedom and promote fairness.

The longer we wait to fix these problems, the more dangerous our situation will become. Our Damaged Democracy is the rallying cry we need to get our country back on track.
About the Author
Joseph A. Califano, Jr. spent thirty years in Washington at the top of the Pentagon, on the White House staff as chief domestic advisor to the President, and in the Cabinet. He worked as an attorney for The Washington Post during Watergate and has represented clients as varied as the Black Panthers and Coca Cola. He also spent years on Wall Street and served on more than fifteen public company boards and numerous not-for-profit boards. He is founder of The National Center on Addiction and Substance Abuse at Columbia University (CASA). He has written fourteen books, including Our Damaged Democracy. He lives in Westport, Connecticut.
Praise For Our Damaged Democracy: We the People Must Act…
"A Washington insider draws on decades of experience to deliver a blistering critique of the state of American government . . . Califano is doggedly bipartisan in his criticism, leaving no doubt that there is ample blame to go around for what are ultimately systemic faults that have been building for half a century . . . . The author's concerns about the executive and legislative branches are particularly well-informed, persuasive, discouraging, and sometimes frightening."
— Kirkus Reviews

"Published at a moment which could be prove to be a historical pivot point, Our Damaged Democracy is a cri de coeur from one of our wisest Americans."
— Michael Beschloss, Presidential Historian

"Regardless of your political philosophy, we can all agree Washington is not just dysfunctional, but broken. Drawing on both his significant experience in public service and important historical lessons, Joe Califano addresses the serious challenges facing our nation and why it is incumbent on our citizenry to repair America's damaged democracy."
— Gov. Jeb Bush, Former Governor, State of Florida

"Joe Califano has brilliantly laid out causes and consequences of obstruction in Washington, and a rousing call to action to deal with them."
— House Democratic Leader Nancy Pelosi

"Joseph Califano delves deeply into the inner workings of Washington, and delivers an unstinting look at how power, money and politics have produced the ugly mess we're in today."
— Karen Tumulty, National Political Correspondent, Washington Post

"Joseph Califano, one of America's true statesmen, makes a powerful case for what has gone so terribly wrong in the country and the role we must all play in reversing that damage."
— Peter Osnos, Founder of PublicAffairs Book Group

"No sacred cows in this well-referenced and documented book. Califano lays it on the line about the present state of American democracy, how we got here, and how we can save it. Couldn't be more timely."

— Senator Tom Harkin (D-IA, Retired)

"In this enlightened, entertaining, and rigorously non-partisan book, Joe Califano succinctly details the forces that have brought us to this dangerous moment in our democracy, as well as a course of action to restore balance to our government and hope to our politics. If the opposition is an intimately familiar one—in the words of Pogo, 'We have met the enemy and he is us'—then so is the solution. What we have broken, we can mend if we have the will to do so."

— Robert Schenkkan, Pulitzer Prize and Tony Award-Winning Playwright

"Joe Califano serves up a fascinating and even-handed wake up call for we the people to understand and act to repair the damage to our democracy. Those who treasure our freedom should read this book."

— Tom Selleck, Actor, Producer

"It's hard to argue with [Califano's] analysis."
— The New York Times Book Review

"[Califano] turns his seasoned eye toward root causes when he examines our democratic processes and republican structures… [H]e is particularly thoughtful in avoiding the cheap rhetoric of partisanship… Our Damaged Democracy is not afraid to step on toes for the sake of finding ways to fix our broken political system."
— America Magazine

"An insightful and often searing look at how the dynamic among the three branches of government functions today. This book is full of helpful documentation and real-life examples. The arguments are clear and cogently argued. Califano deserves a hearing by those entrusted with the future of American democracy."
— Rev. Edward A. Malloy, C.S.C., President Emeritus, University of Notre Dame